It's almost May, however winter still shows its persistence to stay; nevertheless Berlin is occasionally lighten by the warm and lovely sun.
A few days ago the sun was brightly shining, so I quickly decided to grab my bag, take a study-case or two and to search for a calm place outside, where I could get my share of some yellow rays.
After a short wandering in Mitte district, I finally found myself near the loveliest pond, a real gem in the middle of the city; accompanied by a nice and quiet Café.
The Pool of Angels is the name of the place, or Engelbecken auf Deutsch, and if you'd like to ease yourself in a tranquil location with a sip of a warm cappuccino, you can find the pond in a five minute walking distance from Heirich-Heine Strasse Ubahn station.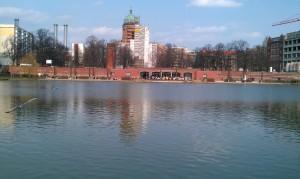 Relax..