Rivers are most majestic when they are about to meet the ocean. And that couldn't be less true for the mighty Zambezi River, which touches nine African countries before it flows into the Indian Ocean on the east of Mozambique.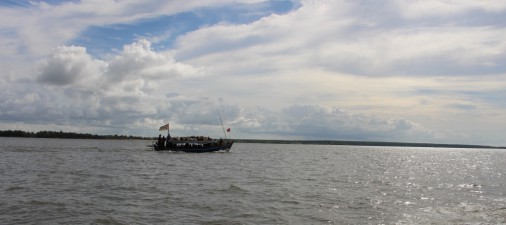 However this region is also a highly disaster prone and extremely vulnerable to natural calamities such as floods and cyclone.  Welthungerhilfe, the organization I am volunteering with under RLF, is running a project in some of the districts in Zambezia and Nampula provinces of Mozambique to increase the disaster resilience as part of Disaster preparedness program of European Commission (DIPECHO).
Few day back I got to visit one of the districts called Chinde (pronounced Shin-Day), which lies right at the mouth of the Zambezi river. First of all this district is so remote that it is only reachable by boat. A quick look at the google map might give an idea.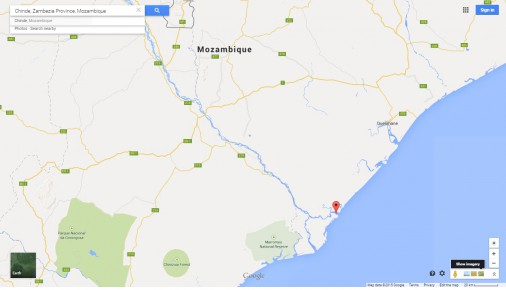 One has to take a long and tiring three hours boat ride (on a fast motor boat) to this place. Bigger boats or a big vessel can take more than ten hours. BTW the winds were so strong the that I lost my cap twice (the boatman was kind enough to do a turn to pick it up)
District has a remarkable small town, also called Chinde, where the district administration has its office. The population of town is just over 16,000 although the total population of the district is around 150,000 people. The town has only about 5 cars (there was only 1 till few years back). Even electricity is also a fairly new addition to the district, introduced just 2 or 3 years back. There are some colonial buildings in the town housing government officials. Plus a couple of houses were used earlier by sugar trading company called Sena, now dysfunctional. Unsurprisingly, the largest building in the town was a Church.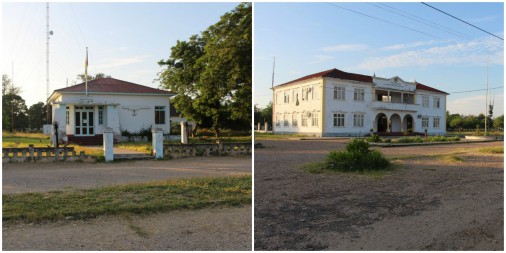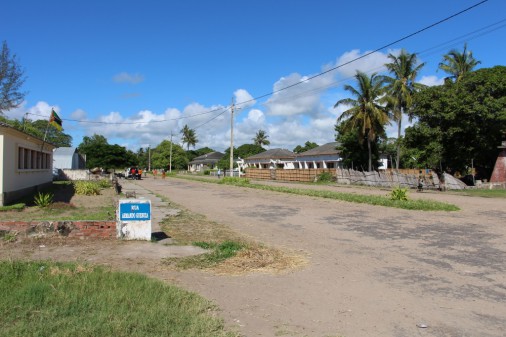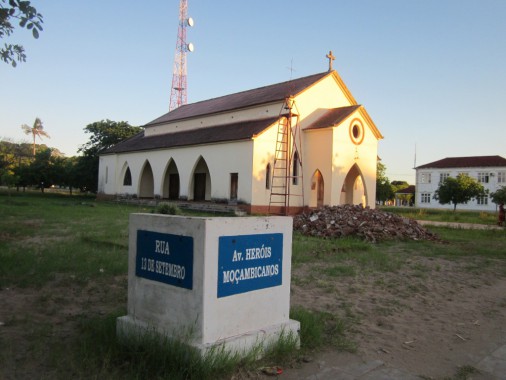 I saw some peculiar looking (though aesthetically pleasing) houses. These houses had wooden frames filled with rubbles from old rundown buildings. On enquiring I got to know that the building material is scares and expensive so people reuse material from the old buildings destroyed at the time of civil war.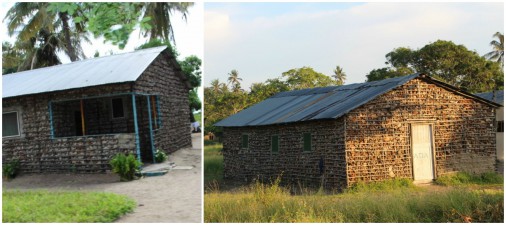 Town also had an FM Radio Station of its own. I couldn't resist visiting it. I was very thrilled (for some strange reason) at the sheer pleasure of listening to the lone channel on my mobile right outside the station with earphone in one ear and other ear tuned into the voice of RJ / music from inside the station.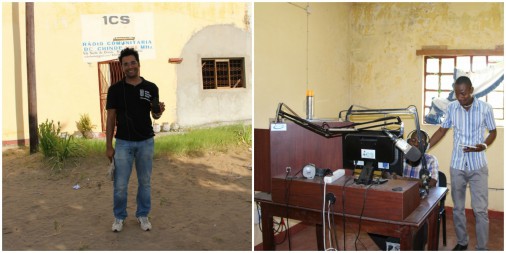 I also got to be part of one of the rituals in the town. Every morning there is a flag hosting and the guard whistles. I was on my way to beach at 6 in the morning when I happen to cross the place. I saw everyone stop. Out of confusion and respect for local tradition I did too. After the hosting was complete guard whistled again and everyone moved on. Now it feels like time did stop for those 10 seconds or so.
The project sites are spread across many islands that are only reachable by boat. Those were some of the most beautiful places I ever visited. At one of these places the scenery around the backwaters was nothing less than breathtaking.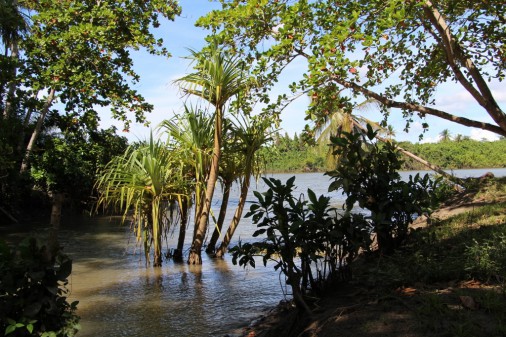 On one of these islands I observed that all women on the island had these little marks spanning across their arms and chest. We asked some of the women and no one knew why they had them. Looked like it was a custom. They were etched when women reached puberty. It's possibly a way to show that they are ready for marriage. I didn't want to be judgemental about their practices.

Oh yes and on another island the village leaders were slickly dressed. Although they didn't belong to any military establishment, they wore uniforms.  This was tradition from the time of Portuguese and still prevalent though more than four decades have passed since independence. Quite interesting how power dynamics could change but traditions can stay.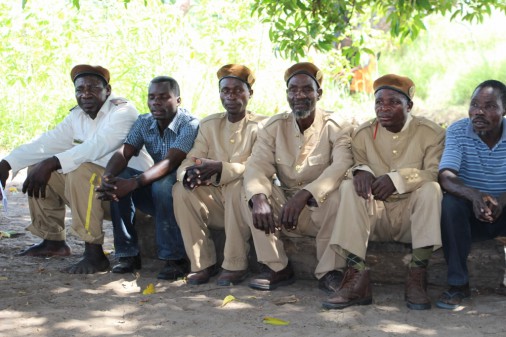 There was also a fort like structure at one such place. Turned out it was a prison at the time of Portuguese. New administration couldn't find a use for the place thus it has been abandoned now. Looked like they were lucky enough not to need a prison.

I can't sign-off without talking about food. Whereas all my colleagues relished fishes, I fall in love with Matapa and peri-peri. Matapa is a local Mozambican speciality made from Cassava leaves and coconut (with few other things added sometimes). I was eating Matapa day and night. So much so that the people who ran the eatery remembered me as "The Matapa Guy", when someone asked them to call me from the guesthouse once. Our Project director joked about naming a cassava plantation against me at a conservation agriculture farm.  Peri-peri is a hot sauce (pickled sometimes) that is a must have with food in Mozambique (and many other African countries). I generously ate it, sometimes just peri-peri and rice or ncima (local dish made from Maize). My love for peri-peri was so conspicuous that the owner of the hotel we ate at decided to gift me a jar filled with peri-peri.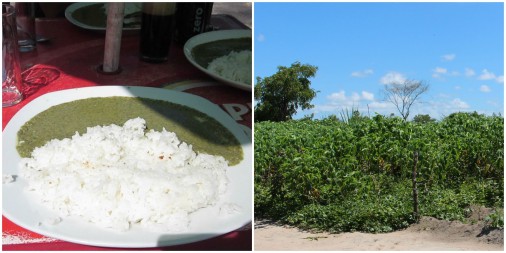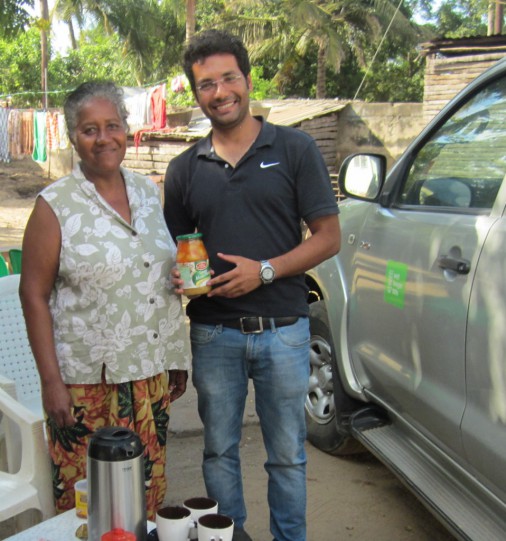 The whole experience was nothing less than astonishing. I was soon back to utilitarian life of cities. But my three days at Zambezi river estuary were a crash course in culture, food, people and a life so different. A journey to the end of a river and a memory till the end of a life.