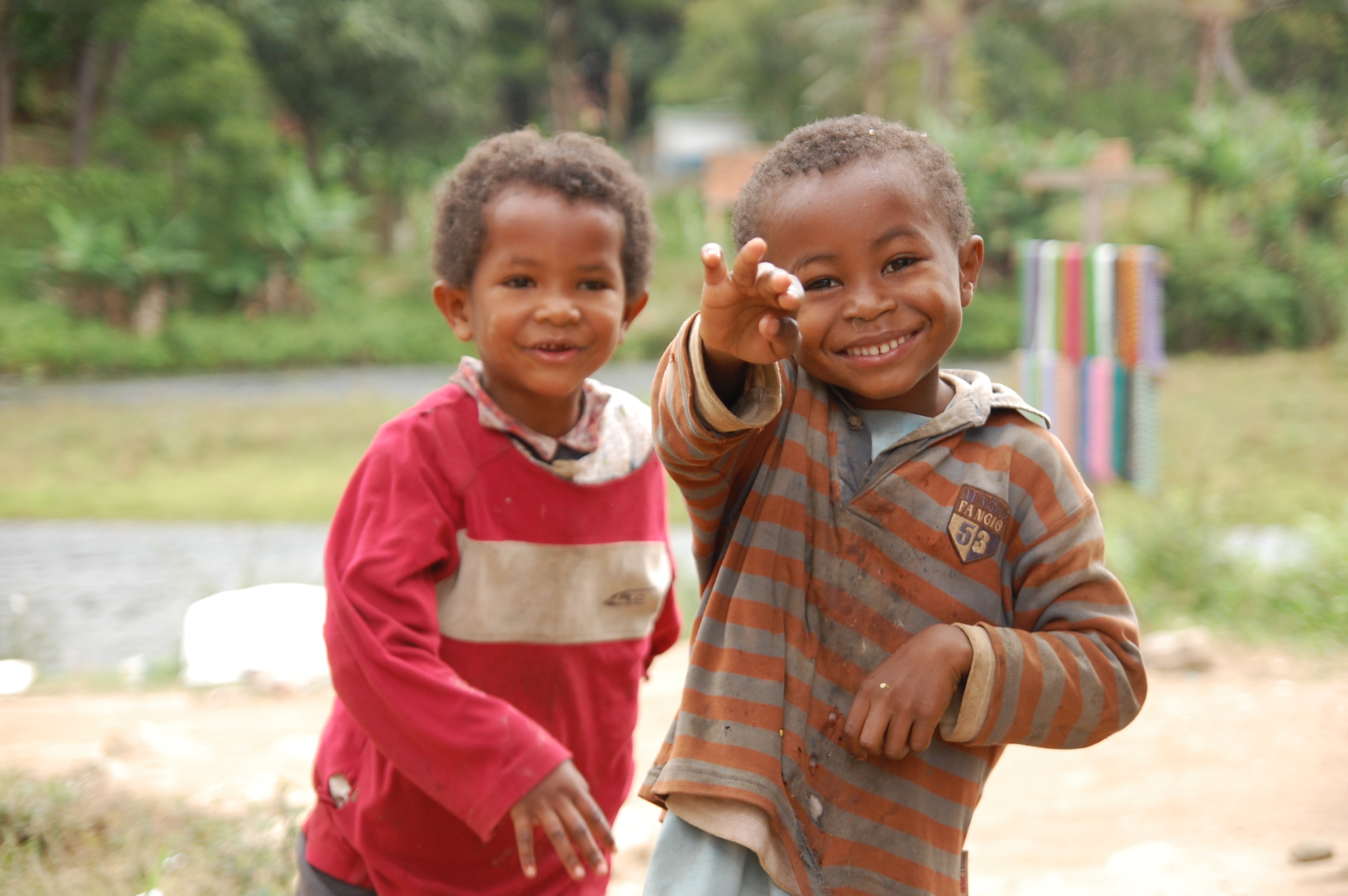 Madagascar is a beautiful and interesting experience. In making this statement I am conscious of the element of novelty which makes any new place appealing to a traveler, but fades away as one gets used to the place. My impression of Madagascar remained beautiful and interesting beyond this element of novelty. If you've traveled a bit, you will agree that traveling is a rewarding experience. It opens us to spaces that hitherto didn't exist in our minds. It's an amazing feeling when we realize that we travel to discover new places and people and cultures, and in the process we end up discovering ourselves. This is how I felt backpacking in Madagascar.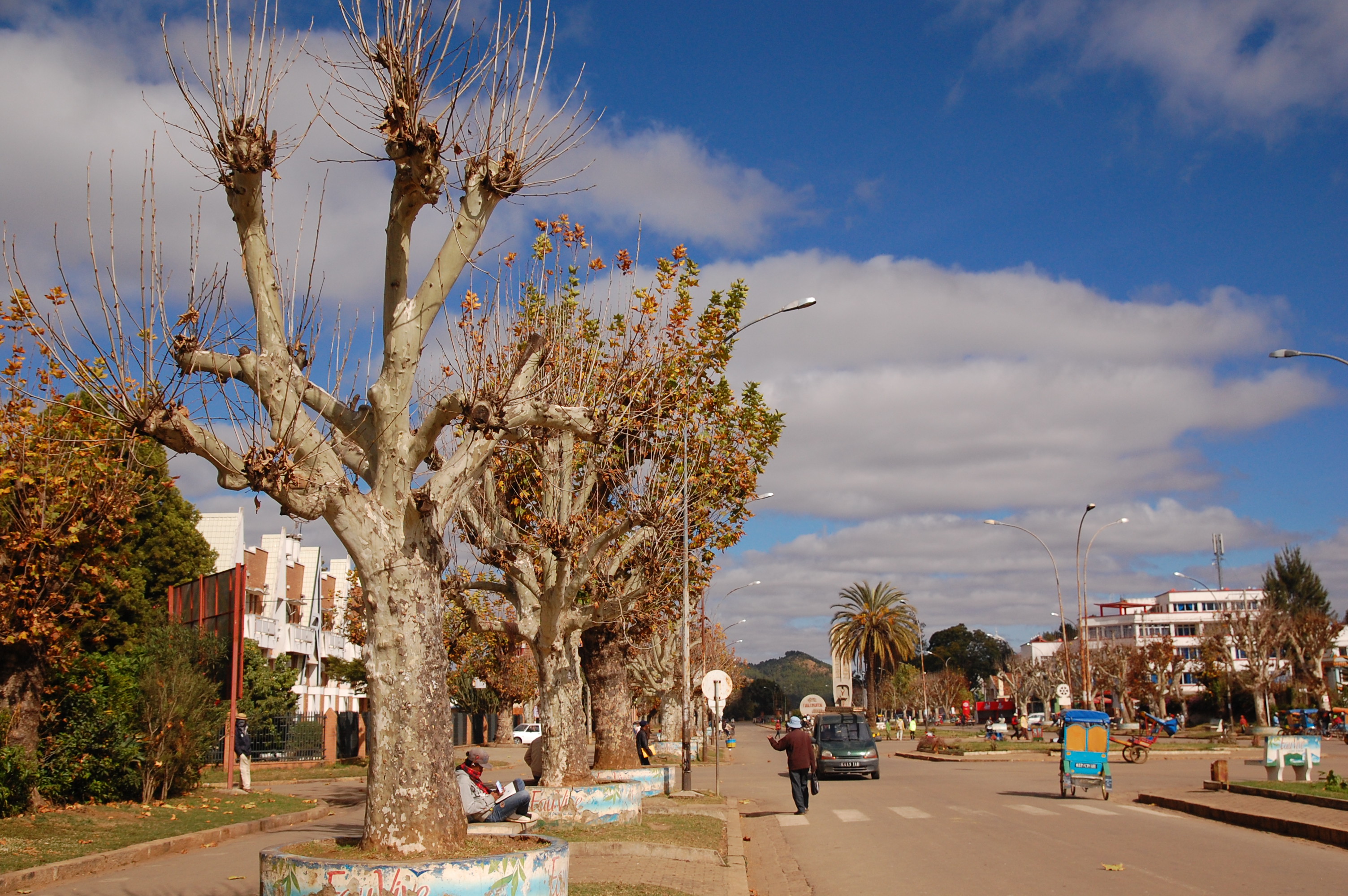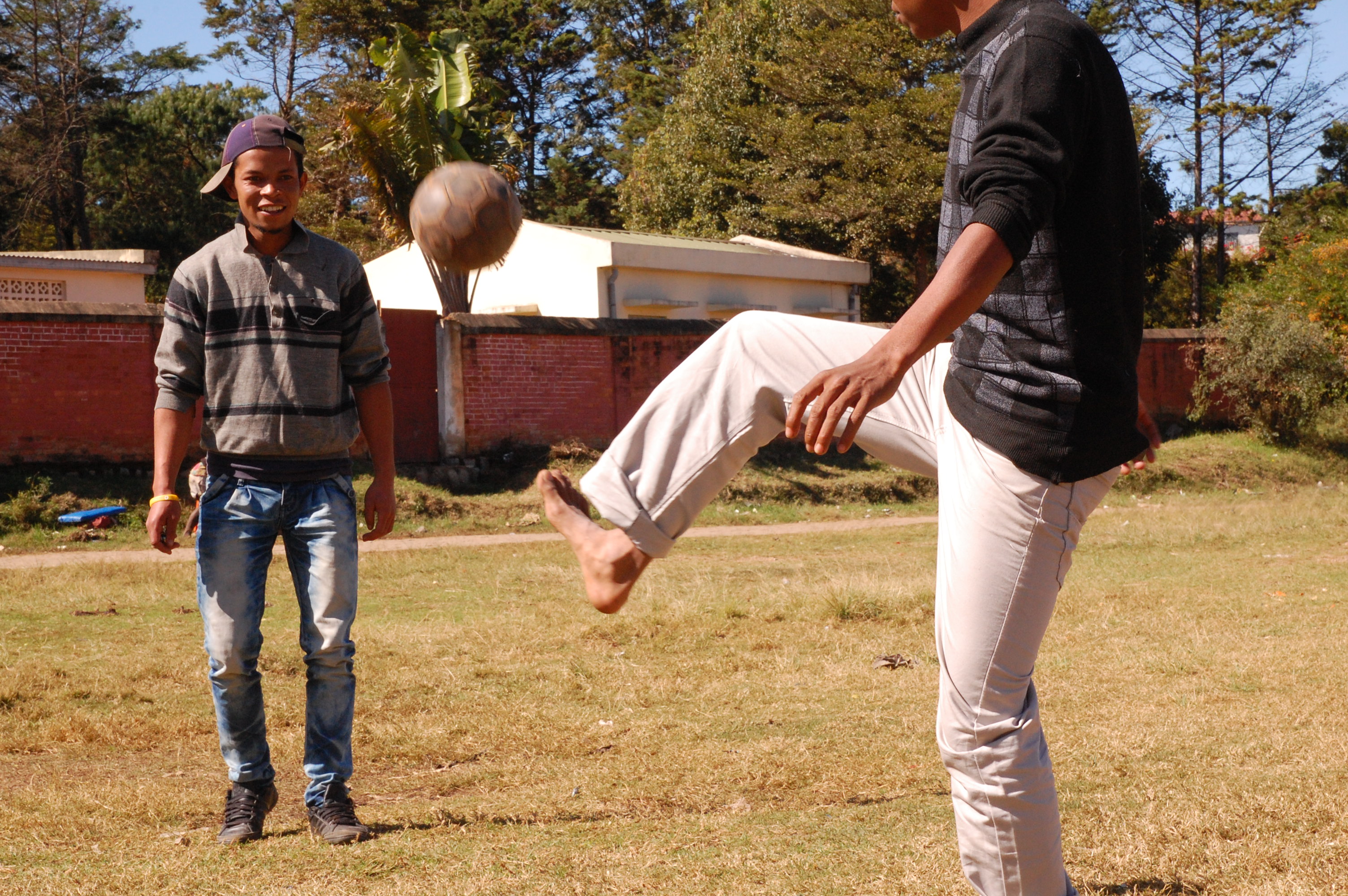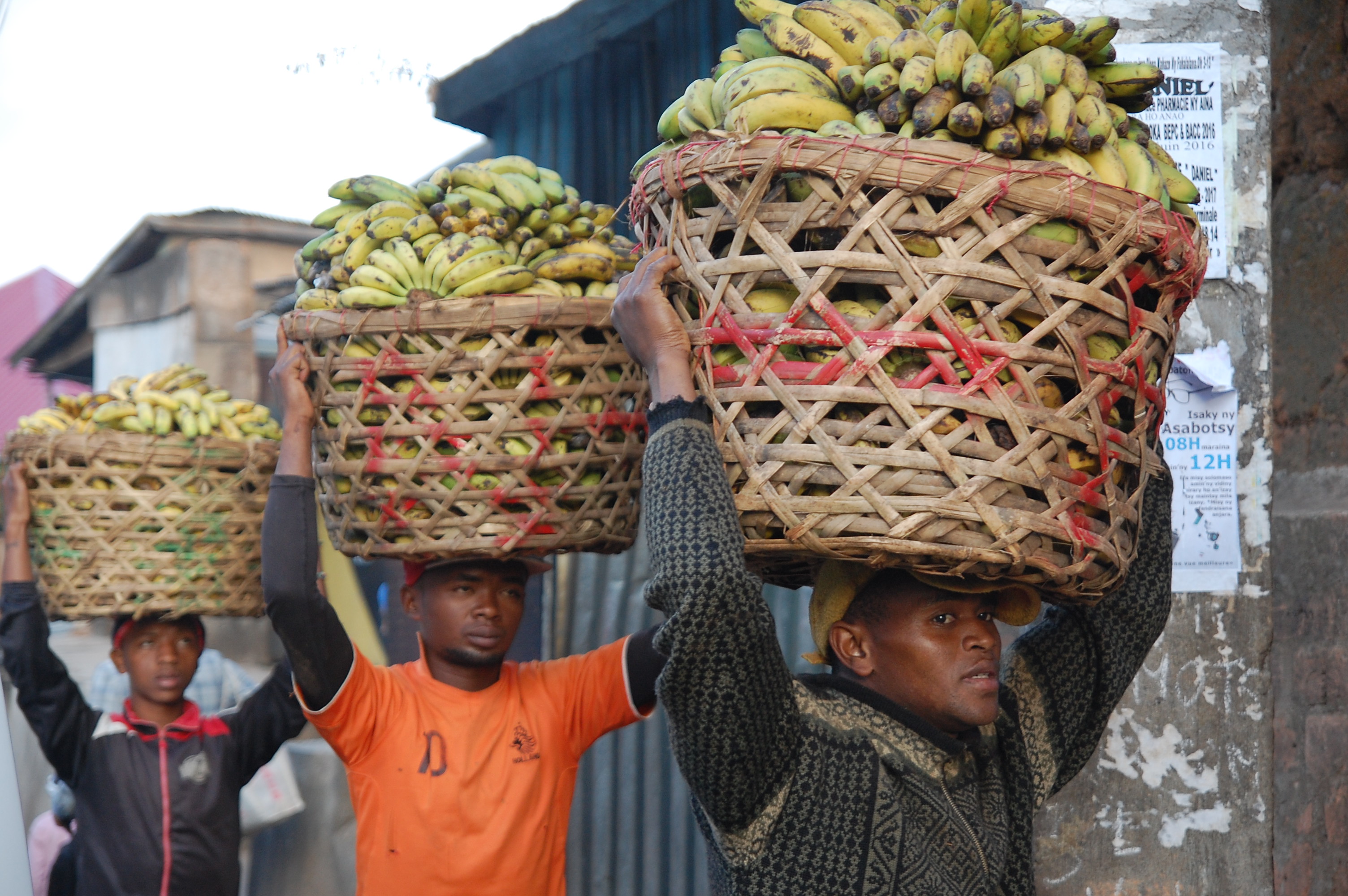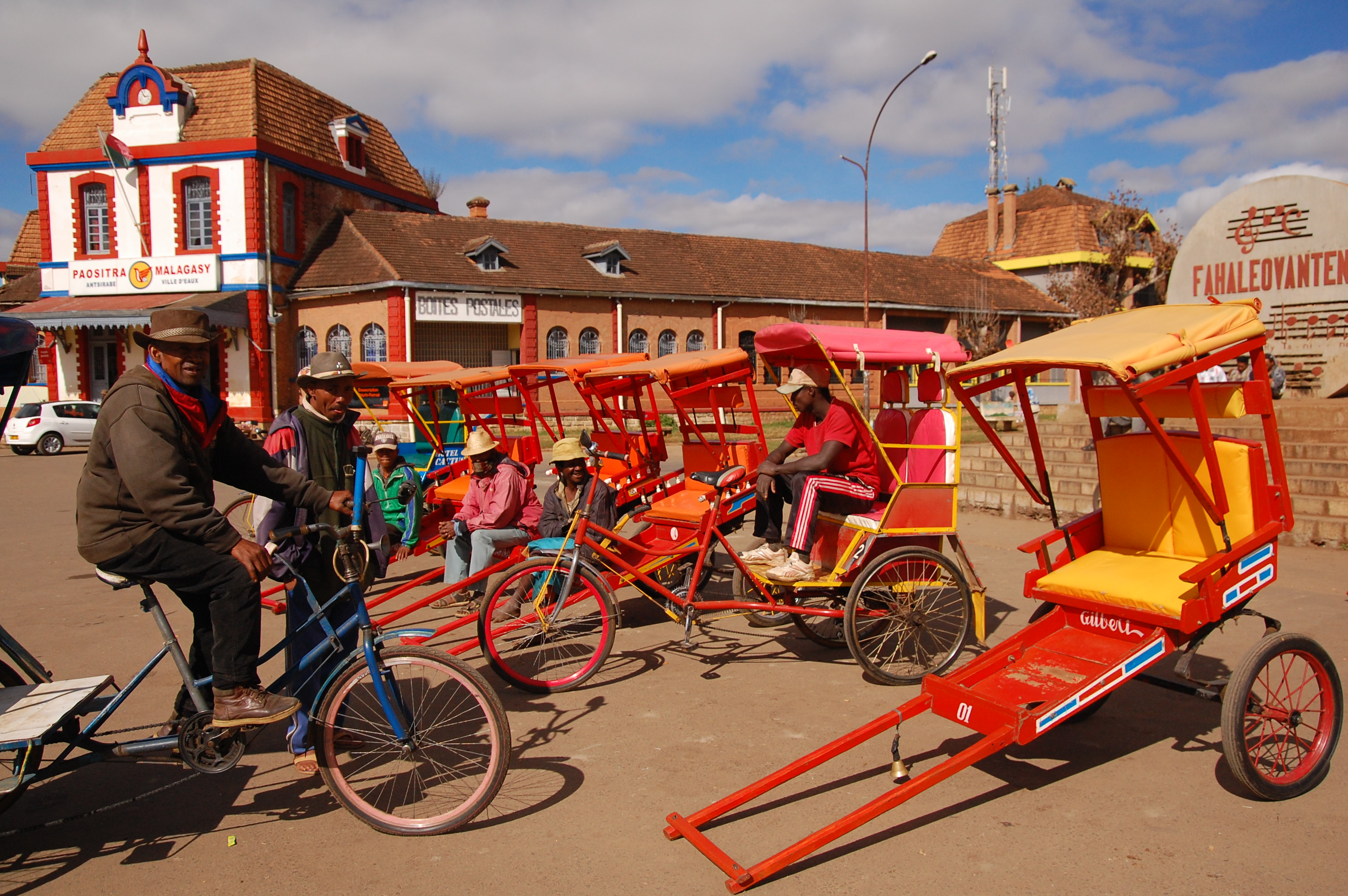 My goal was to experience the Malagasy culture, food, people and nature. I asked myself what is the best way to do that, and the idea of backpacking without a plan sounded very exciting. So, I decided to not have a plan, instead play it by the ear, make on-the-spot decisions about what to do, and head wherever my instincts led me to. The three things I was certain of were, (1) I will NOT go North and to the beaches, because they are touristy (2) I will NOT hire a vehicle but travel by the local transport, and (3) I will be detached from the world as I knew it i.e., no phone, no email, and no WhatsApp. A colleague at TSiBA gave me a Lonely Planet book on Madagascar that I carried as a back-up resource, for just-in-case situations.
As a result, I traveled with ducks and chickens along with people squeezed in taxis, discovered tribal villages in hills, experienced Malagasy hospitality, slept in people's lawns and in stranger's houses, went to family celebrations in villages, ate heaps of rice with sparse side dish and burnt-rice water, climbed Madagascar's highest accessible peak, chased taxi on a motorbike, met numerous craftsmen and craftswomen, camped in a rainforest, enjoyed an open-air Jazz music festival, had conversations with strangers with no common languages, saw numerous plant and animal species endemic to Madagascar, was awe-struck with some of nature's wonders, met ambitious youngsters, watched young men playing different sports, and most importantly saw and felt how happy and helping the Malagasy people are, despite their abject poverty.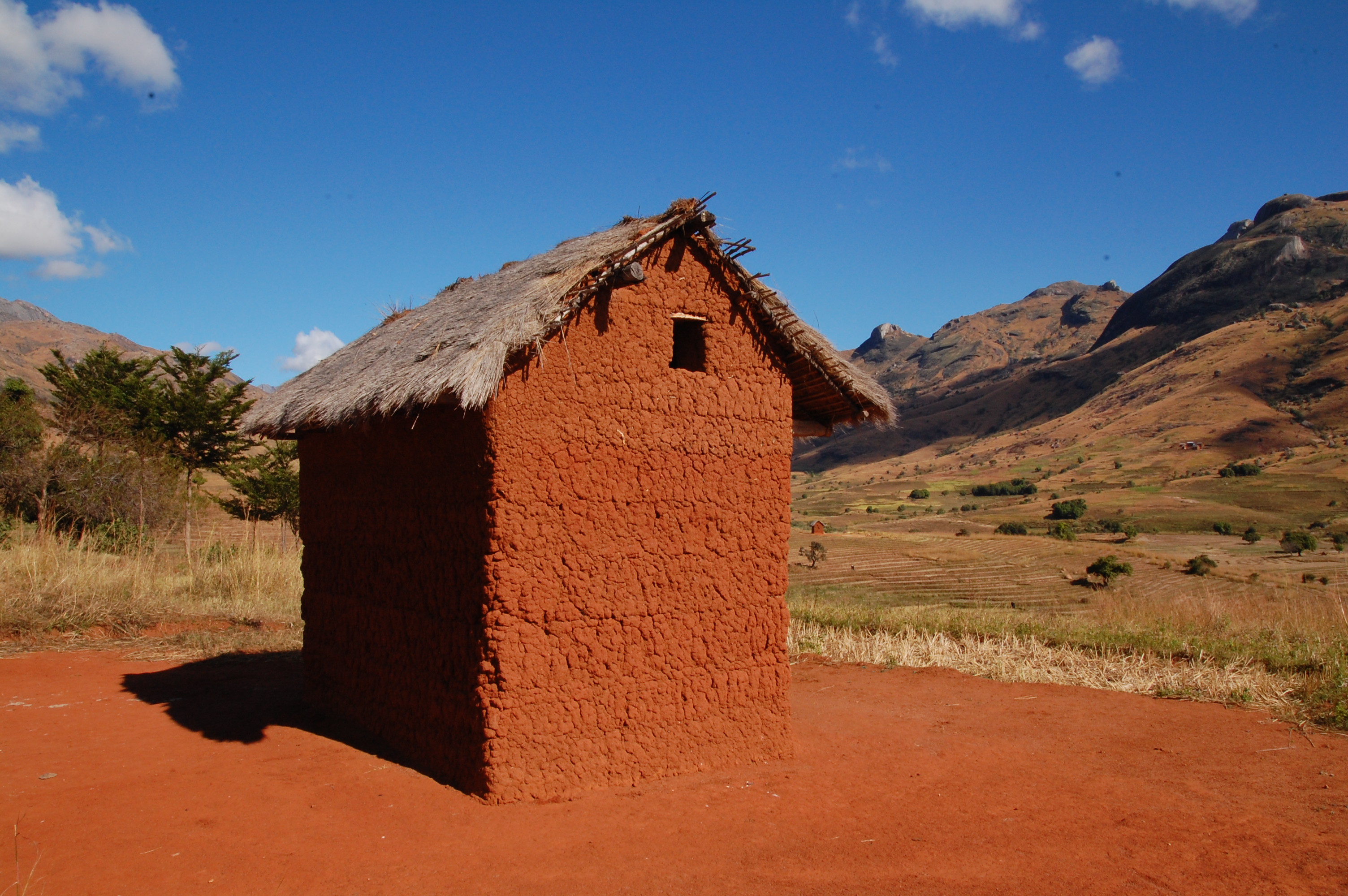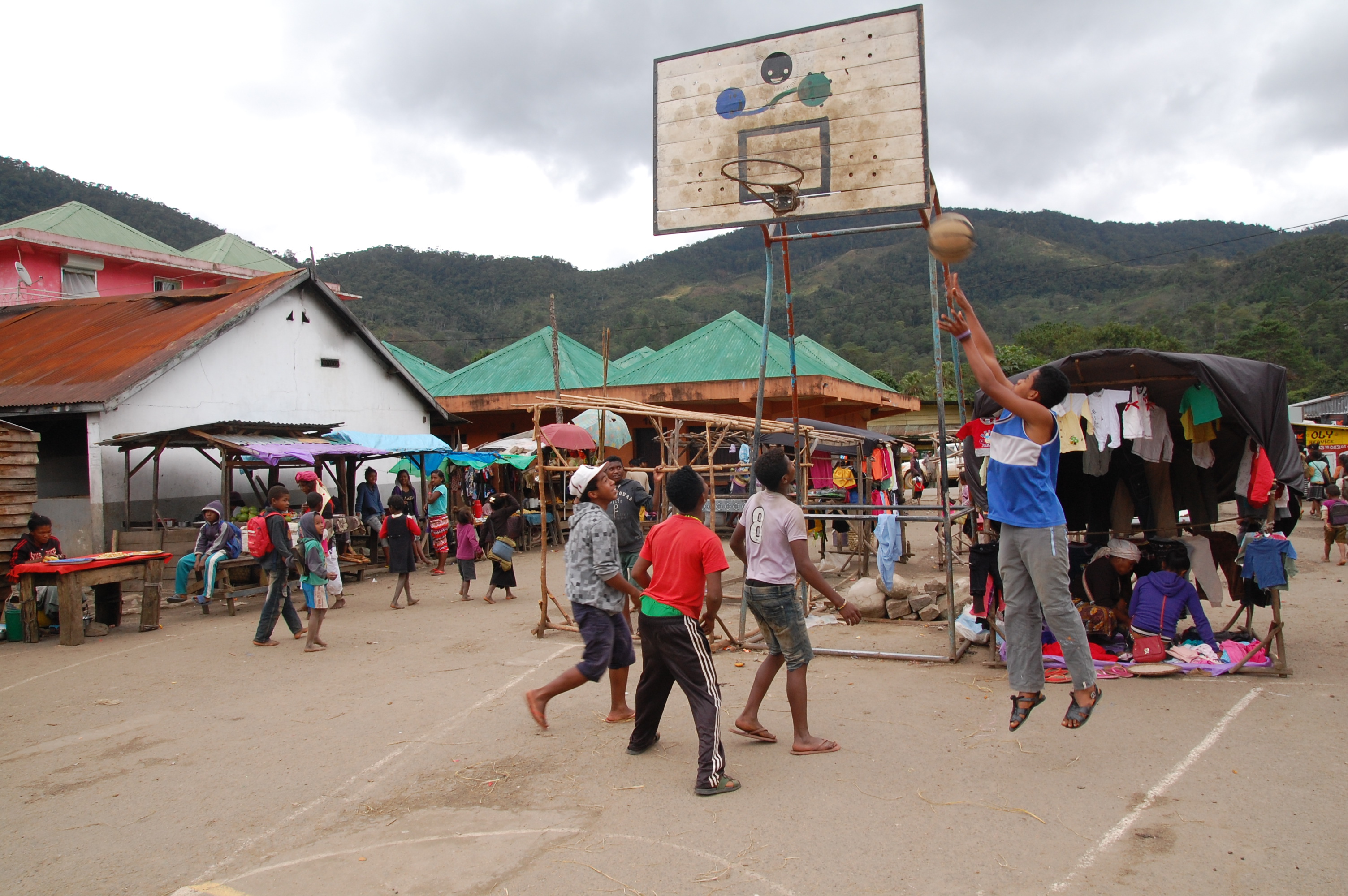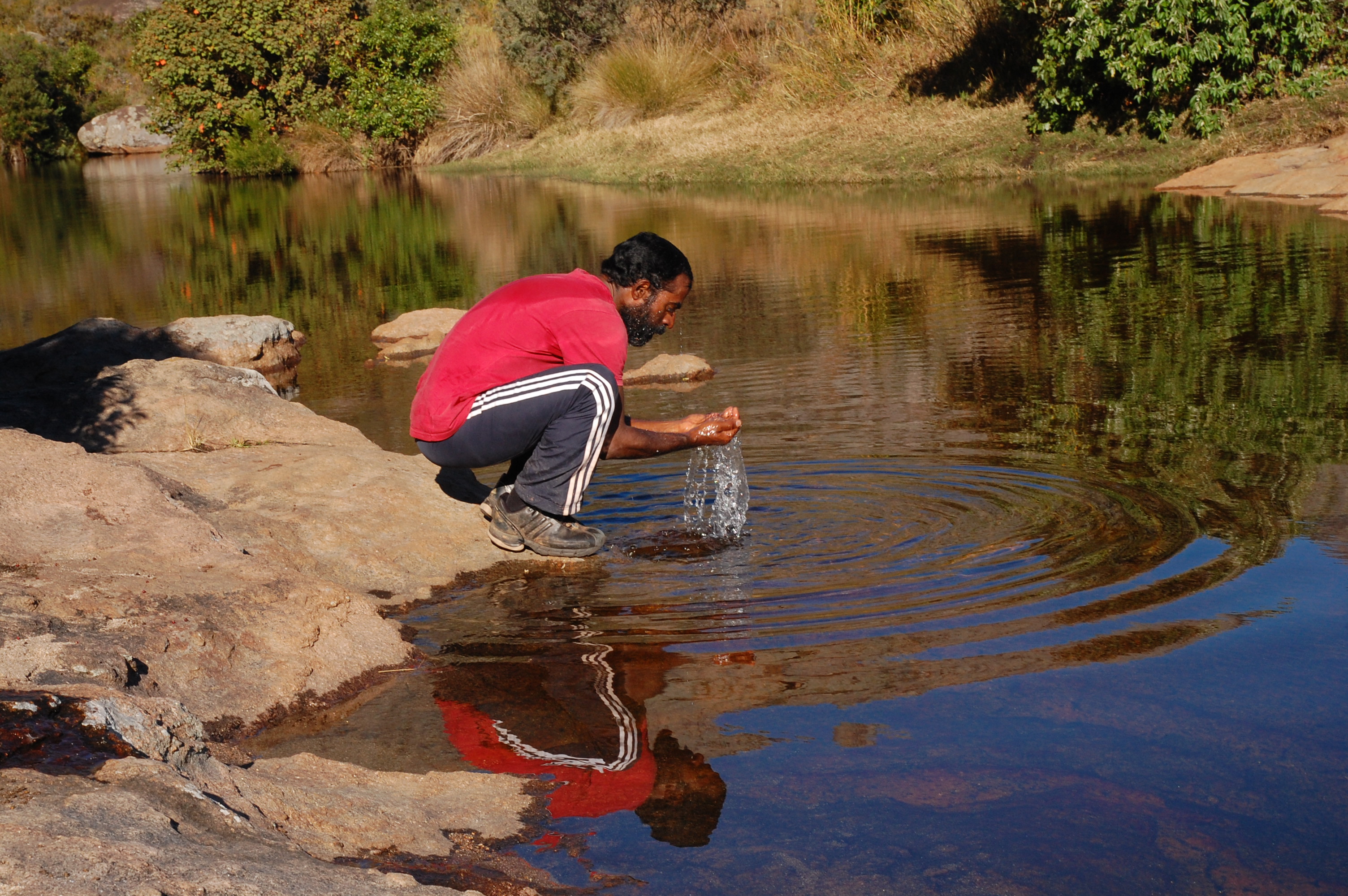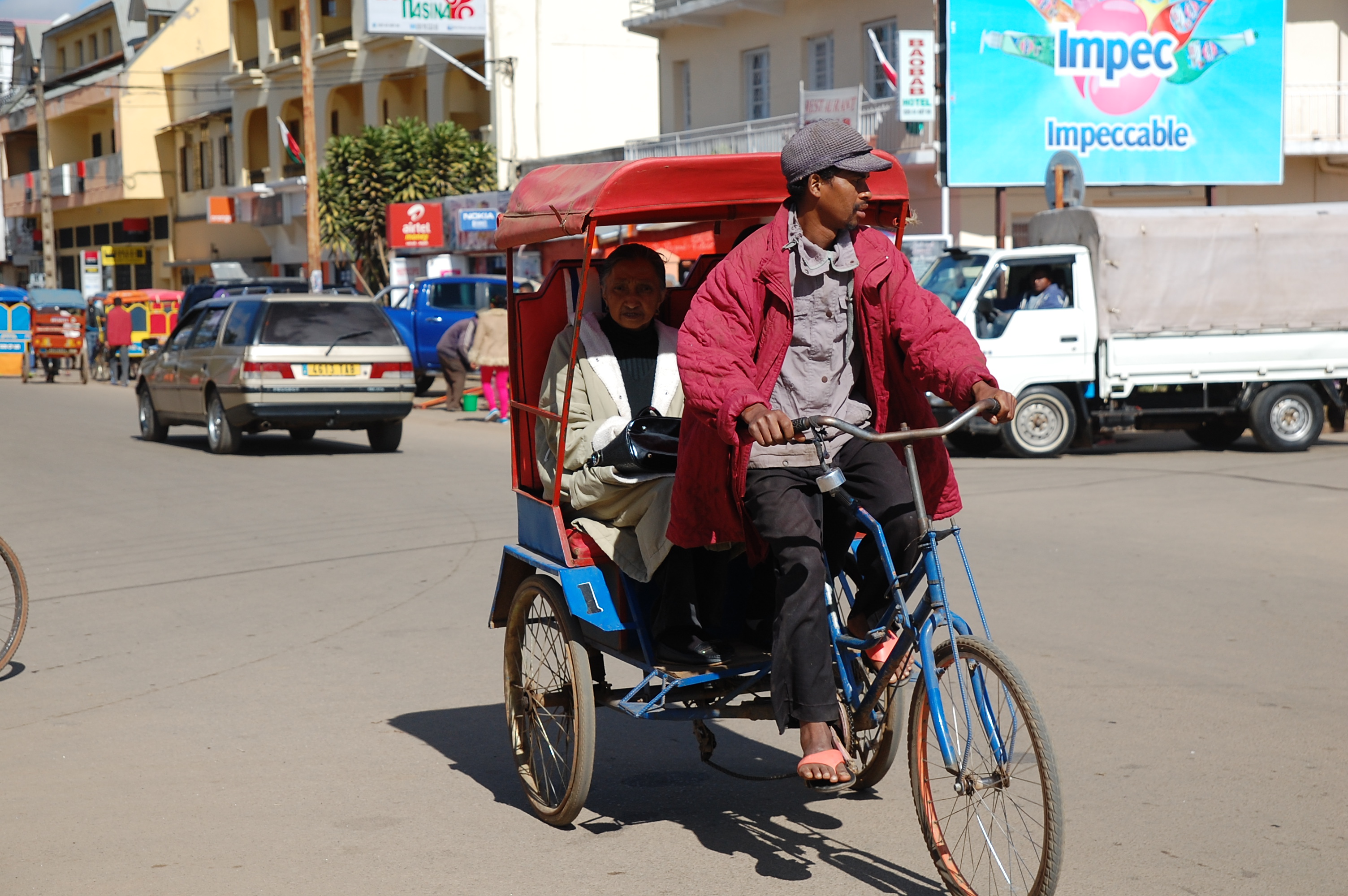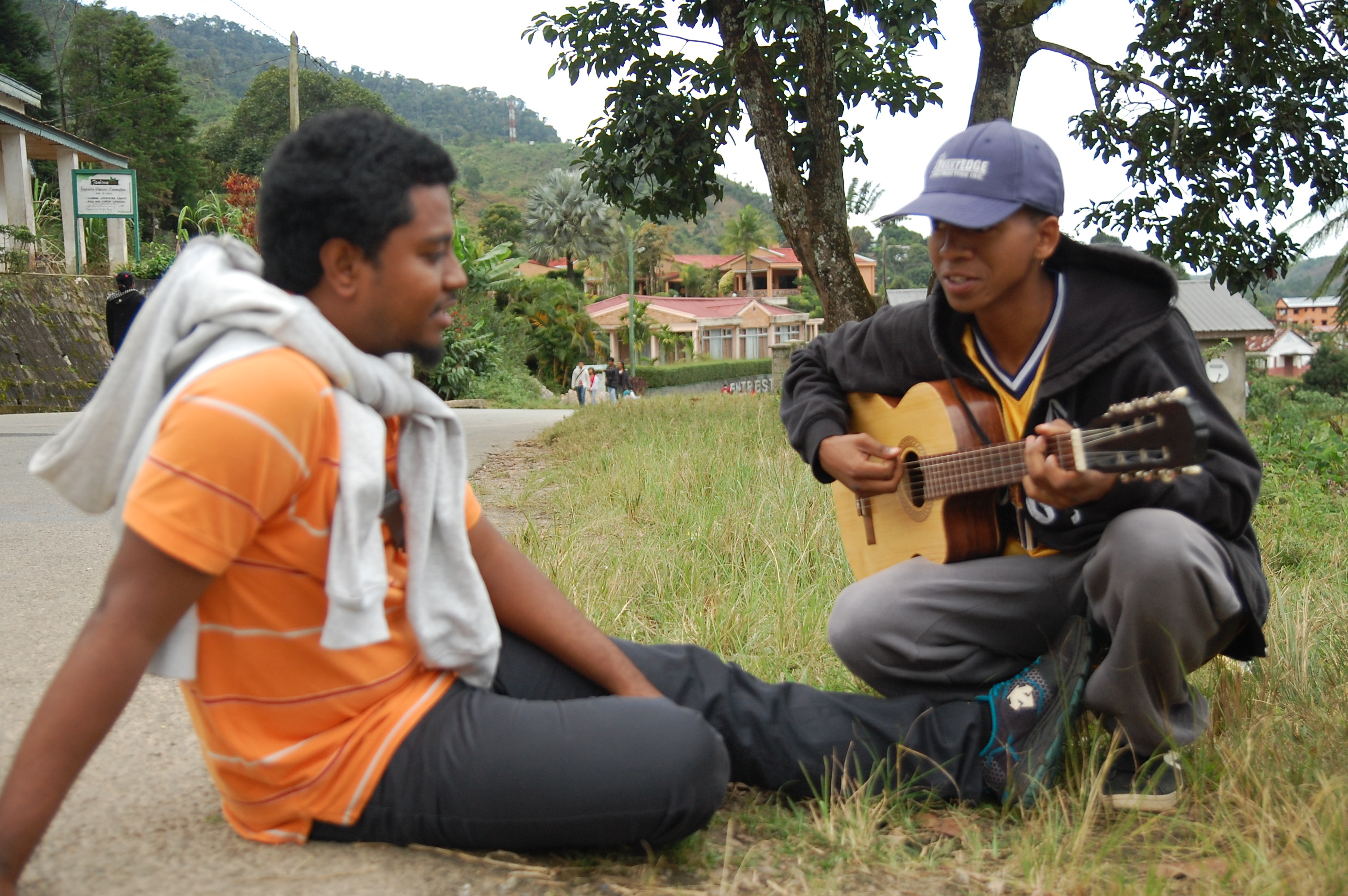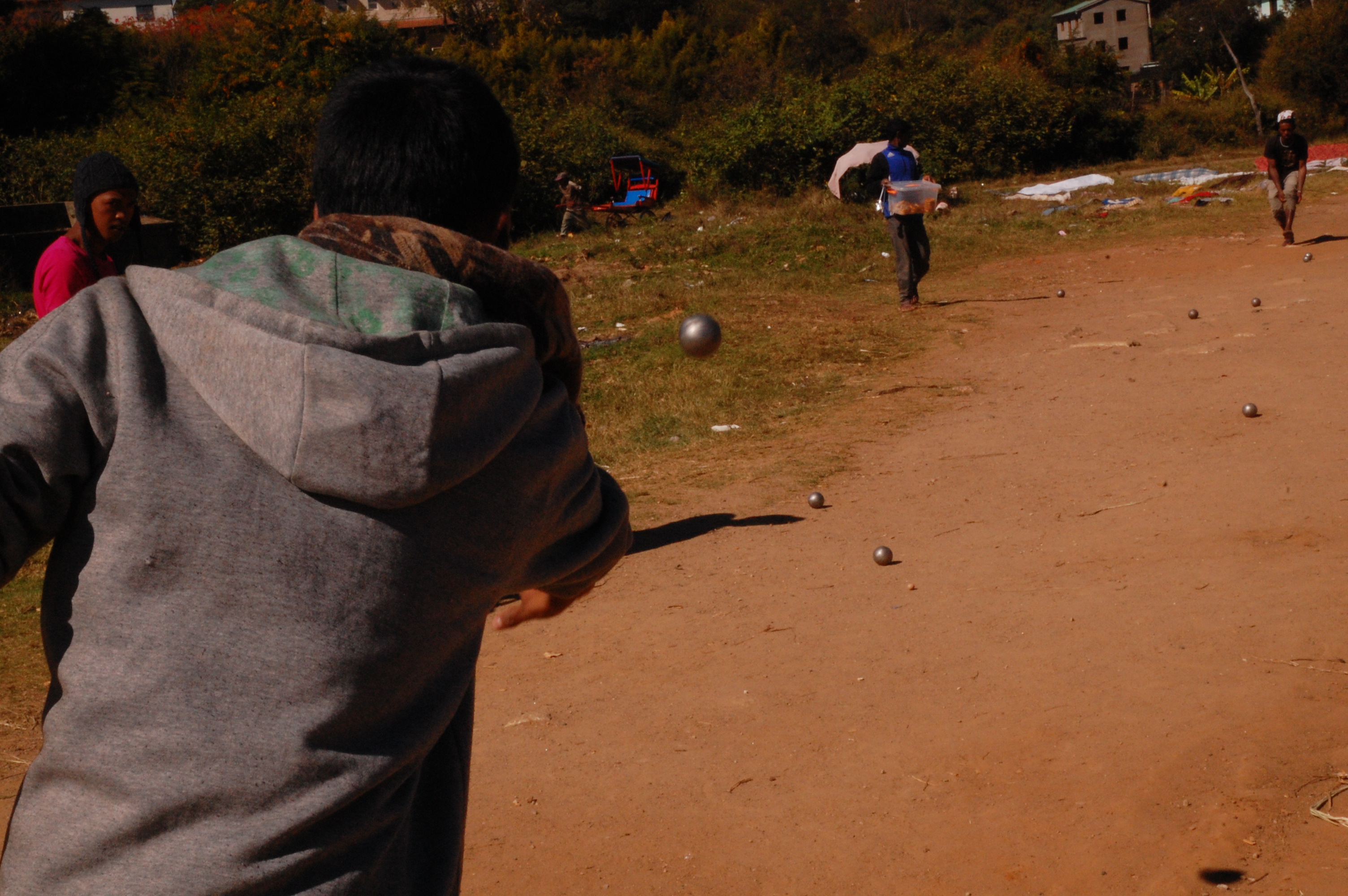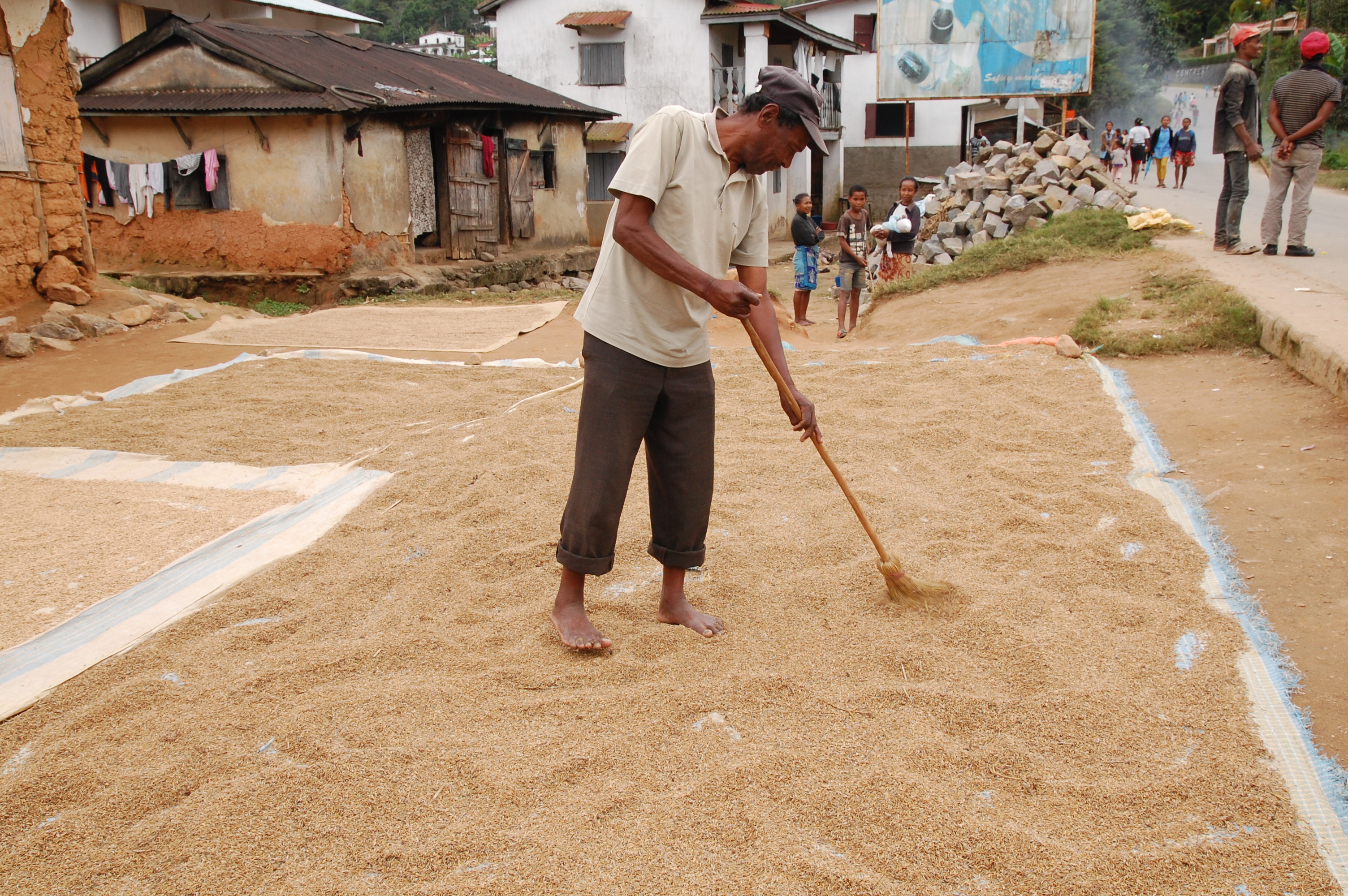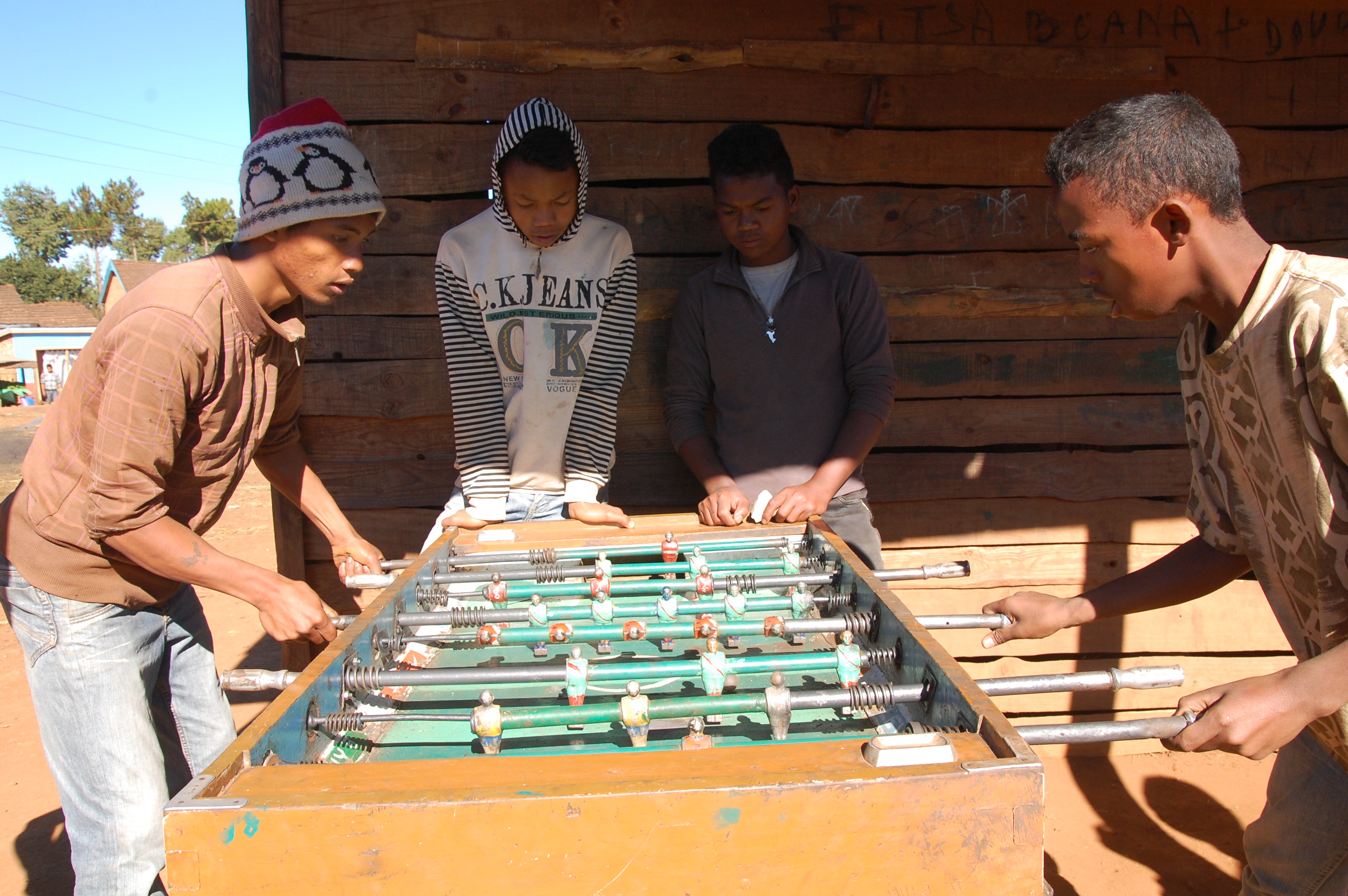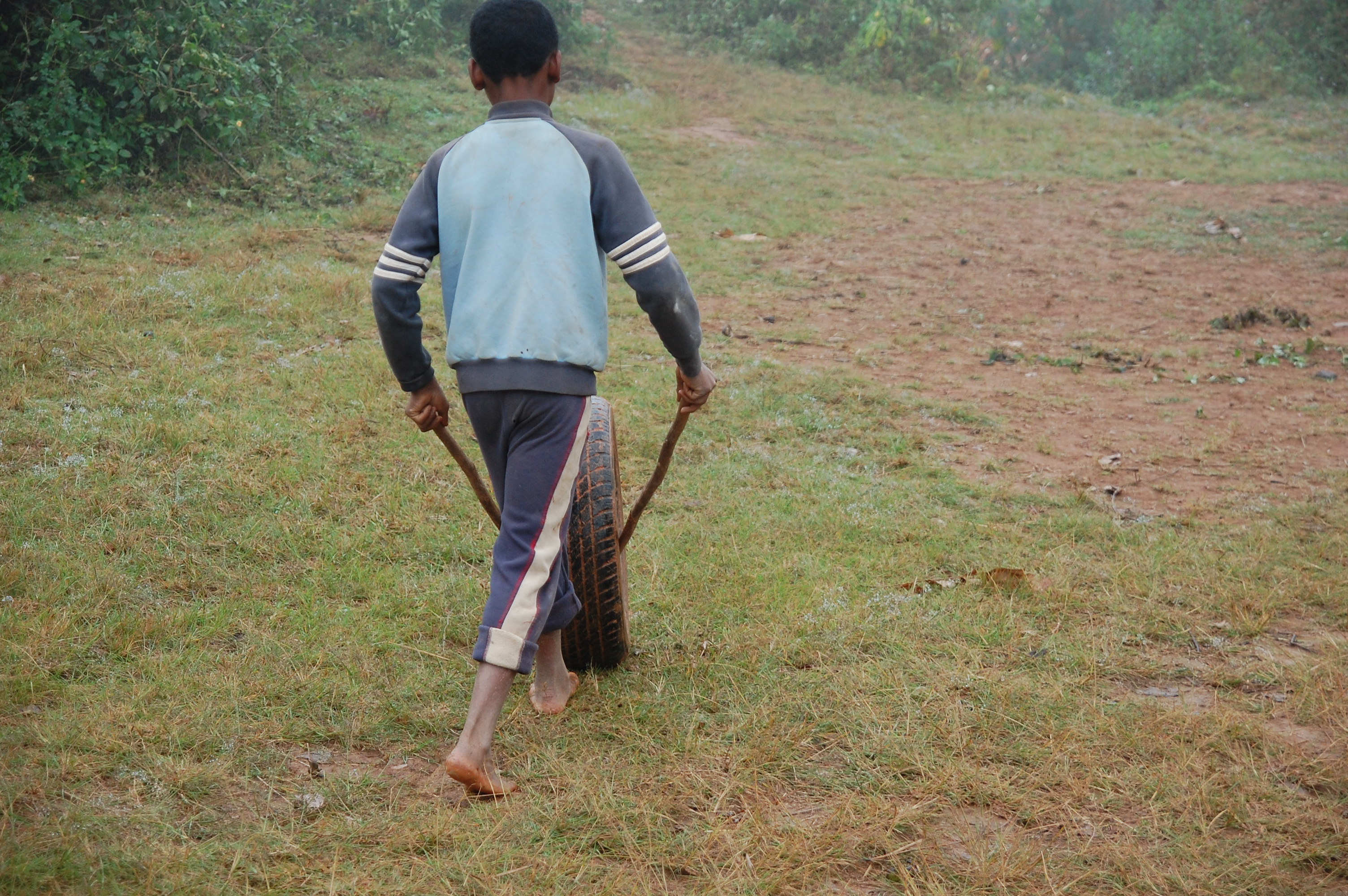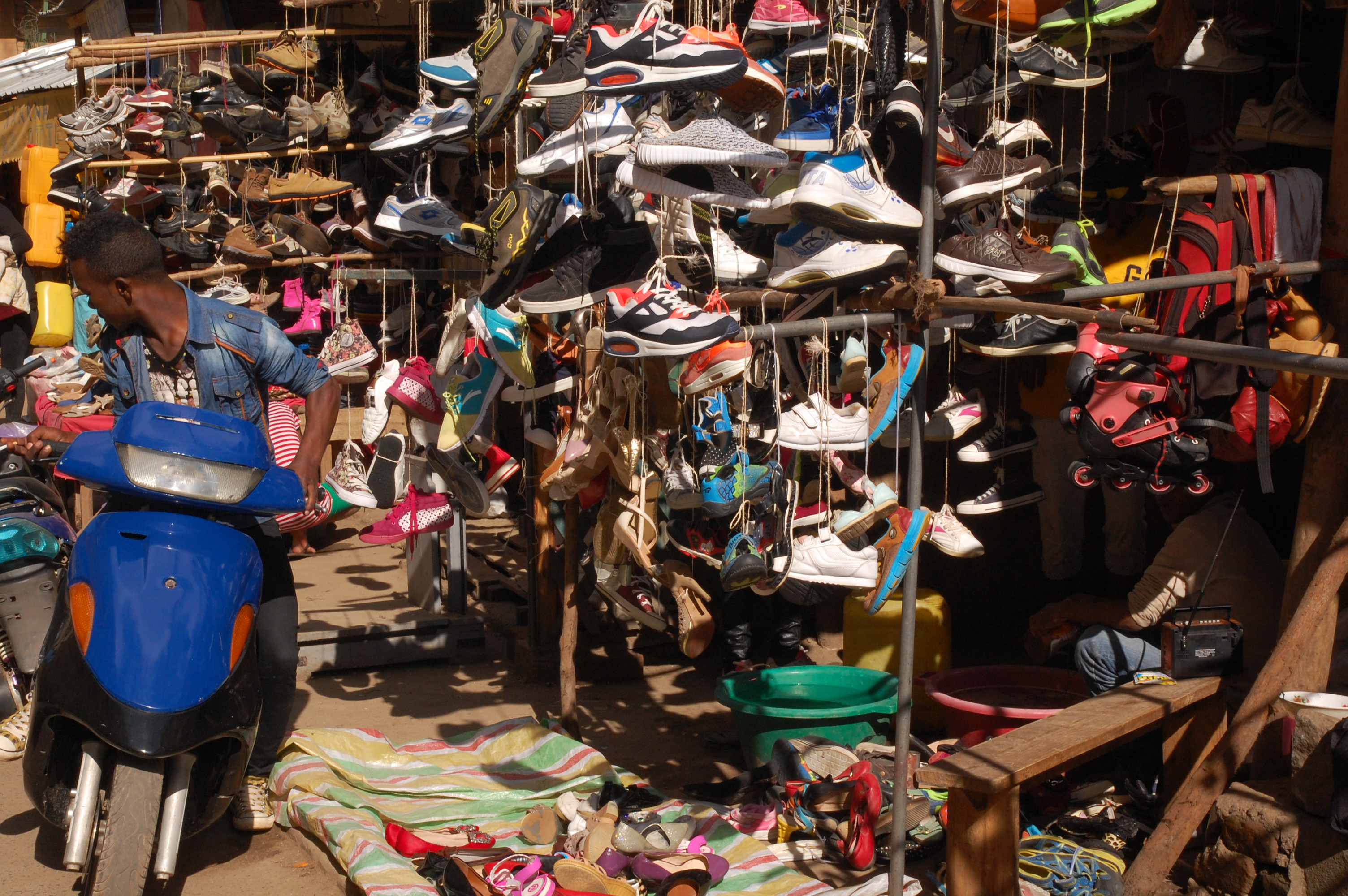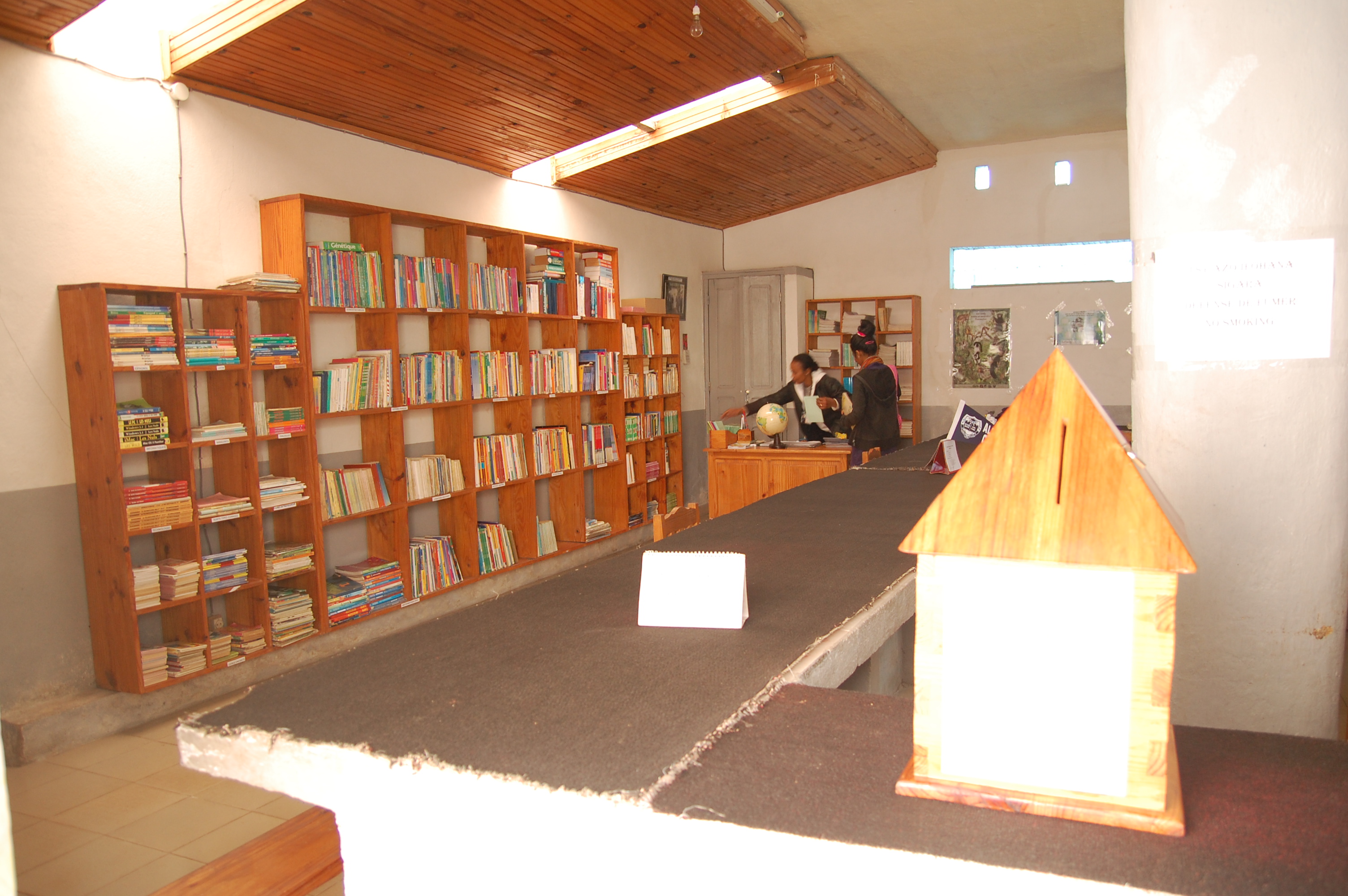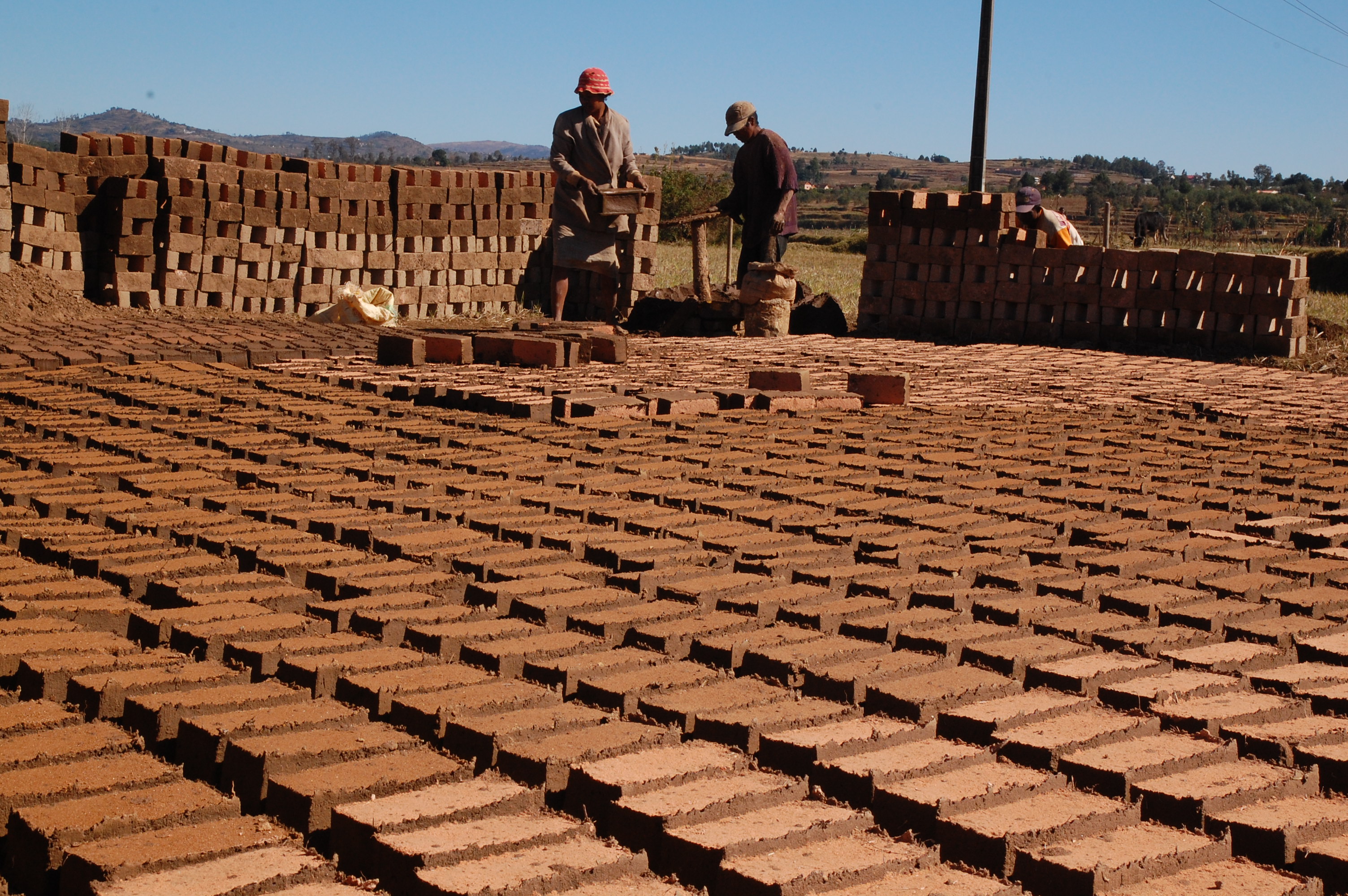 Taxi-Brousse, the lifeline of Malagasy life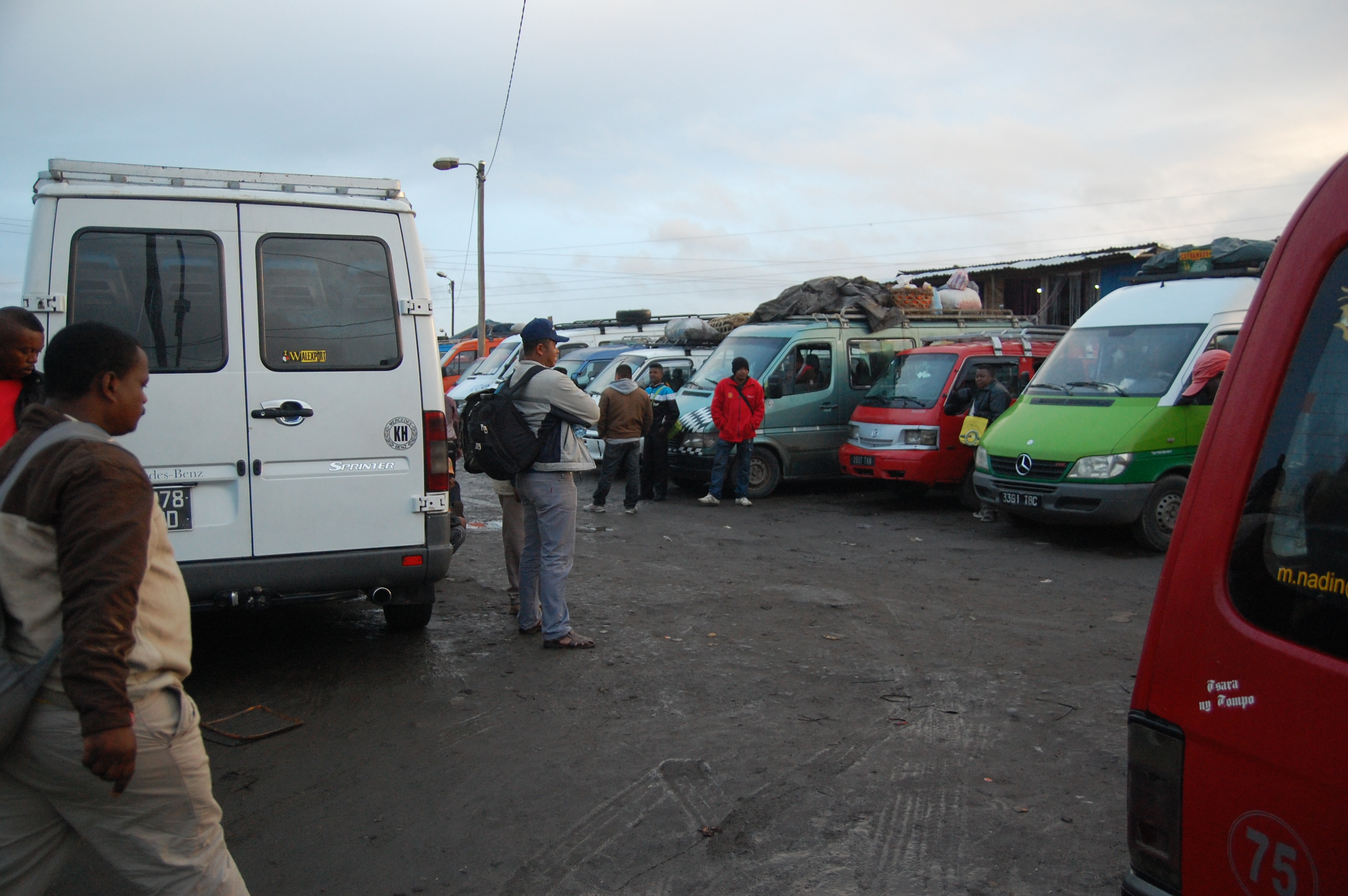 Taxi-brousse is the universal transport in Madagascar and is perhaps the best opportunity for an outsider to get a feel for the Malagasy life. In addition to people, these taxis transport anything and everything except the live big cattle. Grains, Plastic containers, Mats, Steel, Chickens, Vegetables, Clothes, Pigs, Bicycles, Ducks, Water…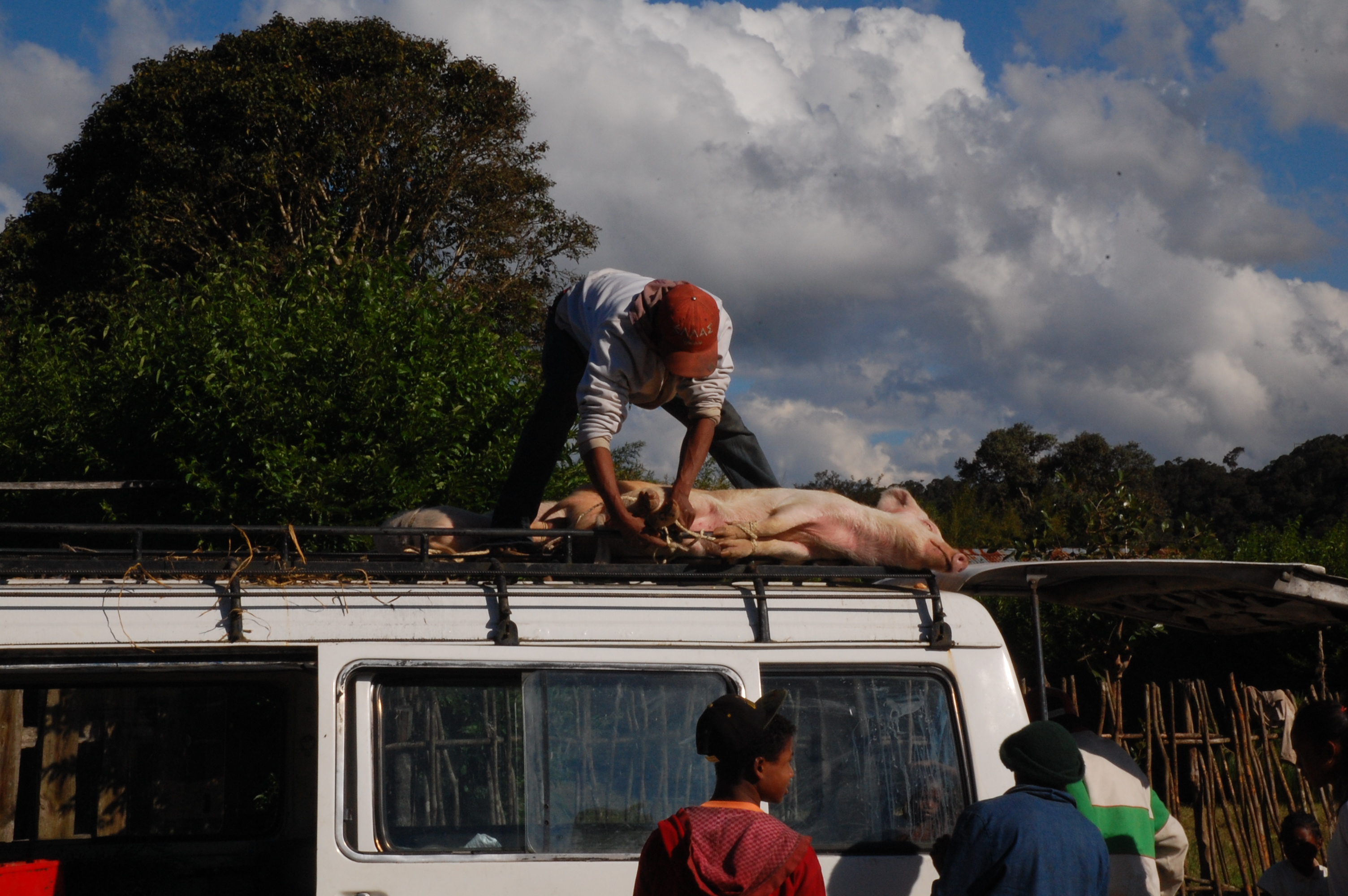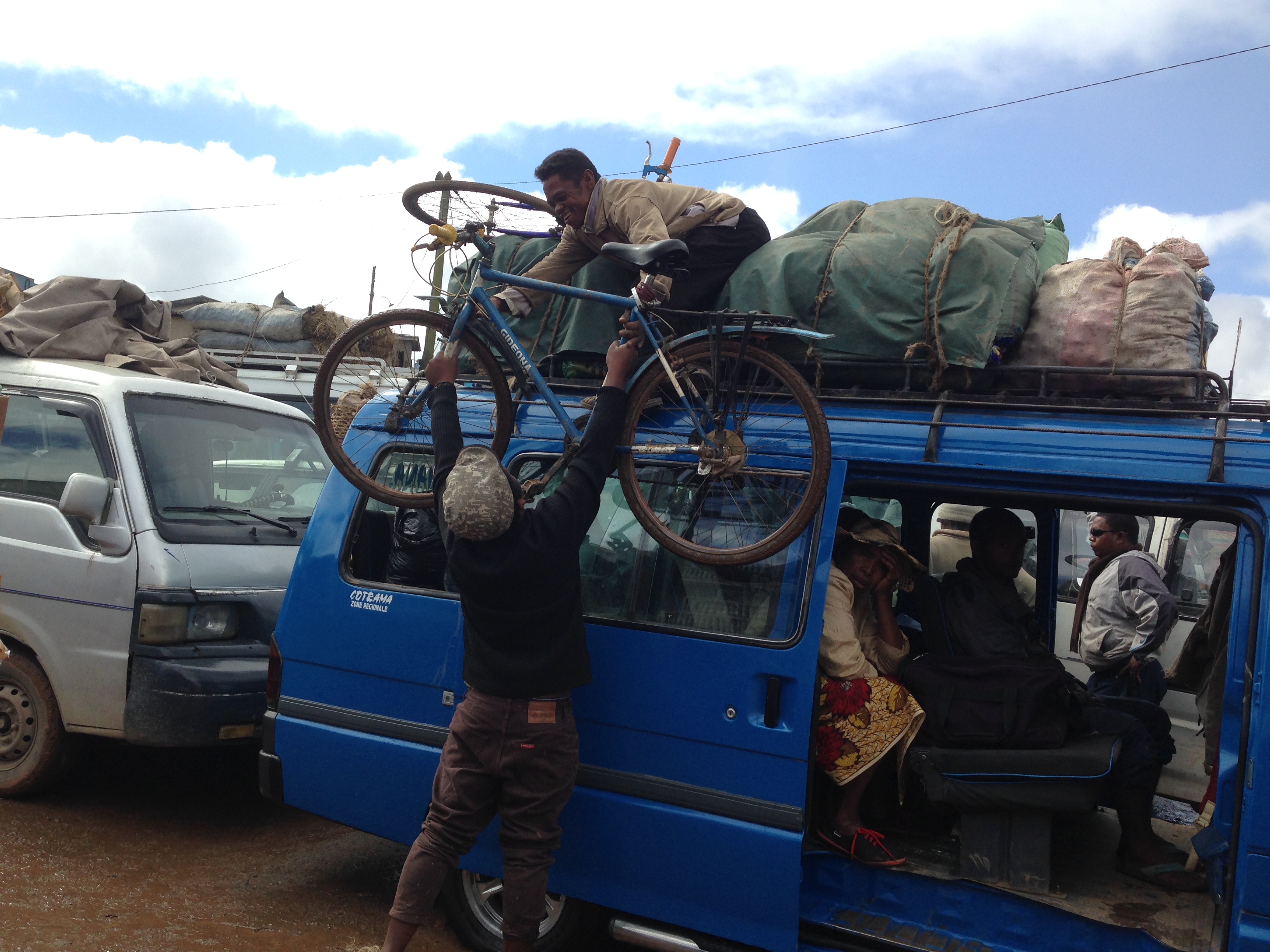 Traveling by taxi-brousse is a trade-off between time and money. They are inexpensive but don't start until they are full, and will stop anywhere and everywhere for passengers. One stretch of 90 kms took me 3.5 hrs to travel. Most landscape is hilly and roads windy, which slows you down. And poor condition of the roads adds to travel time. There are potholes all along the road. On one stretch of the road I saw so many deep and wide craters, I felt a meteor shower had hit that road 🙂
In taxis, people travel in all positions, sitting, standing, bending in all directions, scooching, sitting in spaces between seats balancing on the edges of thighs and bottoms. One of the taxis I traveled by, squeezed 35 people in a 14-seater (inclusive driver) 🙂 But no one complained. At every stop, people welcomed the new comers with a smile and made space.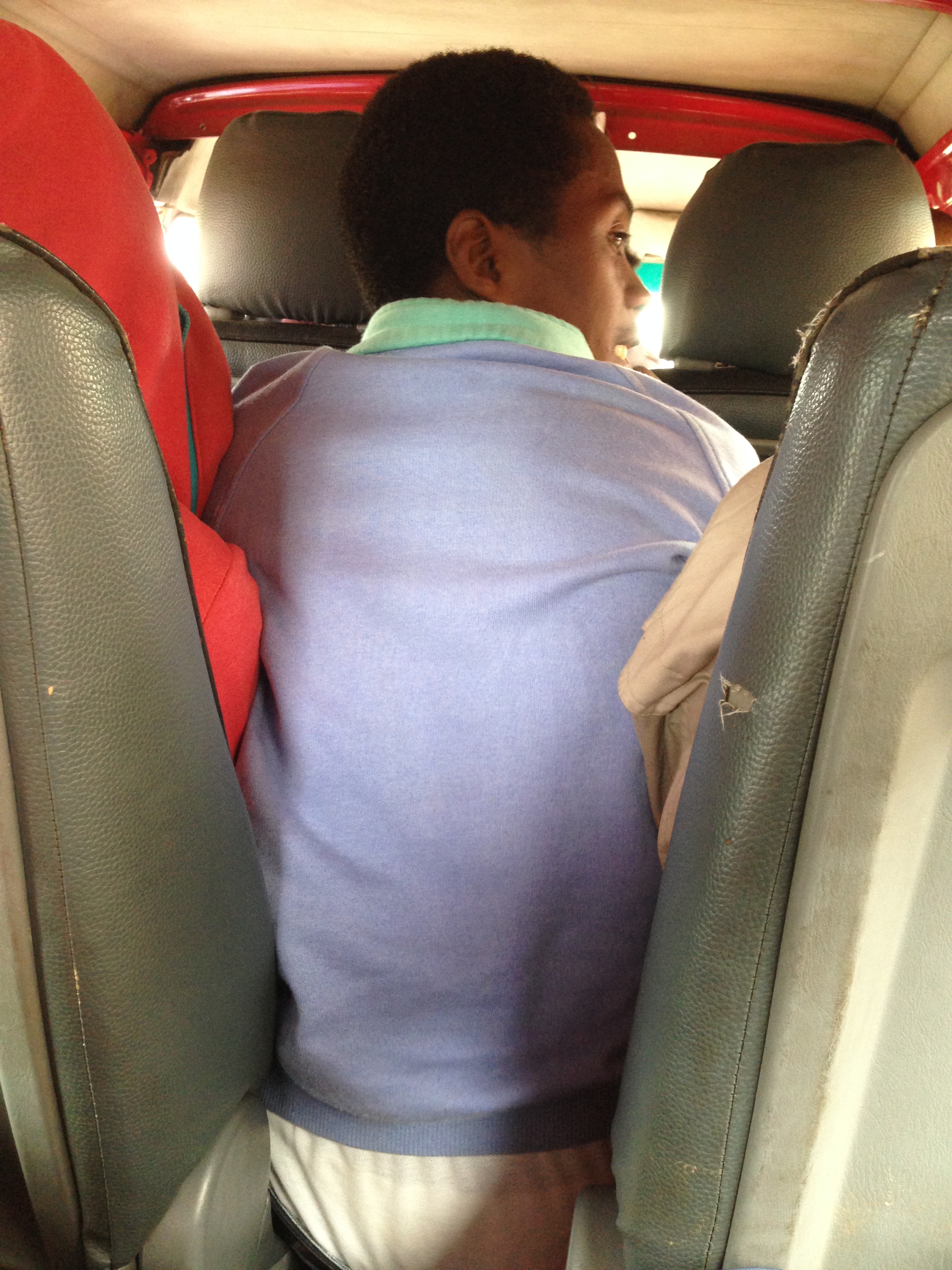 There is music, and if you are lucky, video songs as well. Most numbers are monotonous and cacophonous, and some are close imitations of hit western numbers. The videos are fraught with booty shakes. On one stretch of my taxi travel, a total of about 30 songs were played, and only 3 of them were free of booty shakes 🙂 Initially I felt a tad irritated by the blaring music, but the numbers were surprisingly catchy, and I started enjoying them 🙂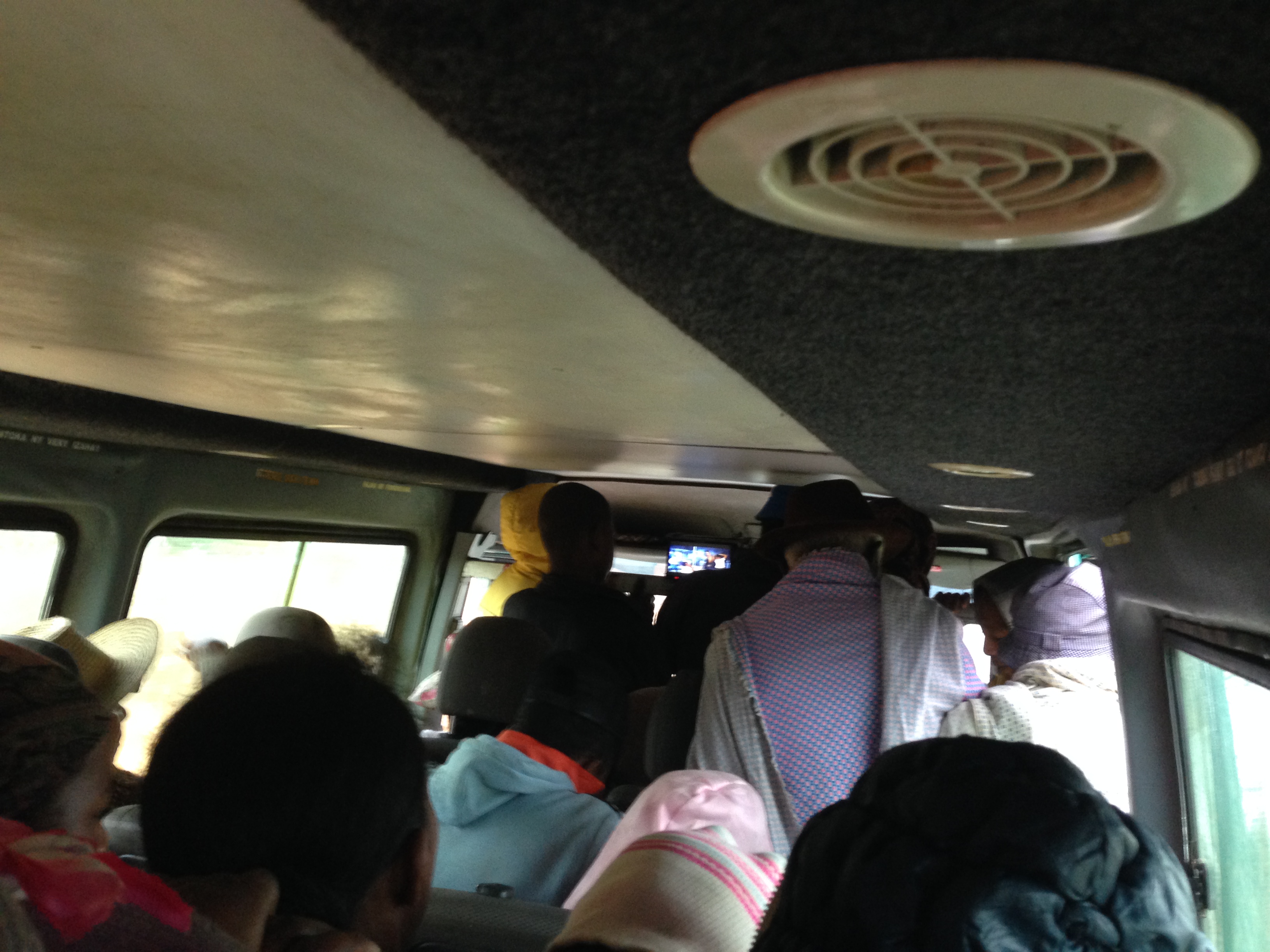 Nature and The Landsape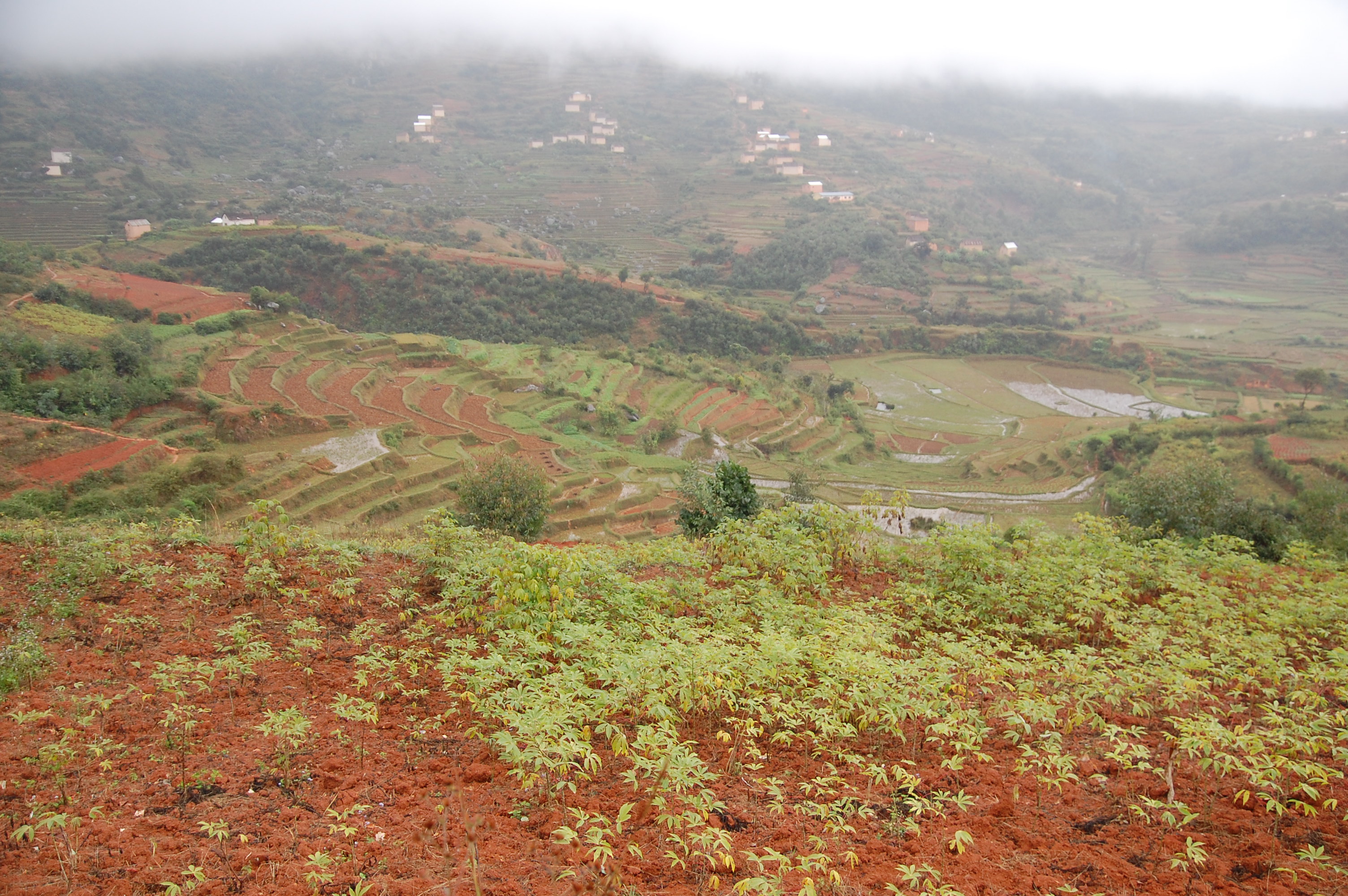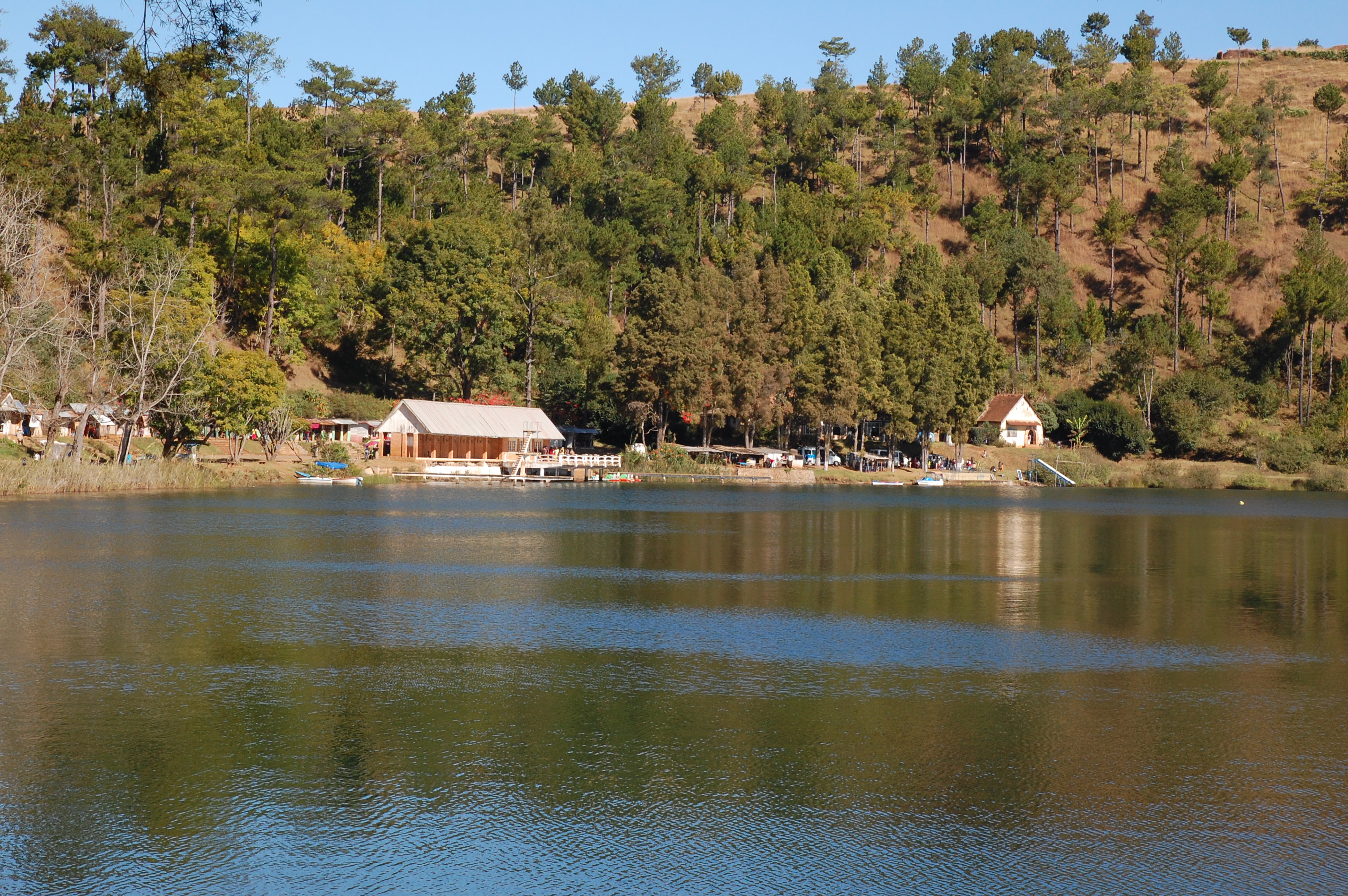 Nature is perhaps the biggest draw of the country. Most places are untouched and retain their pristine quality. The land, mostly red soil, seems to be very fertile. There is abundant vegetation. And apparently water resources are adequate as well, evidenced by ubiquitous paddy cultivation. The landscape is mostly hilly, red, and undulating. Red and brown hills laced with green patches, mostly symmetrical, with sparsely distributed red houses on the hills, and red mud roads as the veins and arteries is a common sight. By carving terraced fields, the Malagasy seemed to have coped well with the hilly terrain. Early in the morning, the moisture vaporizing and rising from freshly ploughed fields is a sight to watch.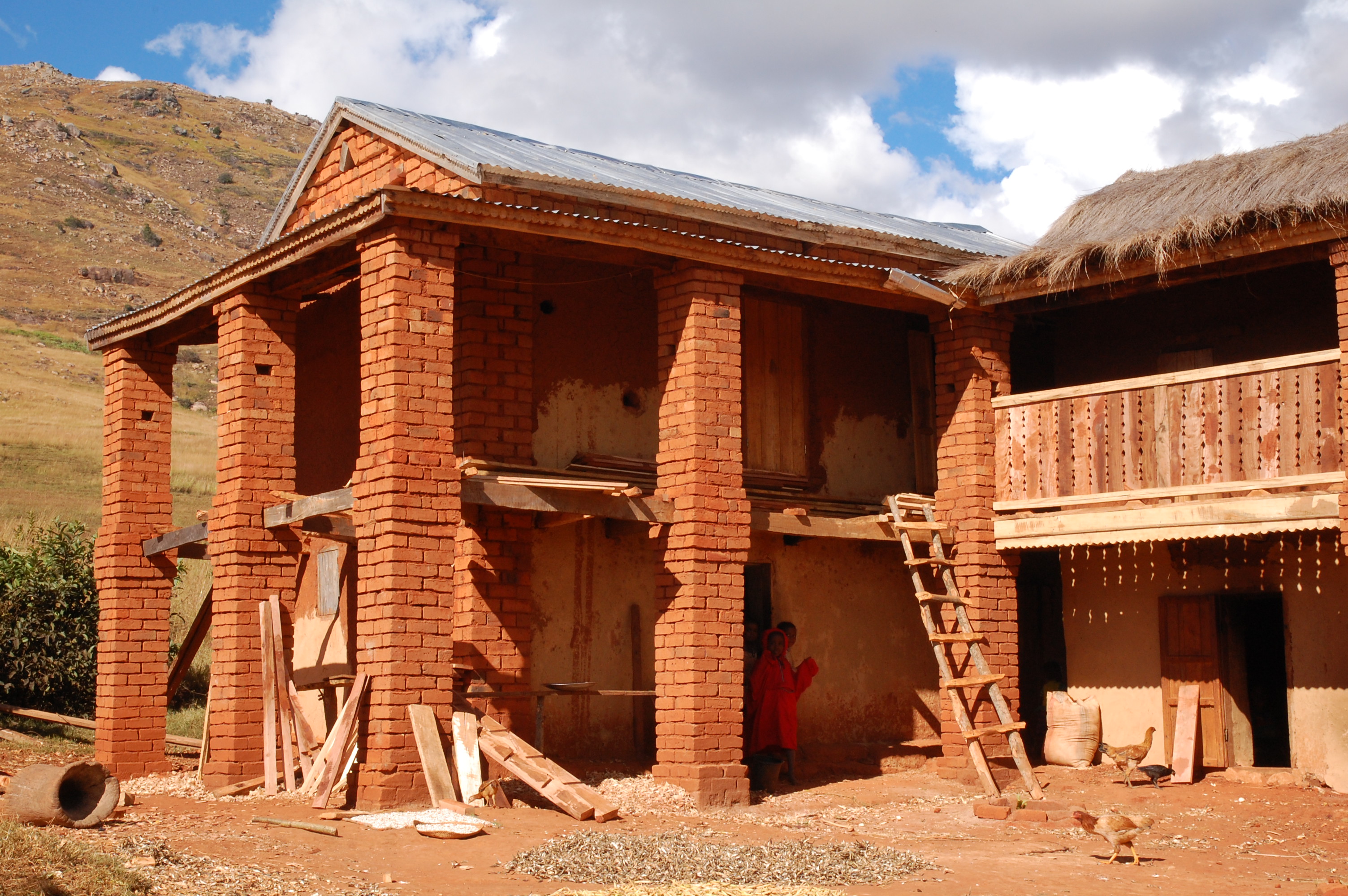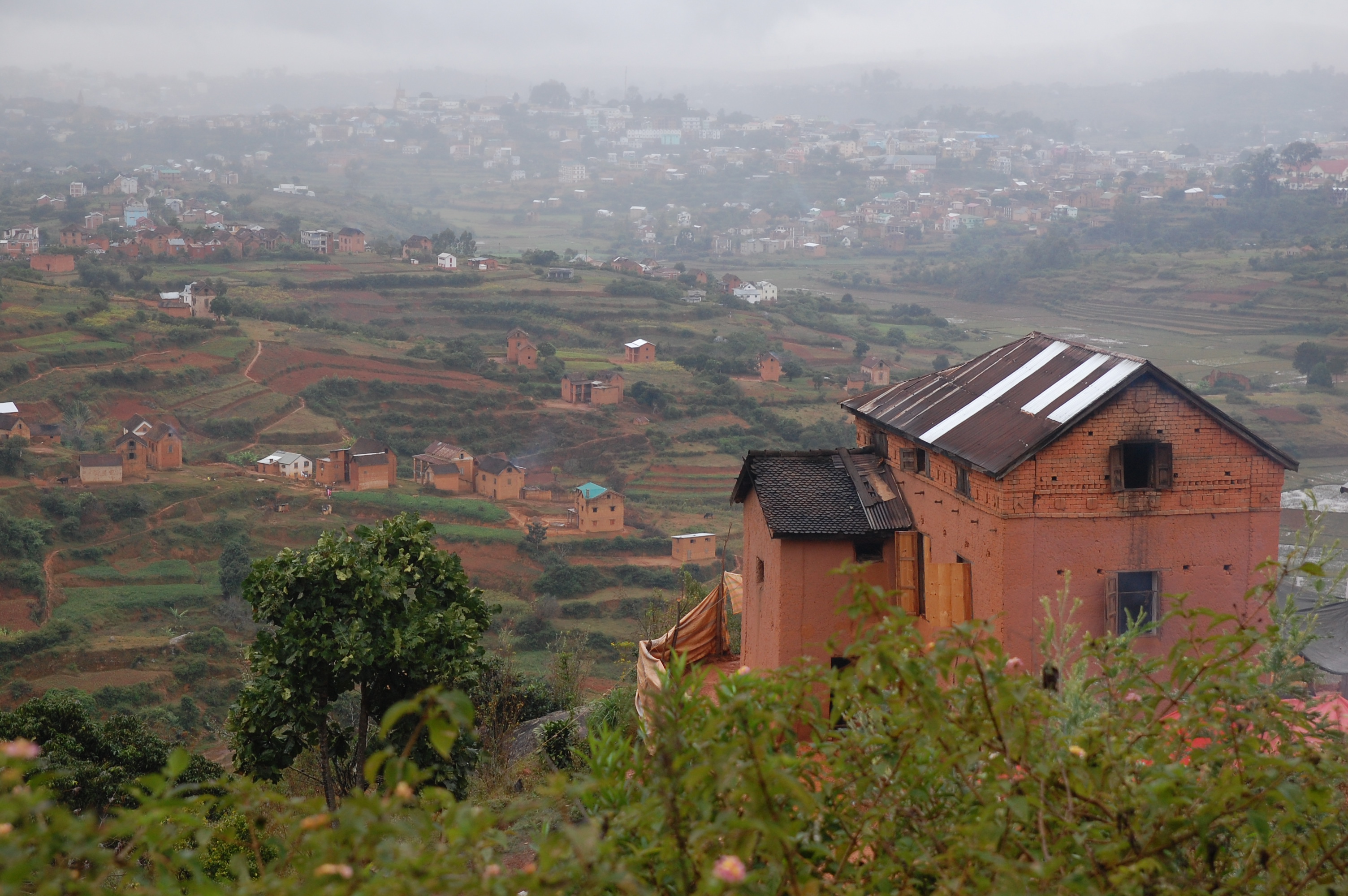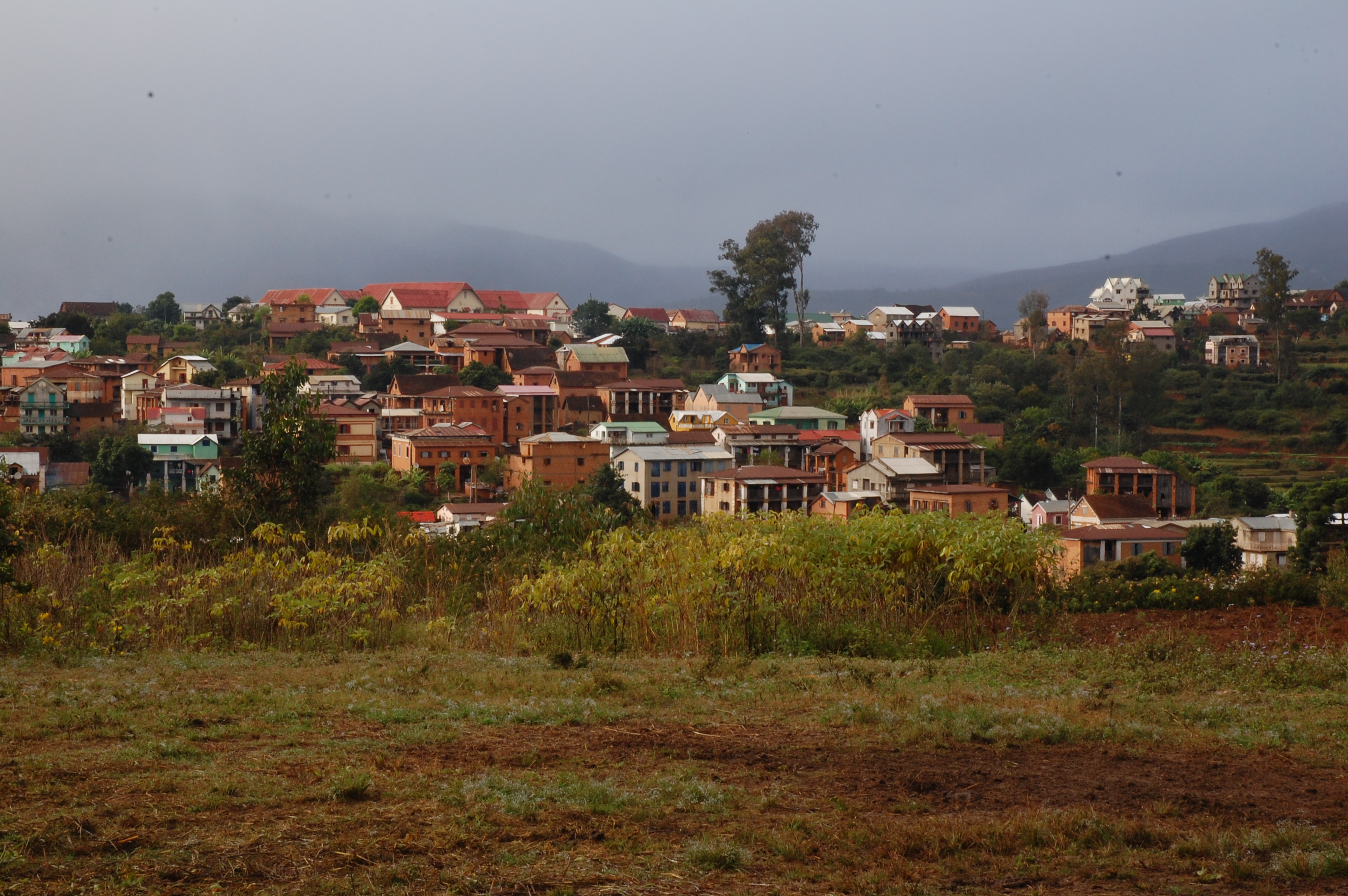 And then there are national parks. I visited two very diverse ones. Andringitra – dry, hilly and mostly granite wilderness. This park is home to the highest accessible peak of Madagascar, Peak Imarivolanitra, or Pic Boby in short. This is an all-in-all-out park, so you have to carry all supplies for the hike, and bring all waste back with you out of the park. With the help of an English-speaking guide and a local guide I was able to hike this peak. The start point of our hike was a good 2-hr drive off the highway, on a dirt road through villages. From there, a 15-km trail, winding through villages and fields, crossing multiple small streams, passing the Antaranoombi river, cutting through a Palm forest, reaches the base camp which is at a height of 2000 meters. From the base camp, the peak is a 3.5 km hike climbing through steep rock faces.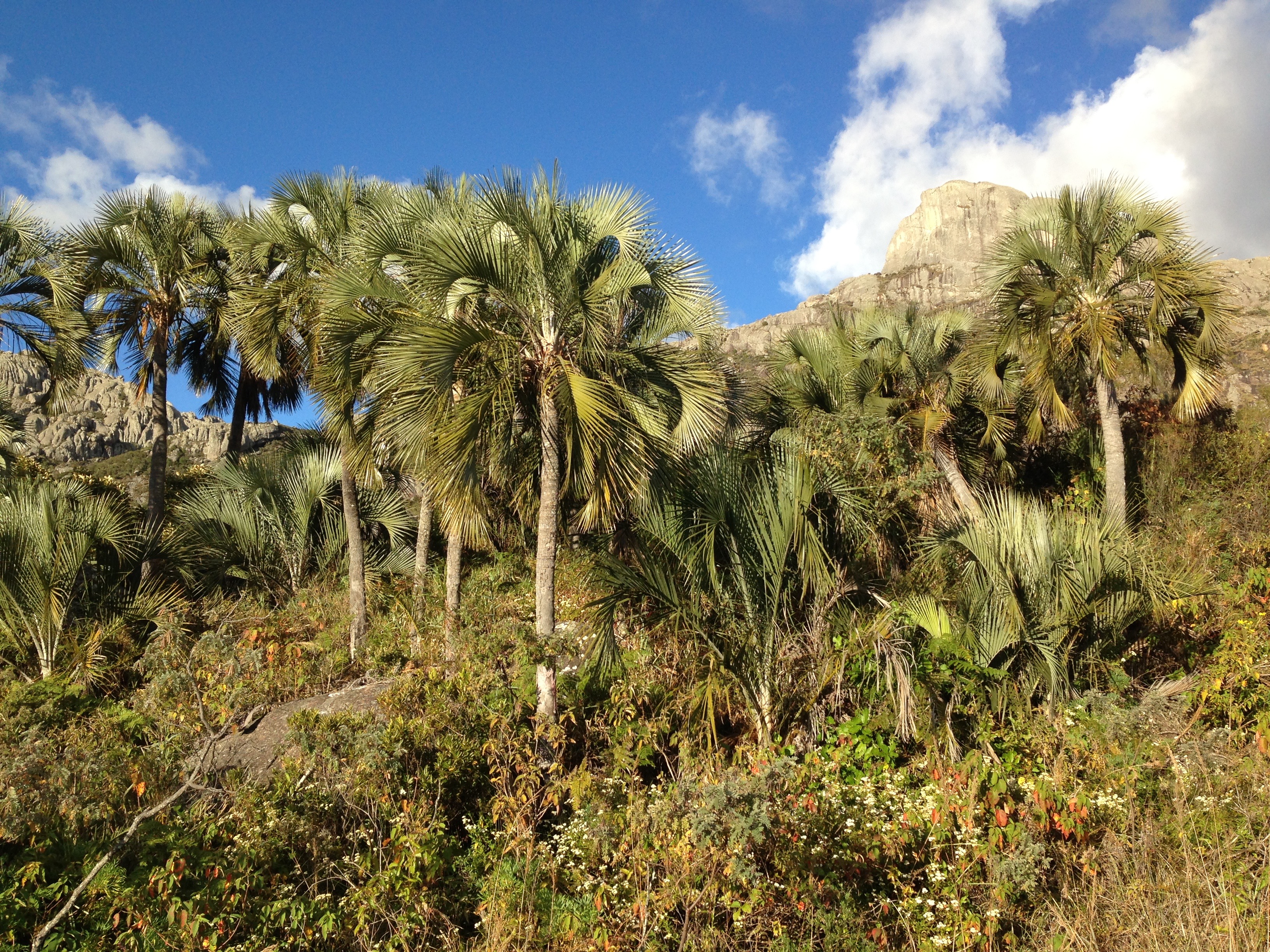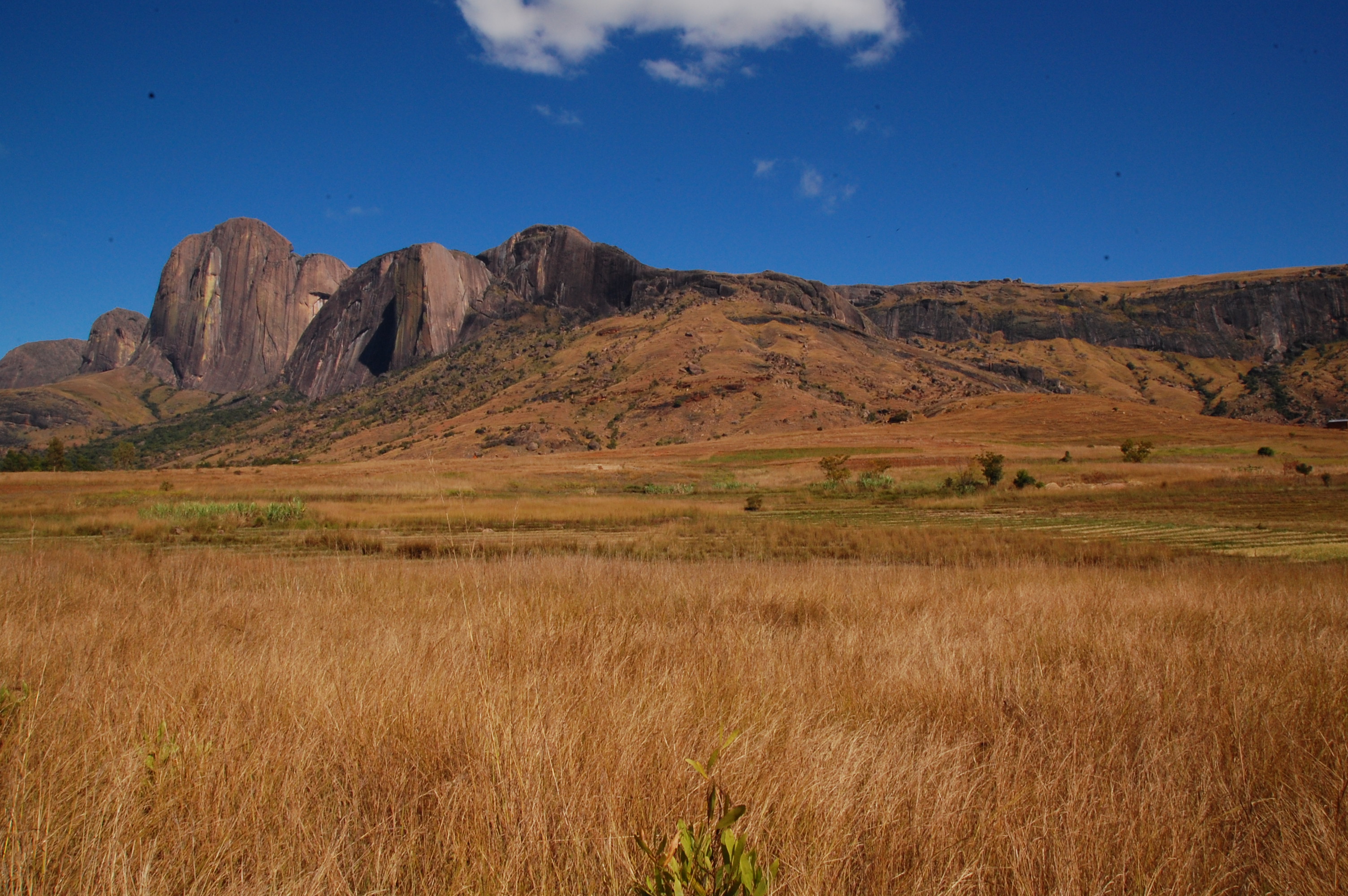 There were several awe-inspiring moments during the hike. At the door step of a plateau called The Lunar Landscape, we watched the sun setting behind the mountains on the west. In the park, there is a rock that's named La Chameleon for its uncanny resemblance to a chameleon. A millipede rolled itself into a tough but amazingly beautiful marble when touched. Awesome!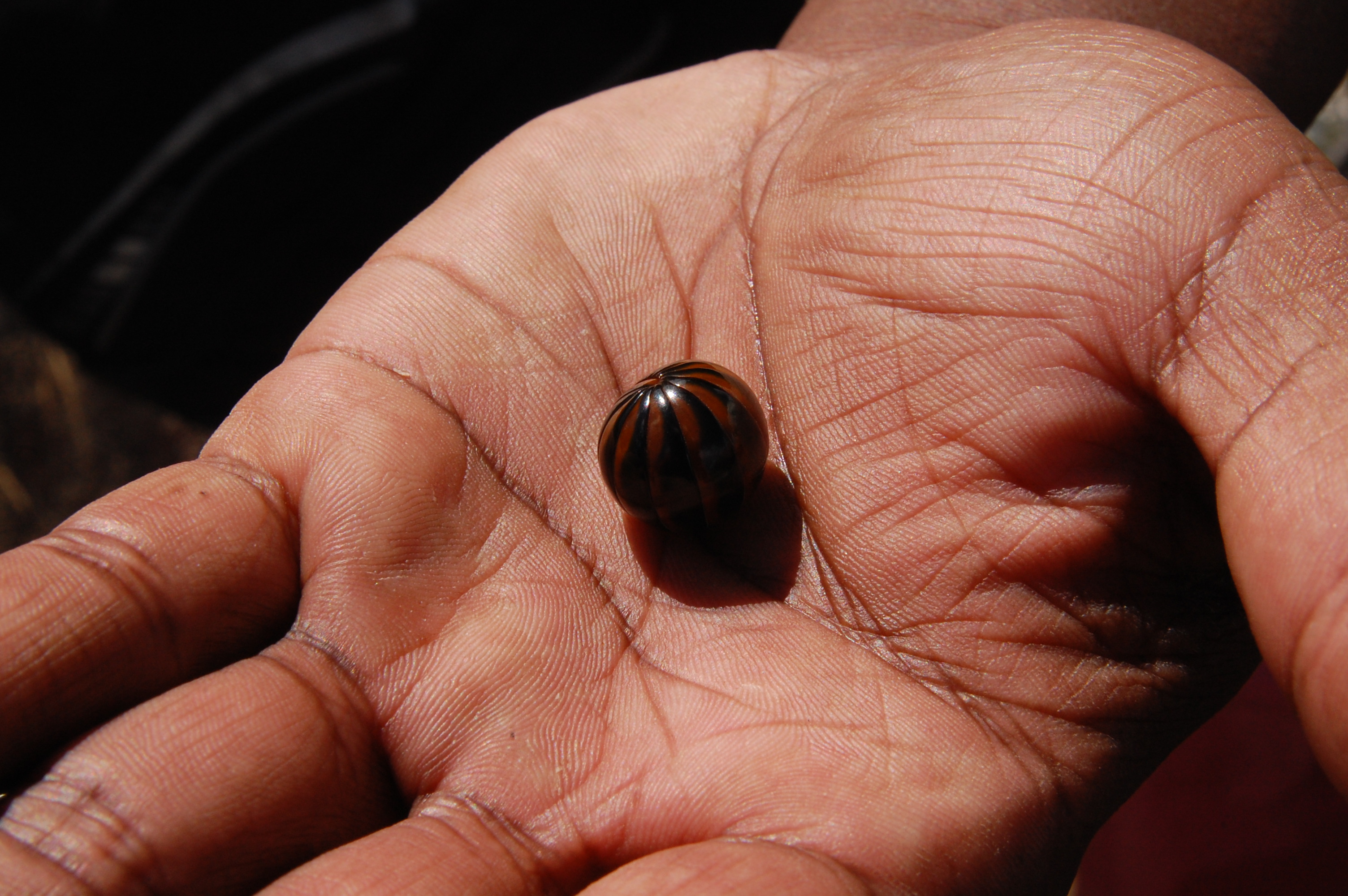 At the base camp at night, it was pitch black all around, silhouettes of mountains were dwarfed against the backdrop of the sky illuminated by millions of twinkling and steady stars, shooting stars every now and then, away from all sounds of civilization the only sounds I could hear were those of the nature, crickets and other insects, water running downhill somewhere far away, the wind, and that of my own breath. It is one of those moments when my heart wished time stood still because the beauty of that instant is far beyond expression. And then the thought of how hiking makes me sensitive to each breath and how wilderness inspires me to introspection. When I am climbing, and I take a break and turn back to appreciate the beautiful view from that height, it's then that I can hear and feel my pounding heart and my heavy breath, and my eyes are treated to the beauty of the wilderness around me, and in that moment time freezes and loses meaning.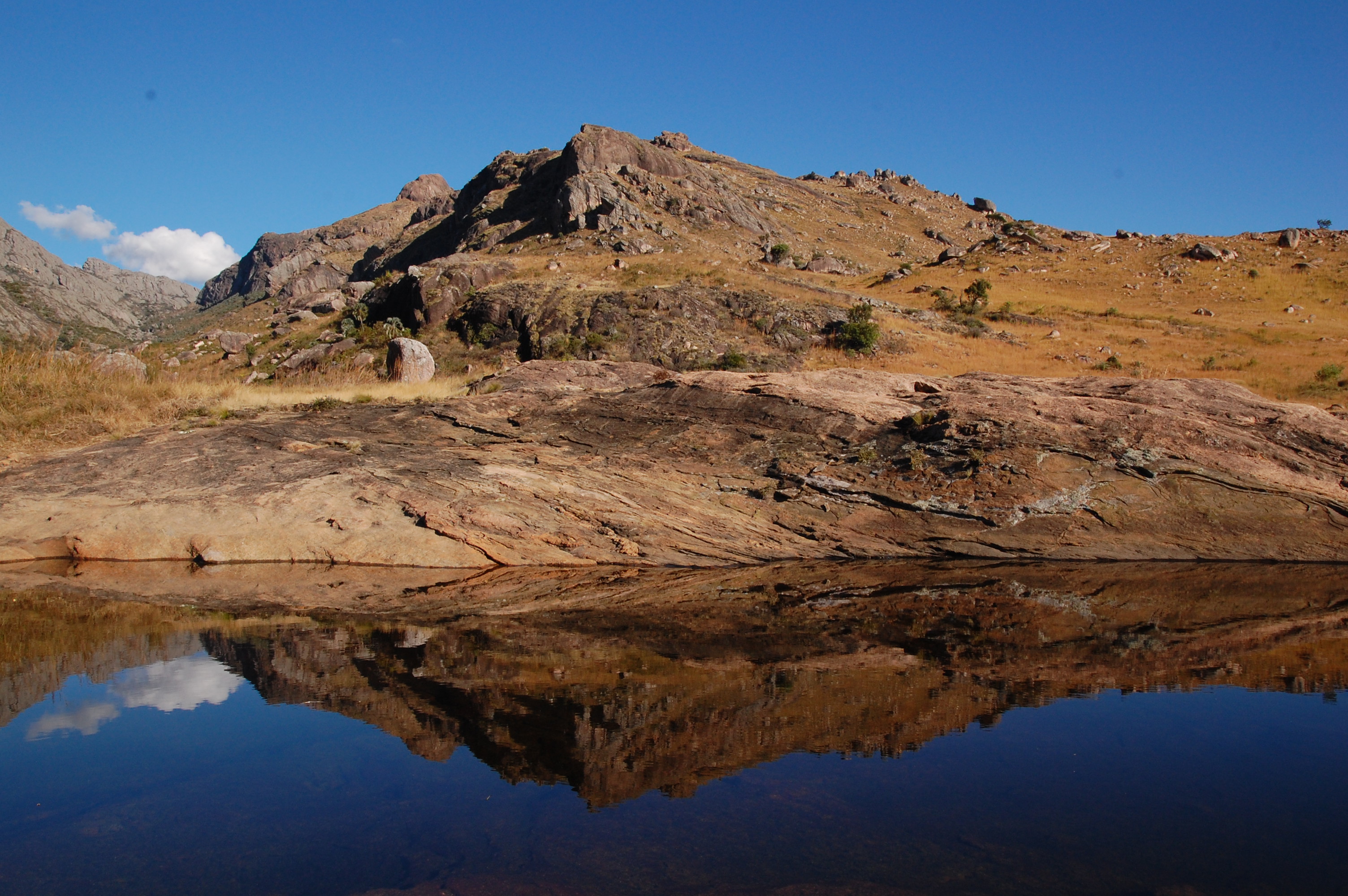 Ranomafana – a wet, dense rainforest, best known for the high scope of spotting lemurs. I camped in this rainforest and went on a lemur-spotting tour with three American tourists. It's amazing that it was raining when we were inside the forest but the rain did not reach us. This forest is so dense! The guide told us some parts of the forest do not receive sunshine ever. Saw four different species of lemurs and some birds.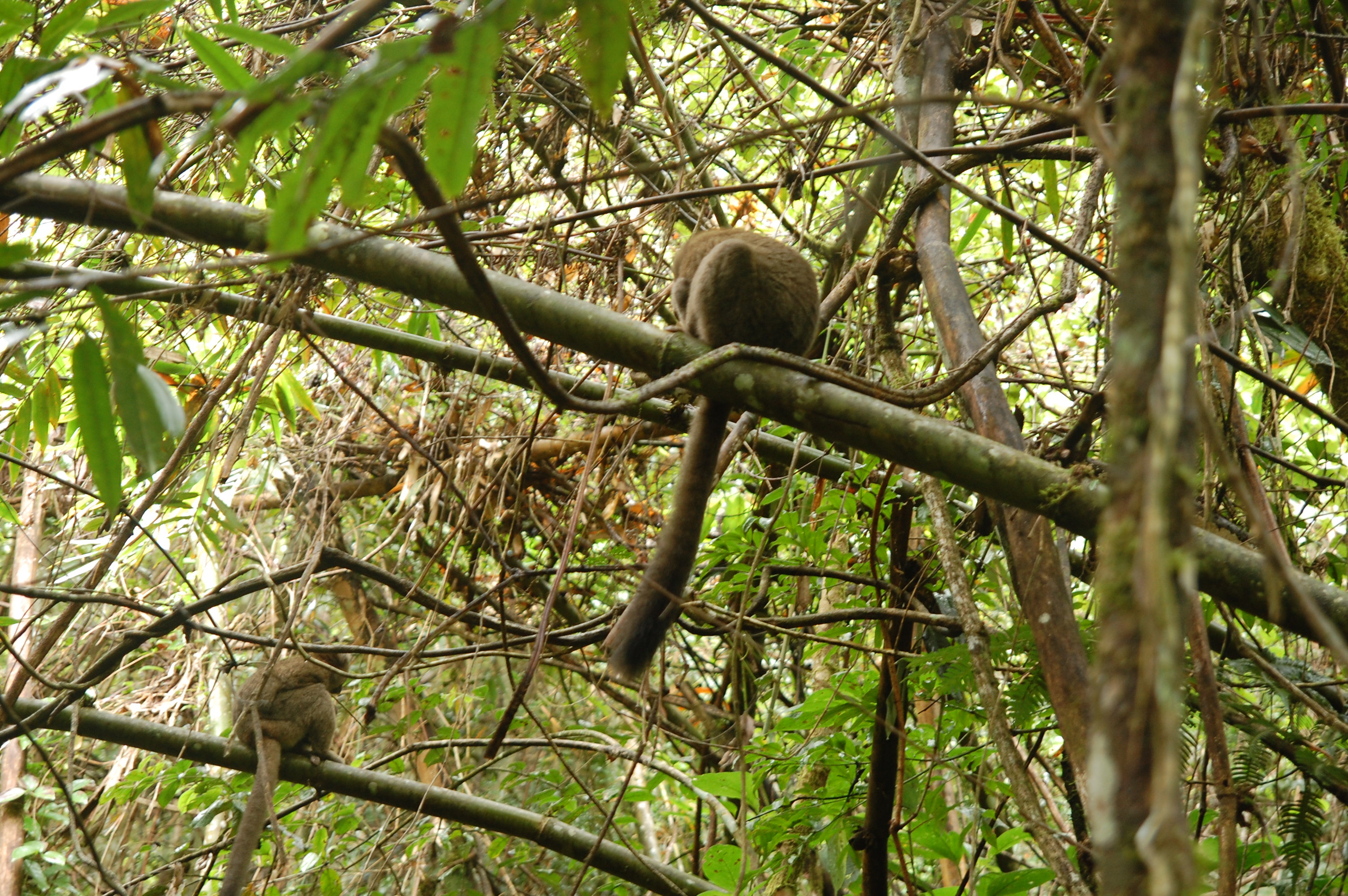 Both of these parks are home to various species of plant and animal life endemic to Madagascar. Ranomafana is easily accessible. Park entrance is by the highway which is well connected. But not Andringitra. There are two entrances to this park and both are a good 2-hr drive on a rough road off the highway.
Food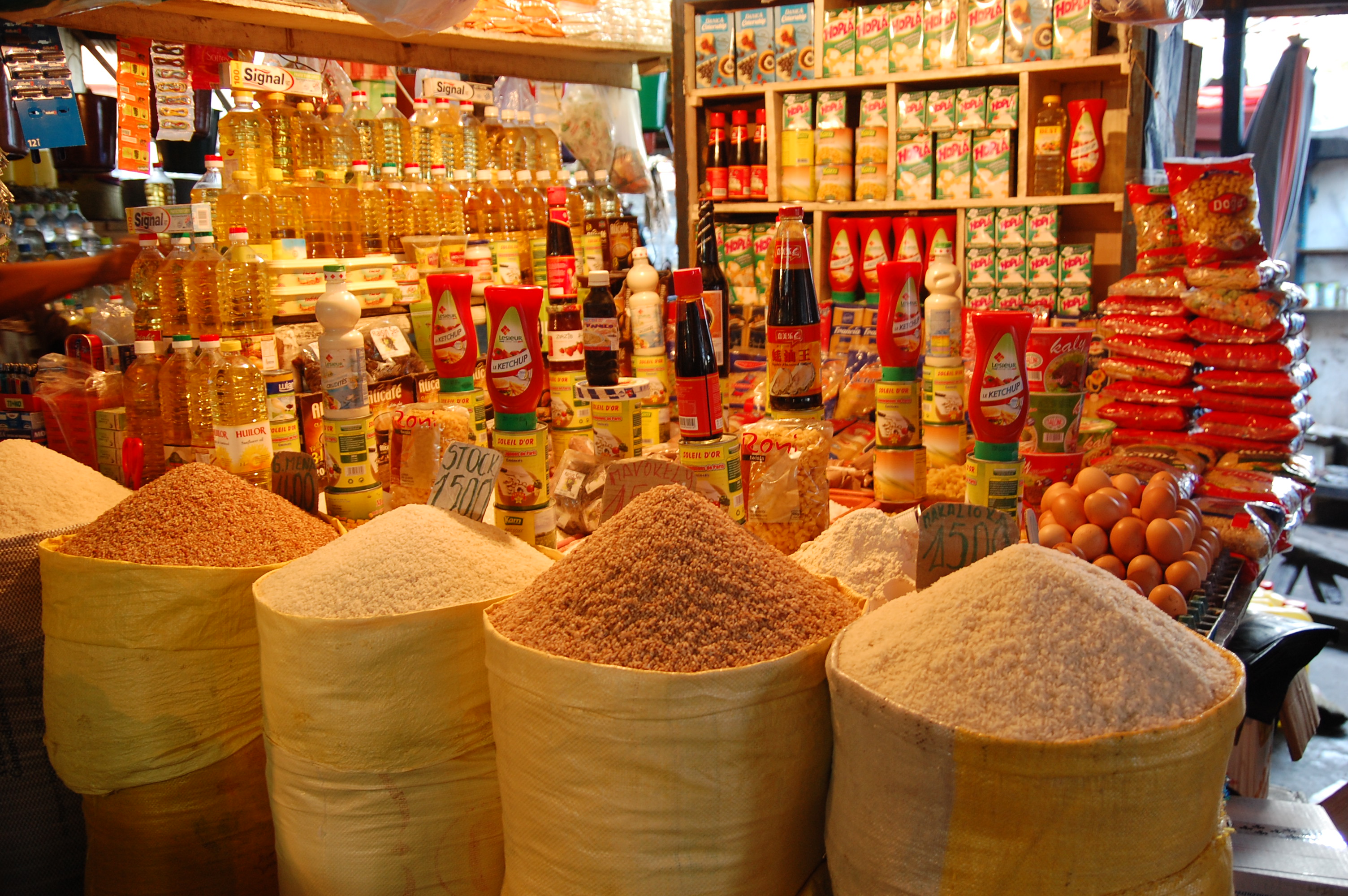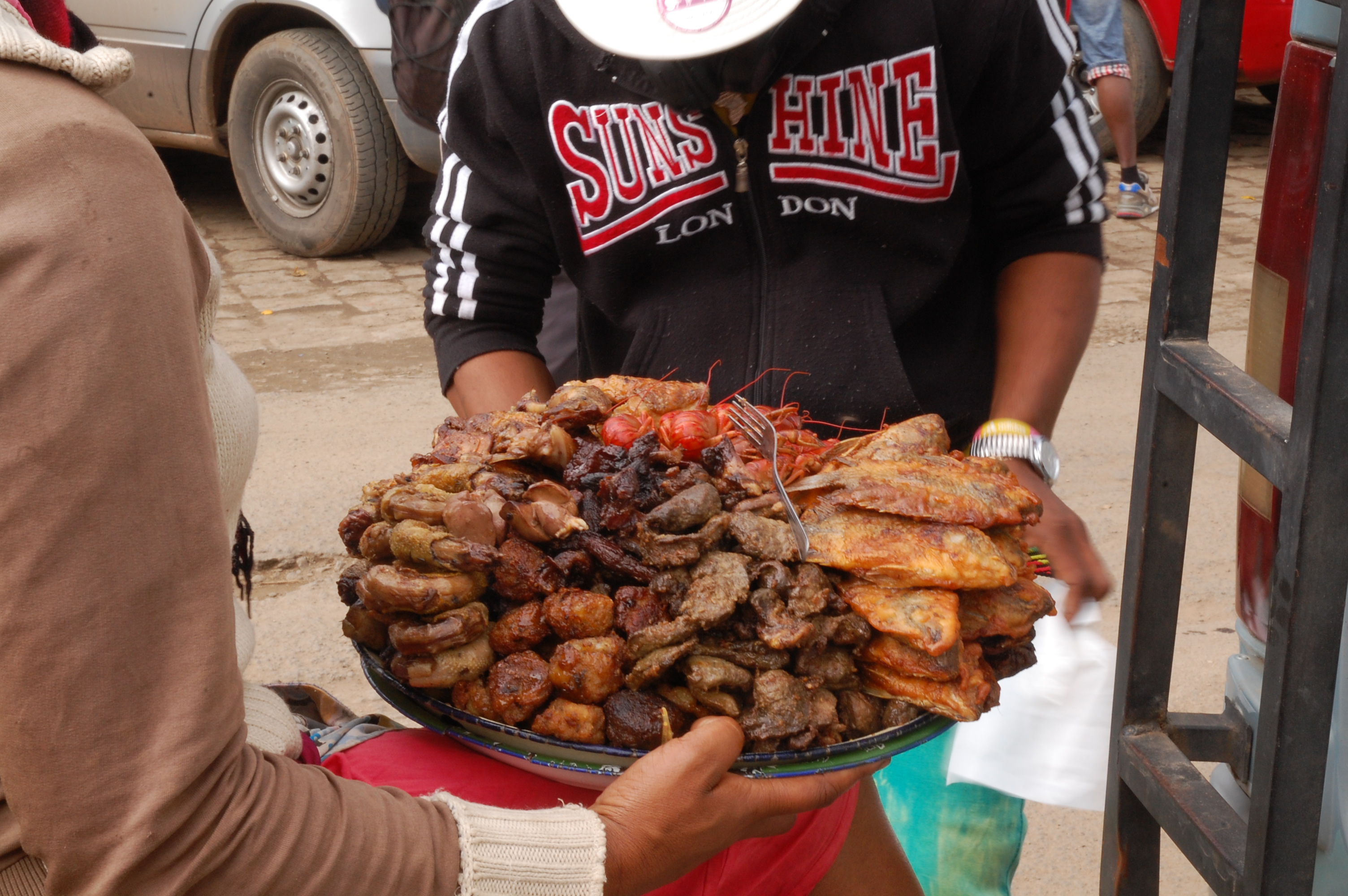 The Malagasy seem to love beef, called Zebu. It is the most commonly available meat. In addition, there is pork, chicken, duck, vegetables and sea food. Rice is the staple food, and the Malagasy eat rice three times a day. Most of the other items such as snacks are also made of rice flour.
The typical Malagasy meal consists of three parts (1) Rice (2) Side dish, usually meat, and (3) Burnt-rice water. The rice is served first, and is usually served in a troughed-plate, and there is so much rice stuffed into it that it looks like a mountain of rice 🙂 Looking at the quantity of rice, I was expecting huge quantity of side dish to eat it with, but to my surprise the side dish was totally inadequate. I had chicken and duck on different occasions, and both were very bony. So, effectively the side dish was too little. When I mixed the side dish with rice, it was barely visible 🙂 Nevertheless, every meal I had, the rice and the side dishes were very tasty. The most interesting part of the meal for me was the burnt-rice water. After the rice is dished out, water is poured into the vessel and the bottom is raked multiple times until the water almost comes to a boil. The water turns brown due to the rice that stuck to the bottom of the vessel. This hot brown water is then served. The first time I drank it, it tasted weird, primarily because it smelled of burnt rice, but I quickly acquired a taste for it because the next time I had it, I enjoyed it.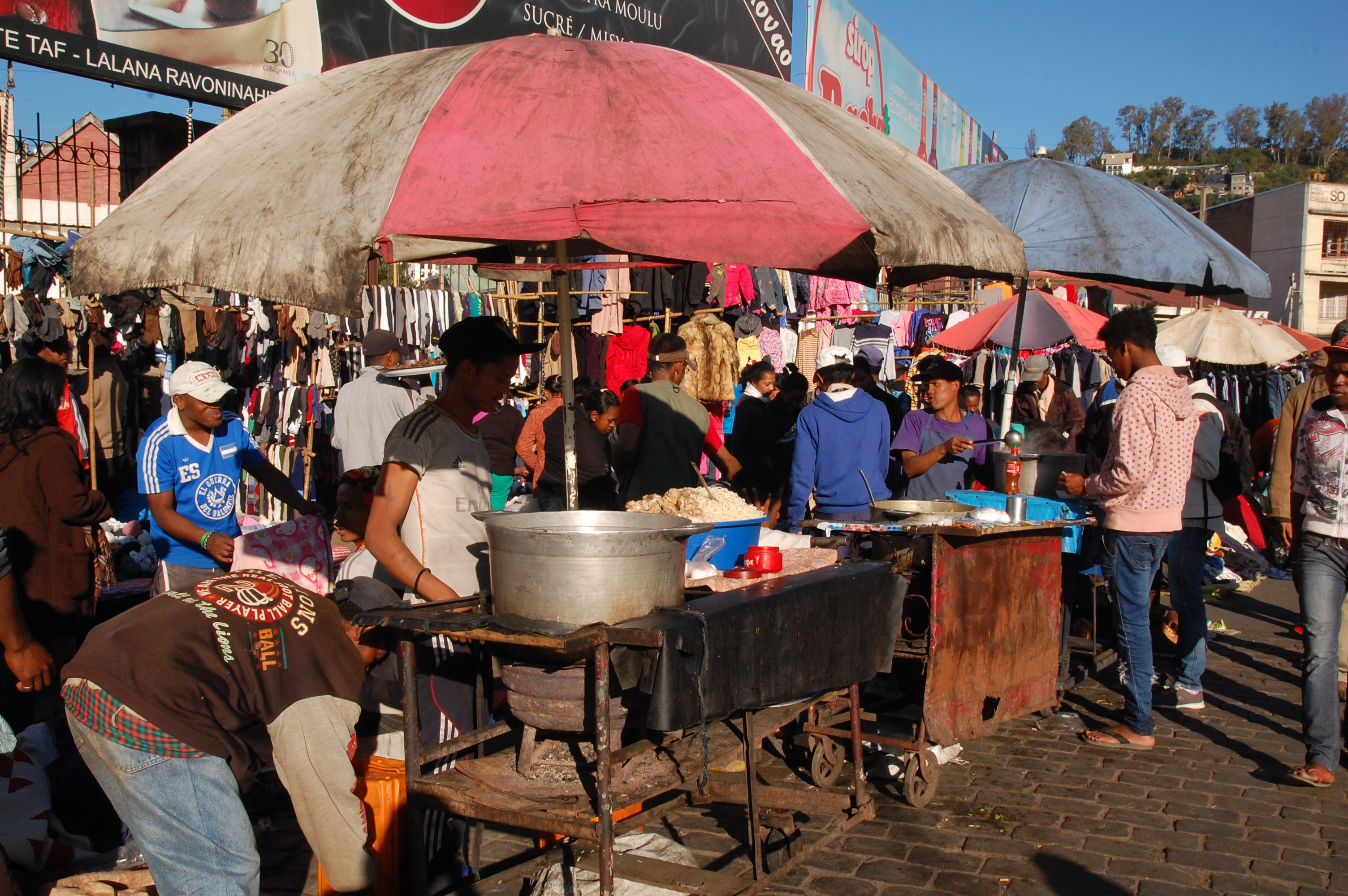 Another important food item is the bread. This foot-long bread seems to be the favorite of many and is available almost everywhere. The peculiar thing I noticed about this bread is that it is fluffy. If you press it, it will crumble into a much thinner mass.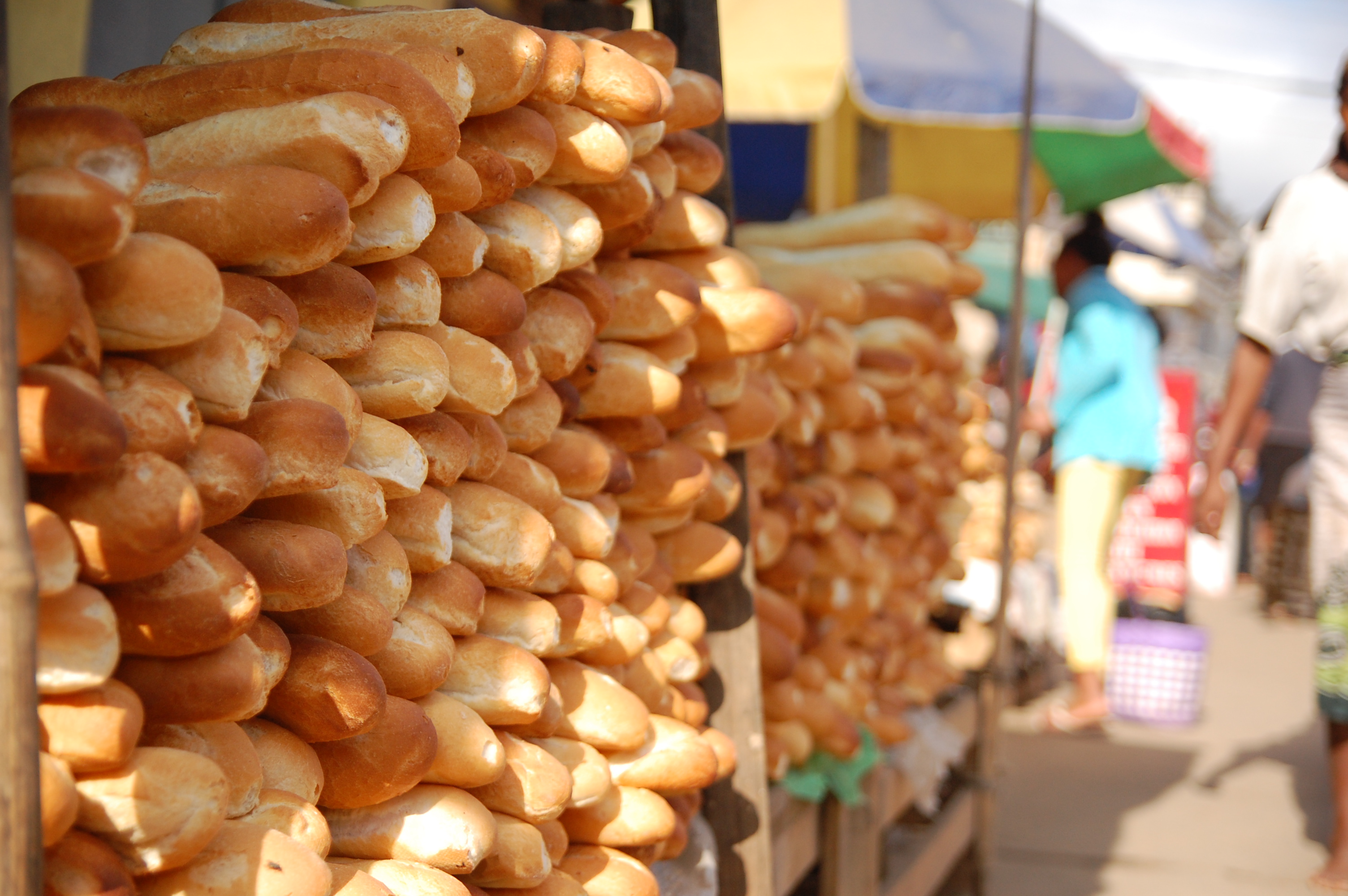 While most of the meals I had were mild in spice, there was one meal at a street-side eatery (hotely) that burnt my tongue and stomach. I had something called a coutlet, a deep-fried rice-flour dumpling, stuffed with tasty potato curry. I asked for some sauce, and the hotely person brought me something that looked like an Indian pickle. I dipped the dumpling in it and ate. It was tasty. The spice didn't hit me when I chewed it but only a few minutes after I swallowed. So, by the time I felt the spice I had already eaten 5 coutlets. It was so very spicy that that night I had to drink about 1.5 liters of water to douse my burning stomach. Deadly delicious!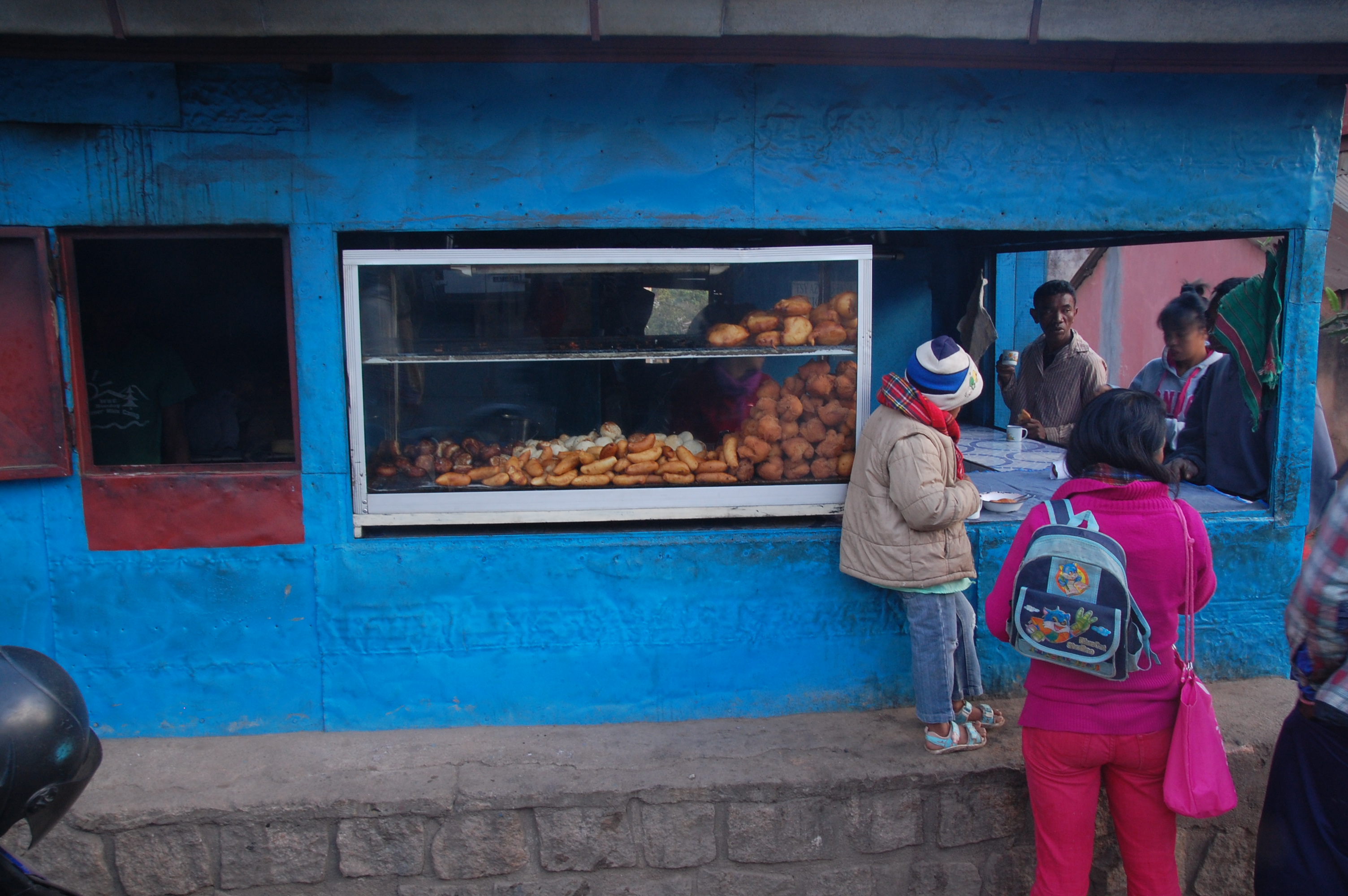 Poor but happy!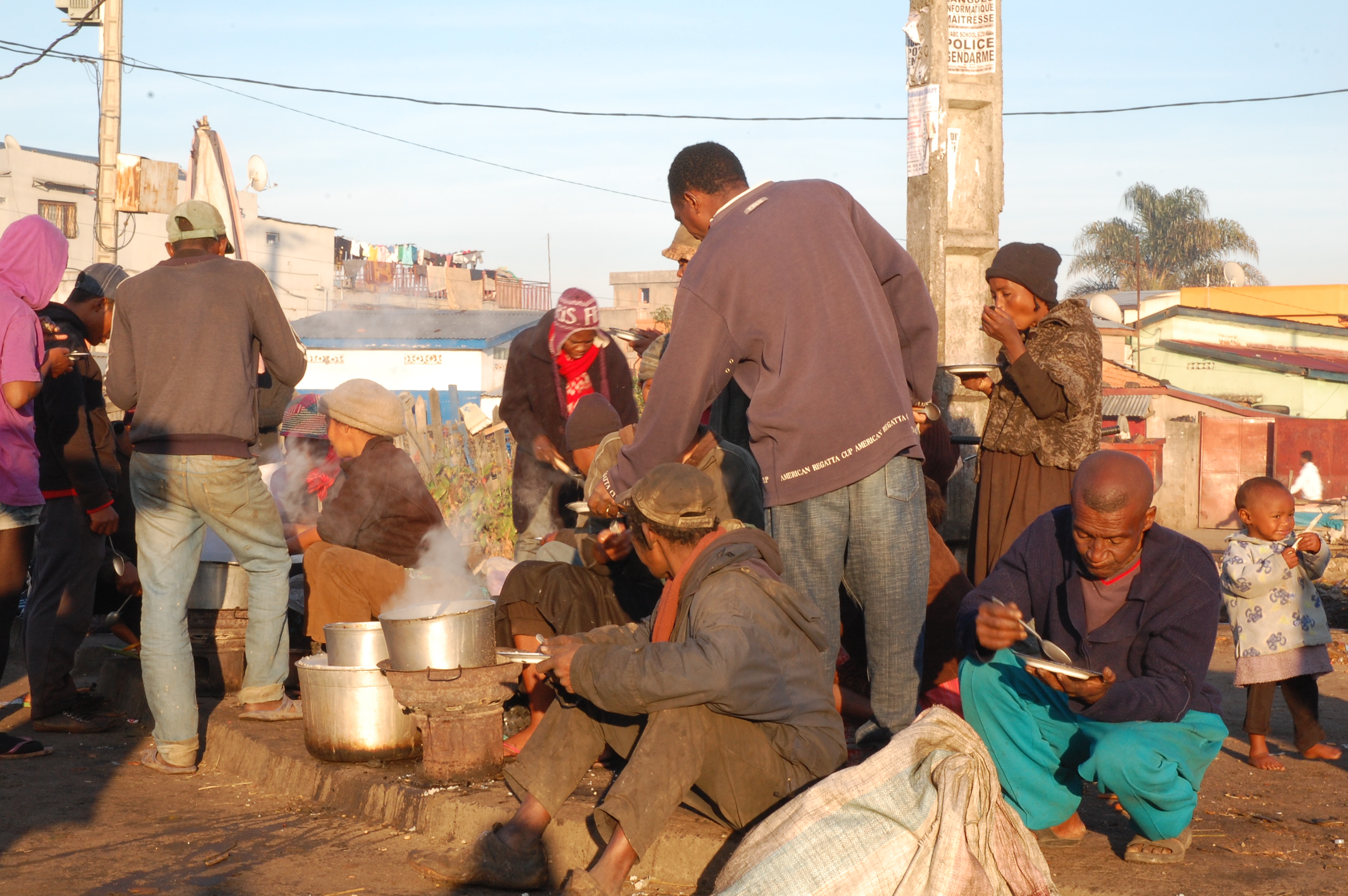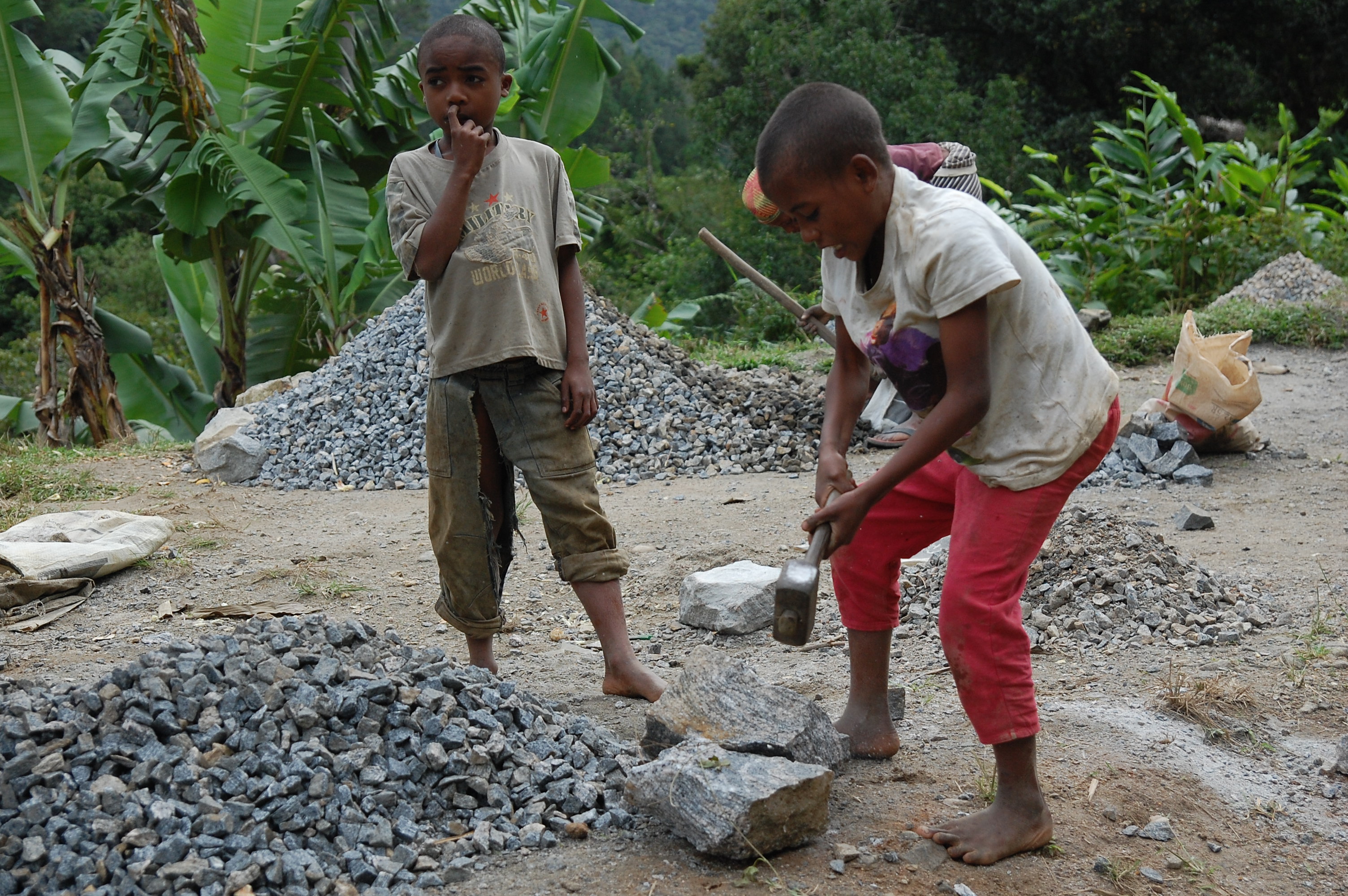 The taxis stuffed with people and everything imaginable, huge quantities of rice with little side dish, the burnt-rice water and the fluffy bread are reflections of the poverty of the people. The country is very poor. Most people, including children, are seen in ragged and unwashed clothes and with greasy faces, and there are people begging for food at every taxi stop. But in all the places I visited, even in crowded markets in the capital city, I never saw people fighting or arguing. I never heard a complaining tone. No one seemed to be protective or hoarding.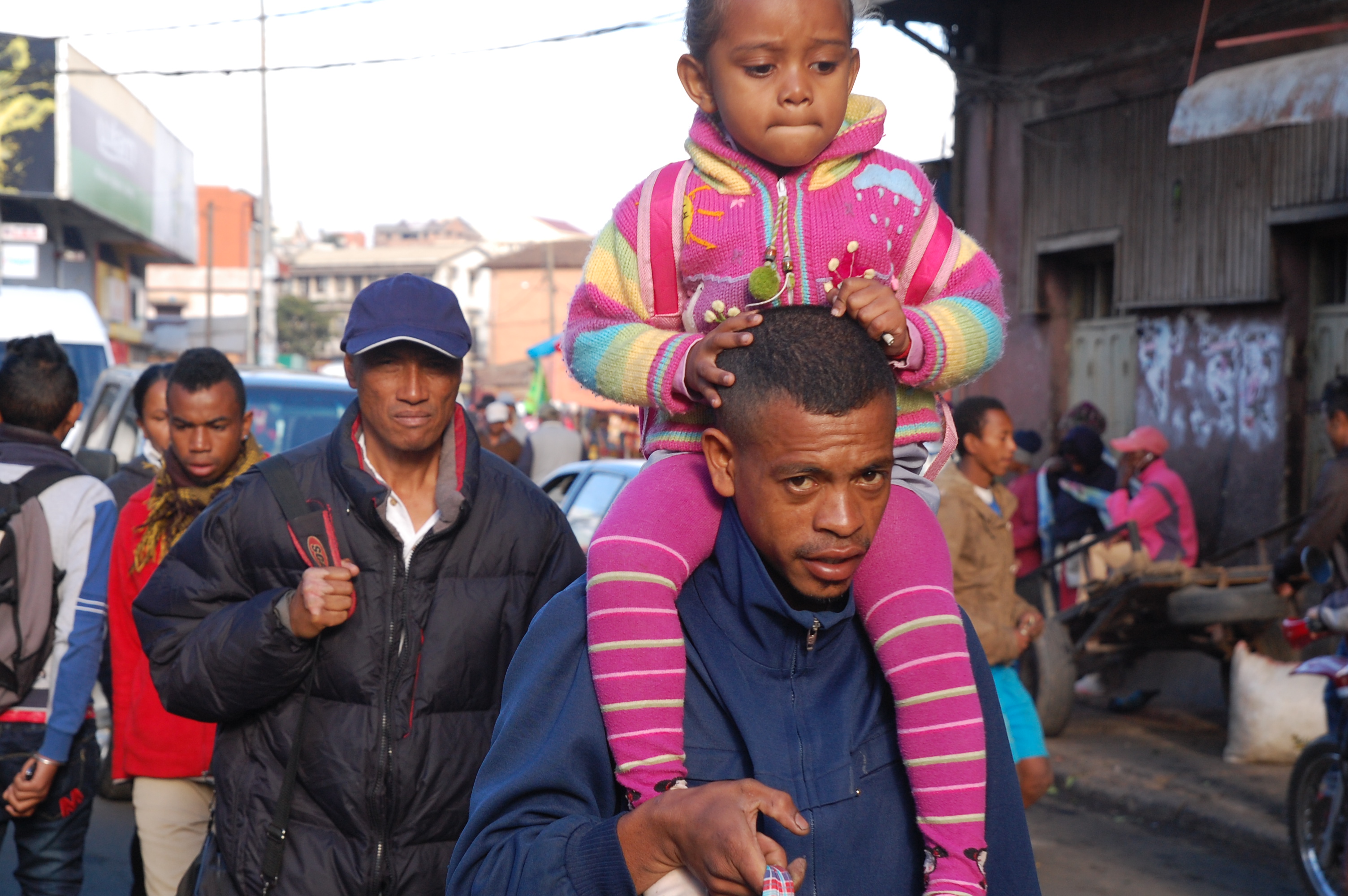 People were always smiling, and when I greeted them in Malagasy they greeted back with a big smile. Always helping one another, always adjusting and making way for others. Whenever I bargained, if my offer sounded unreasonable to them, they gave a big smile, waved their palm to signal "not acceptable", and counteroffered.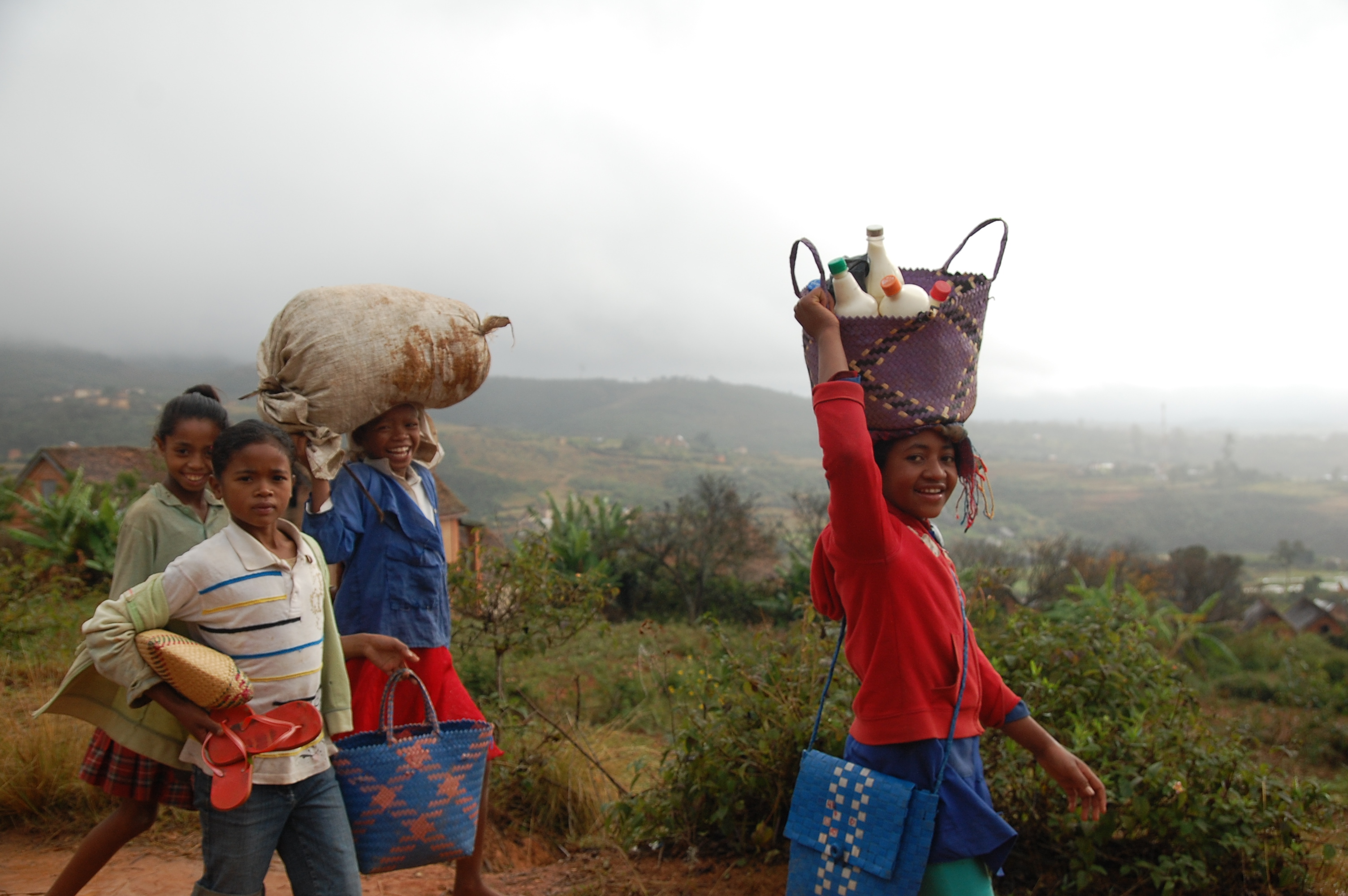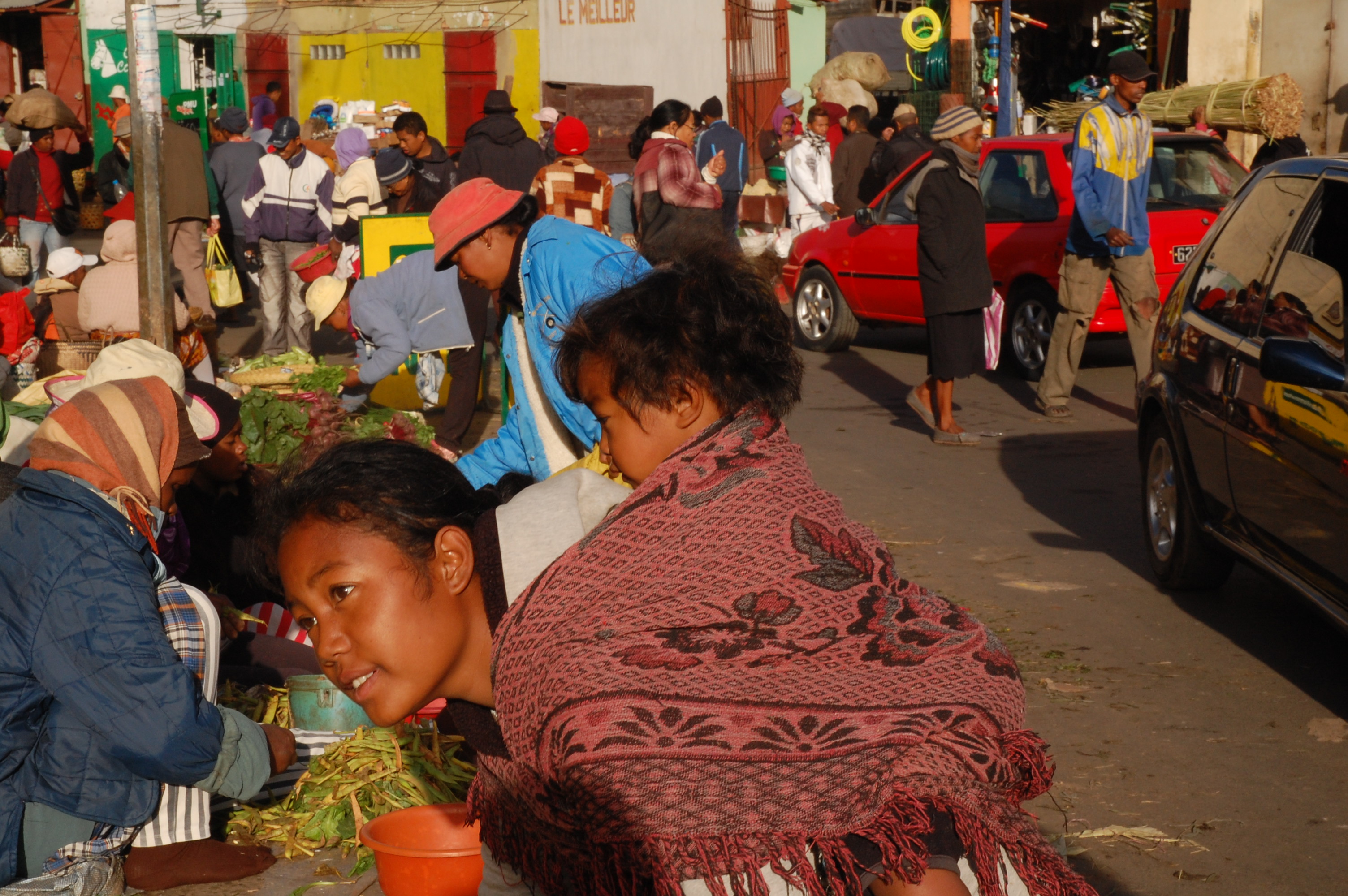 Tana was a surprise!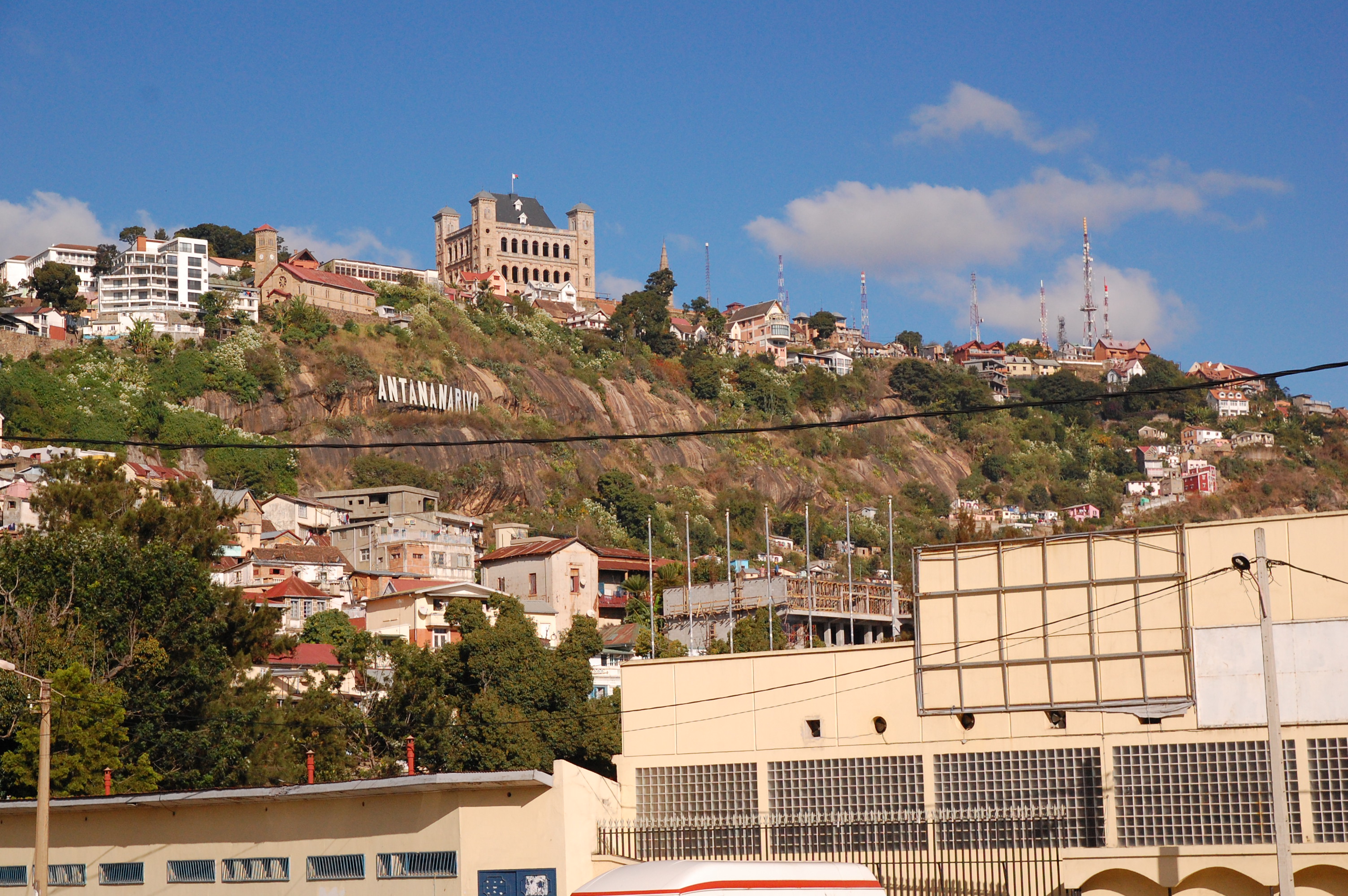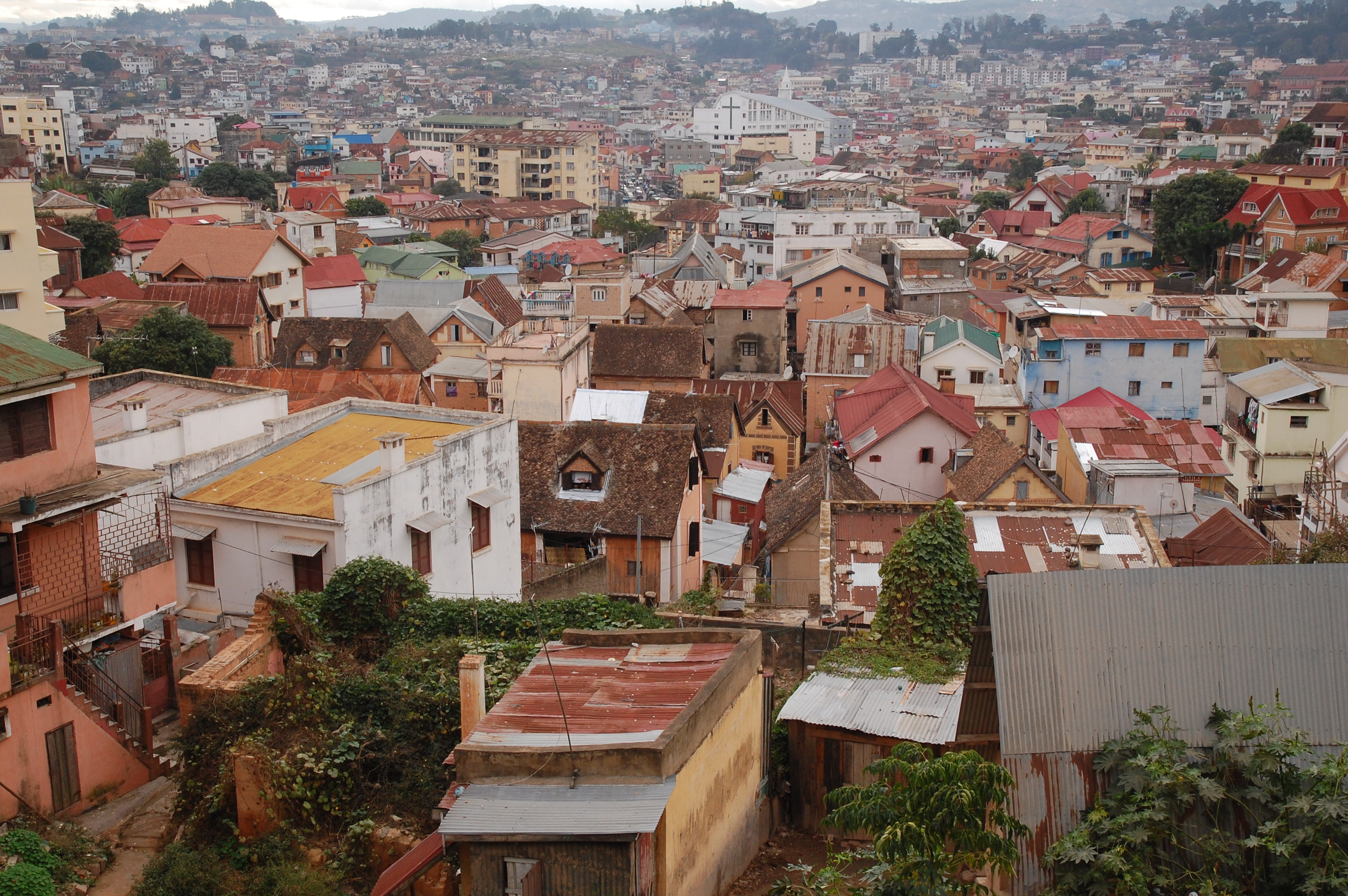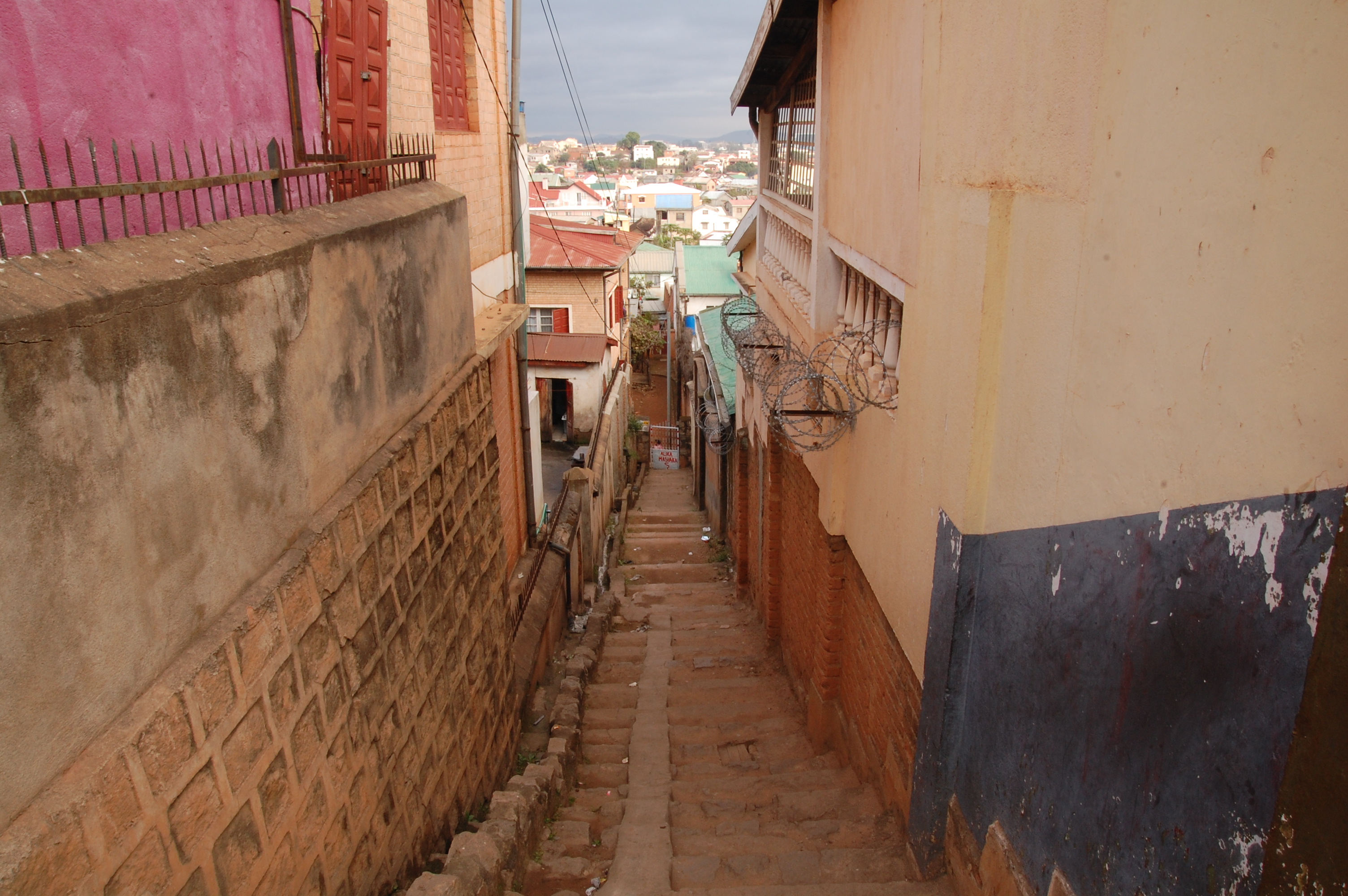 The first 11 days of my trip were spent in villages and parks that were characterized by a laid-back, easy-going, rustic and simple life. Coming from this vibe, the capital city of Antananarivo, Tana in short, was a complete surprise. The city has an urban appeal to it, and in rush hours is like any major city in a developing country. The hilly, cobbled streets and the vintage local taxis give it a unique old-world charm.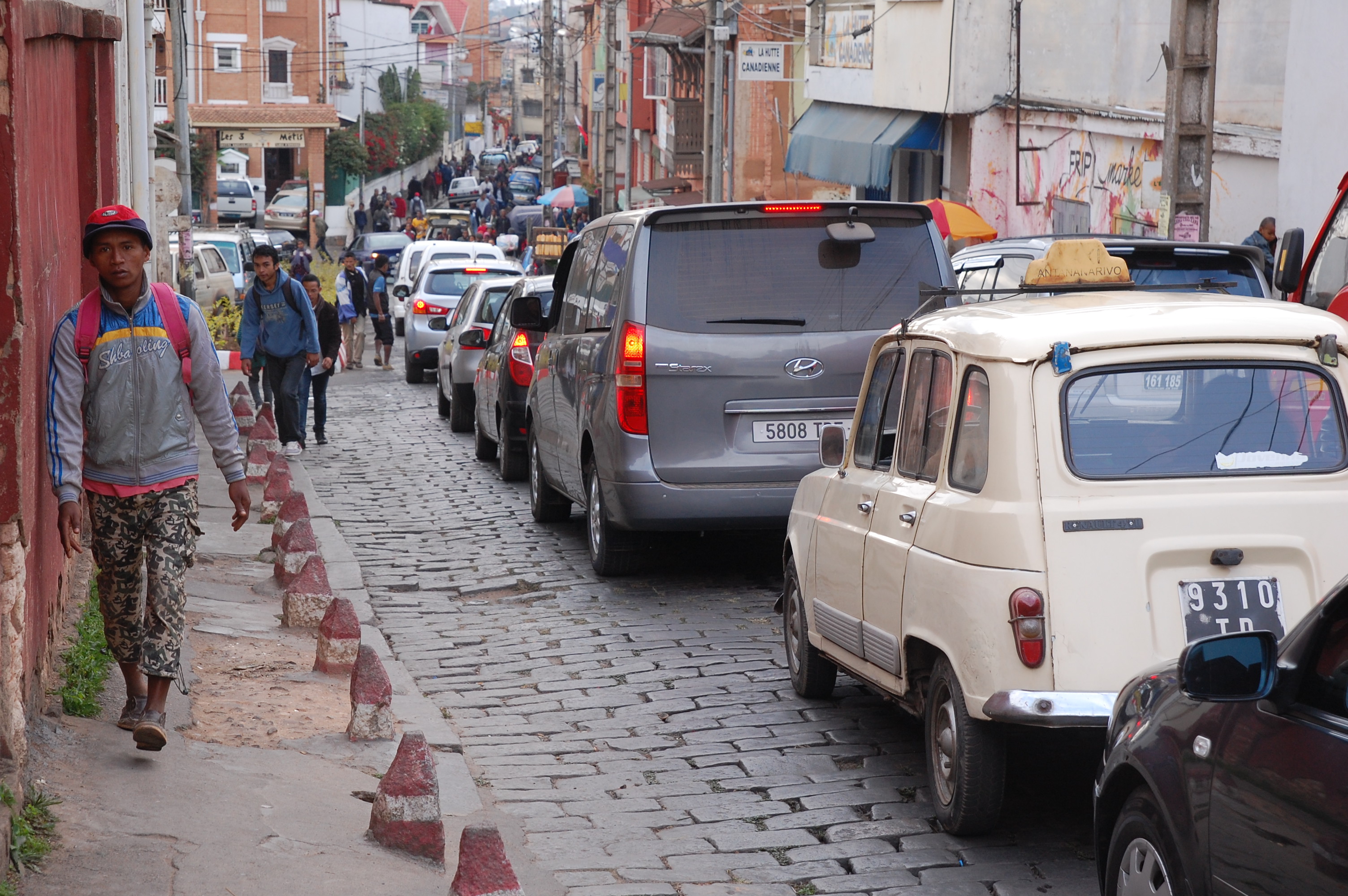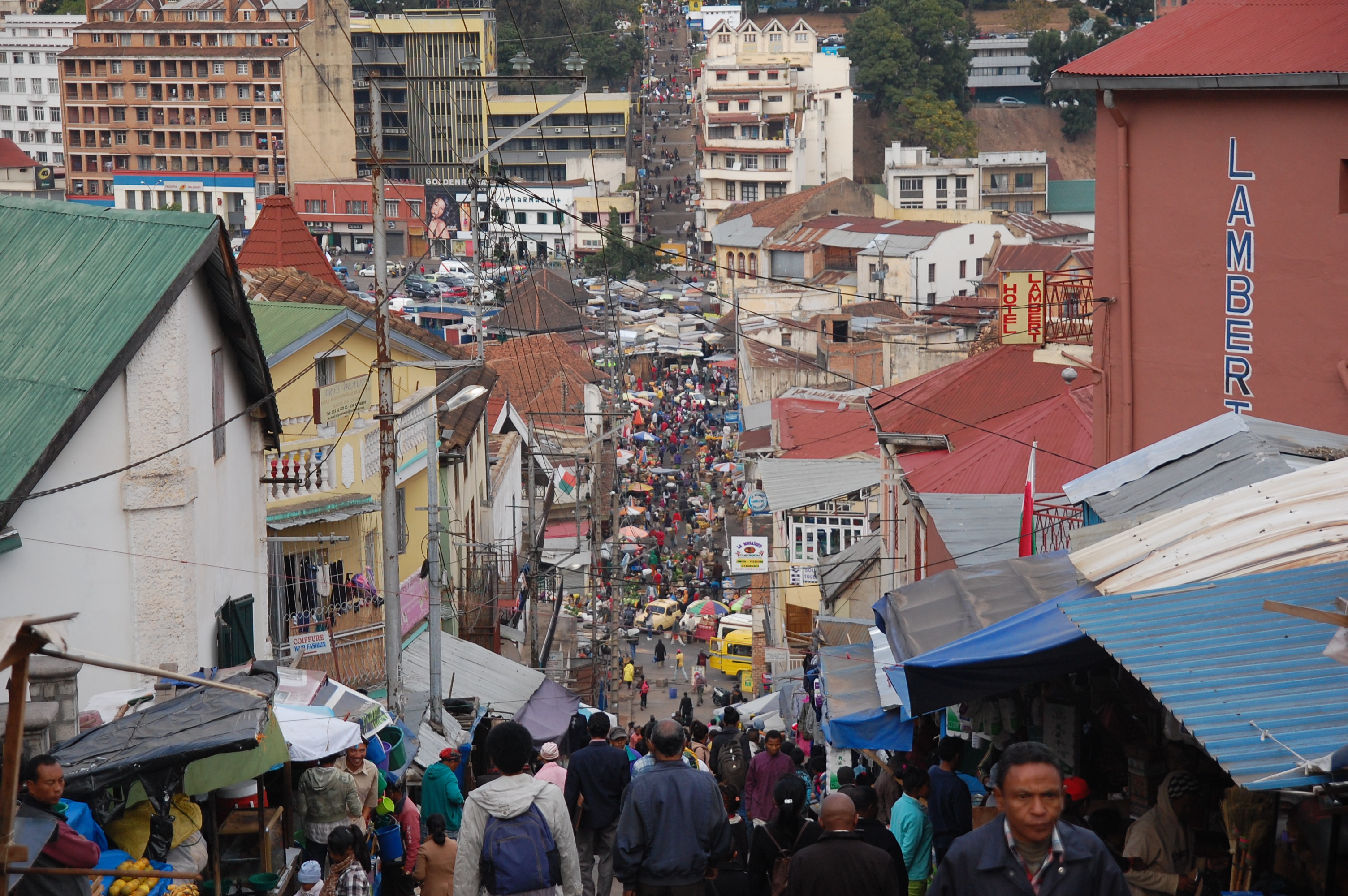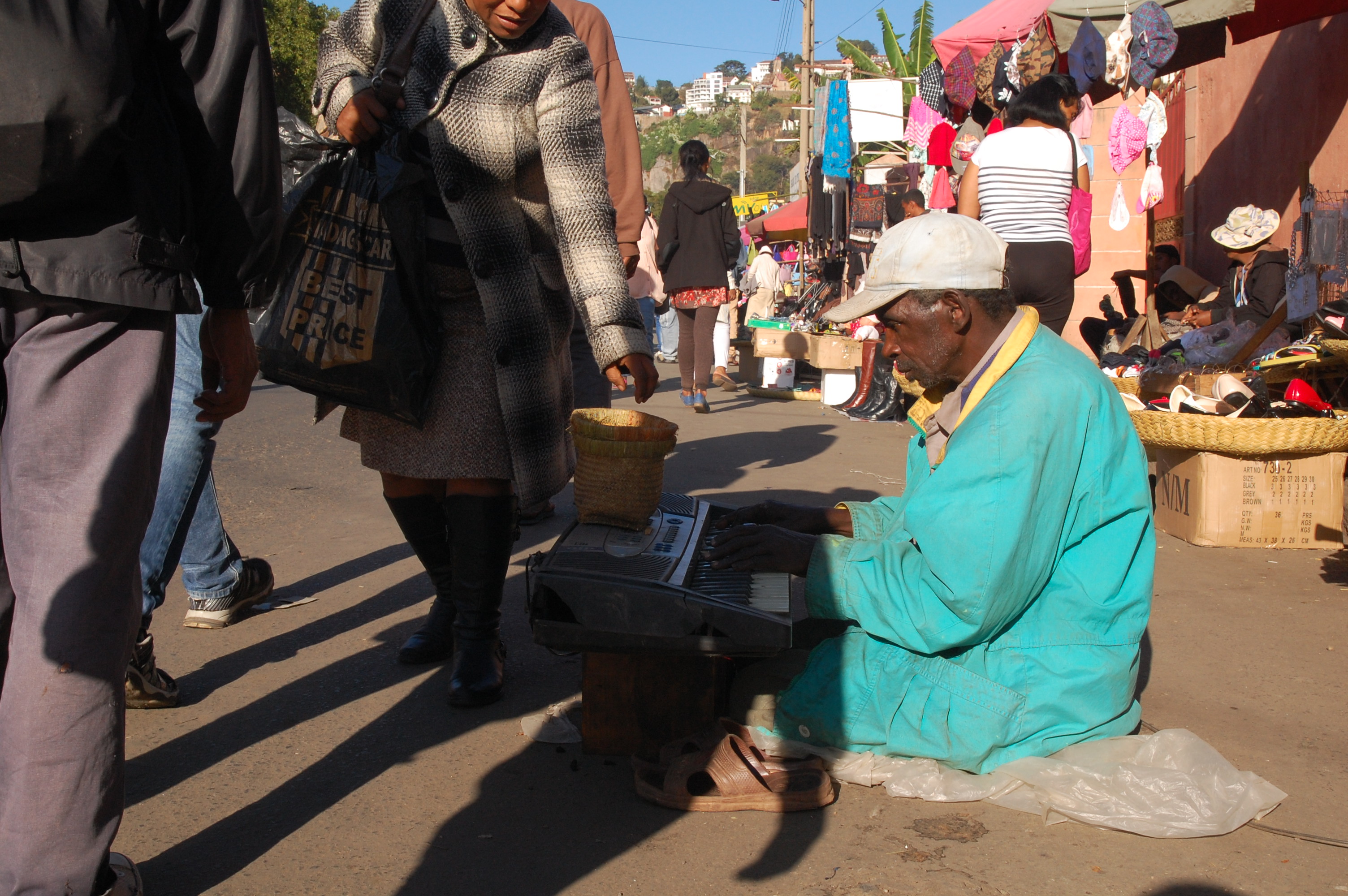 The markets are huge and crowded. Each market seemed to be a world in itself. Hiking the cobbled streets to the royal palace and watching the sun setting over the city, watching the hustle and bustle in the markets, eating at the hotelys are quite an experience.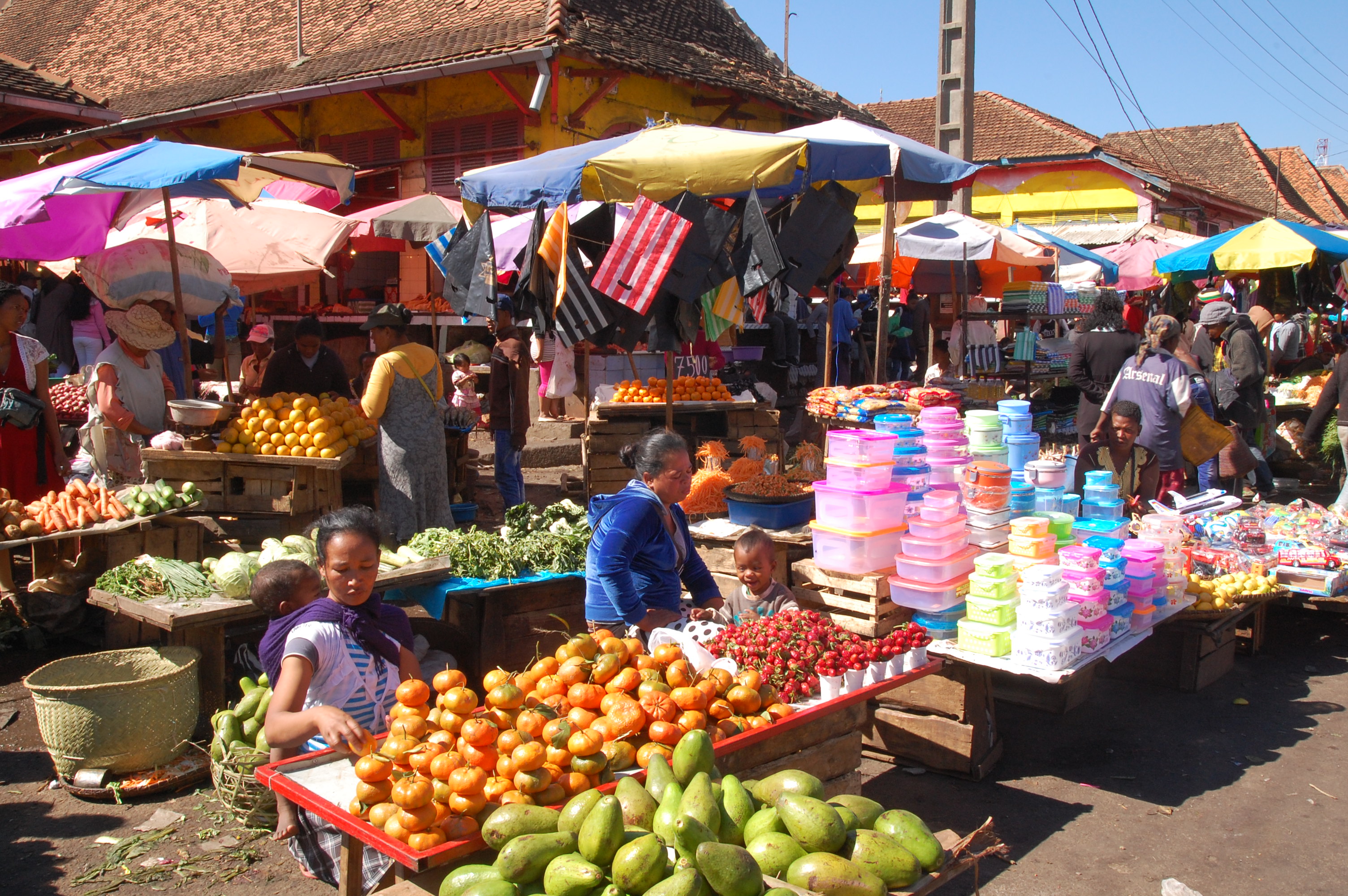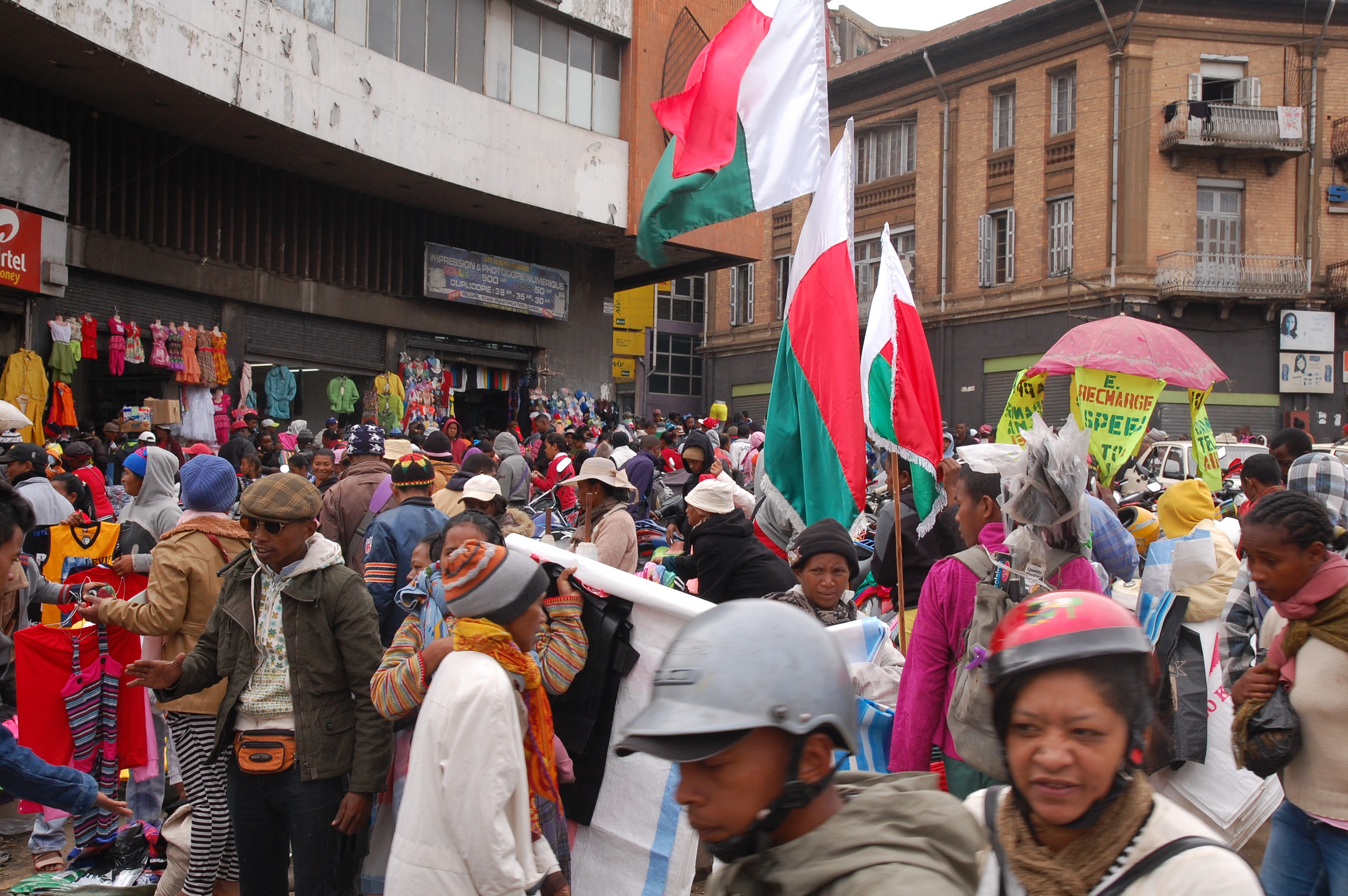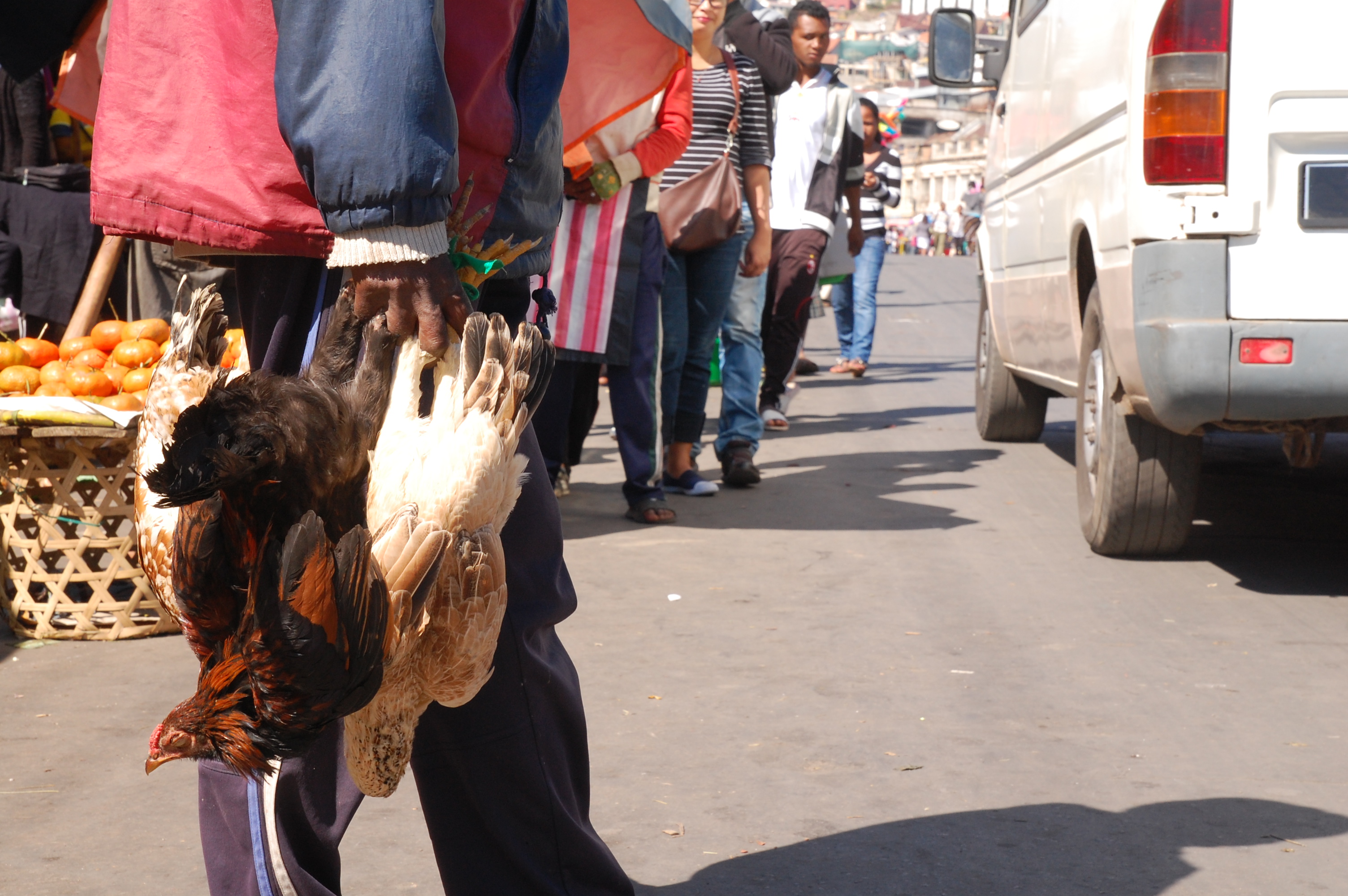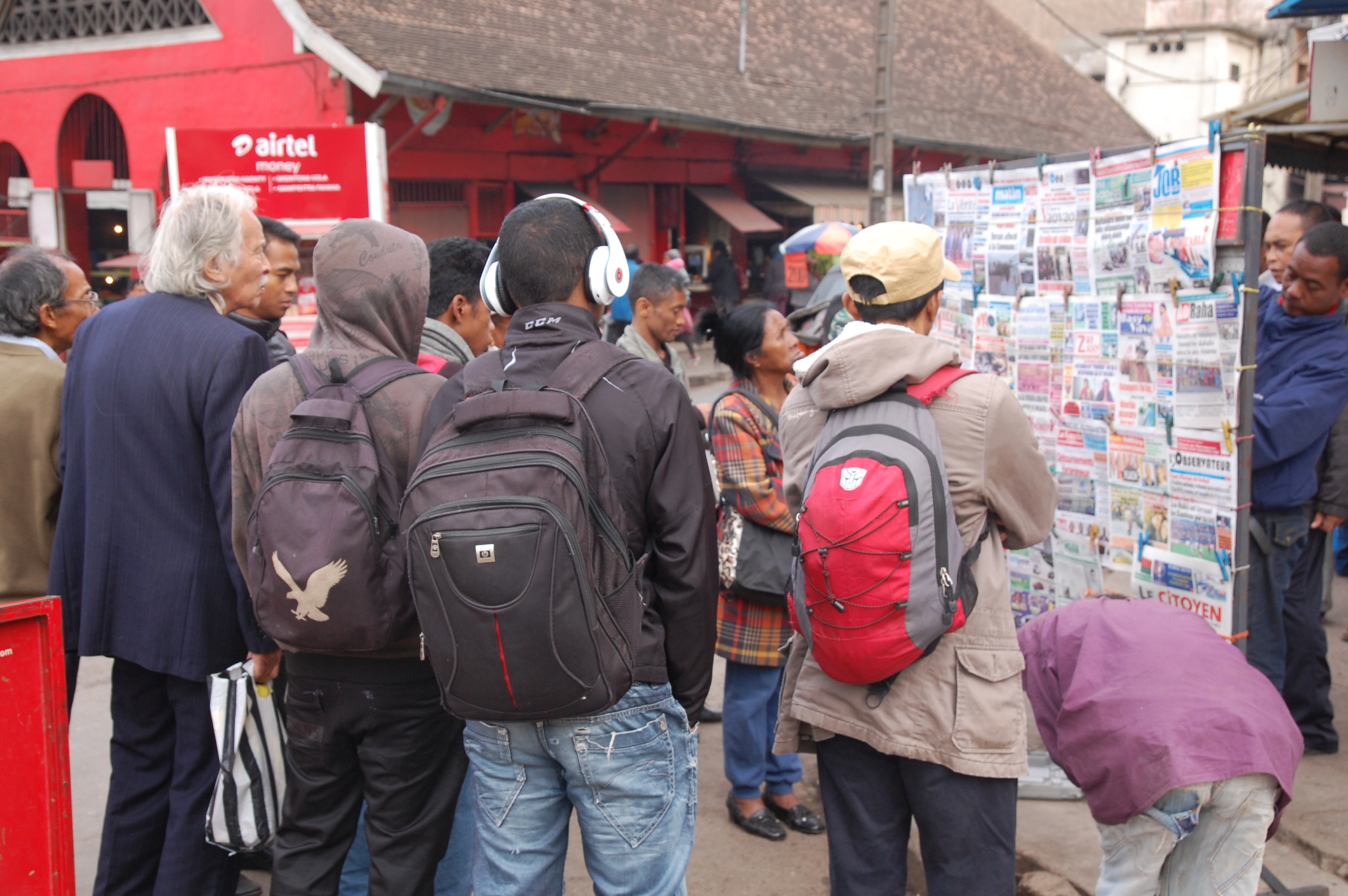 And a day before my return, about 100 jazz artists had converged in Tana for a music festival. I spent one whole afternoon enjoying the mix of local and international instruments, and artists.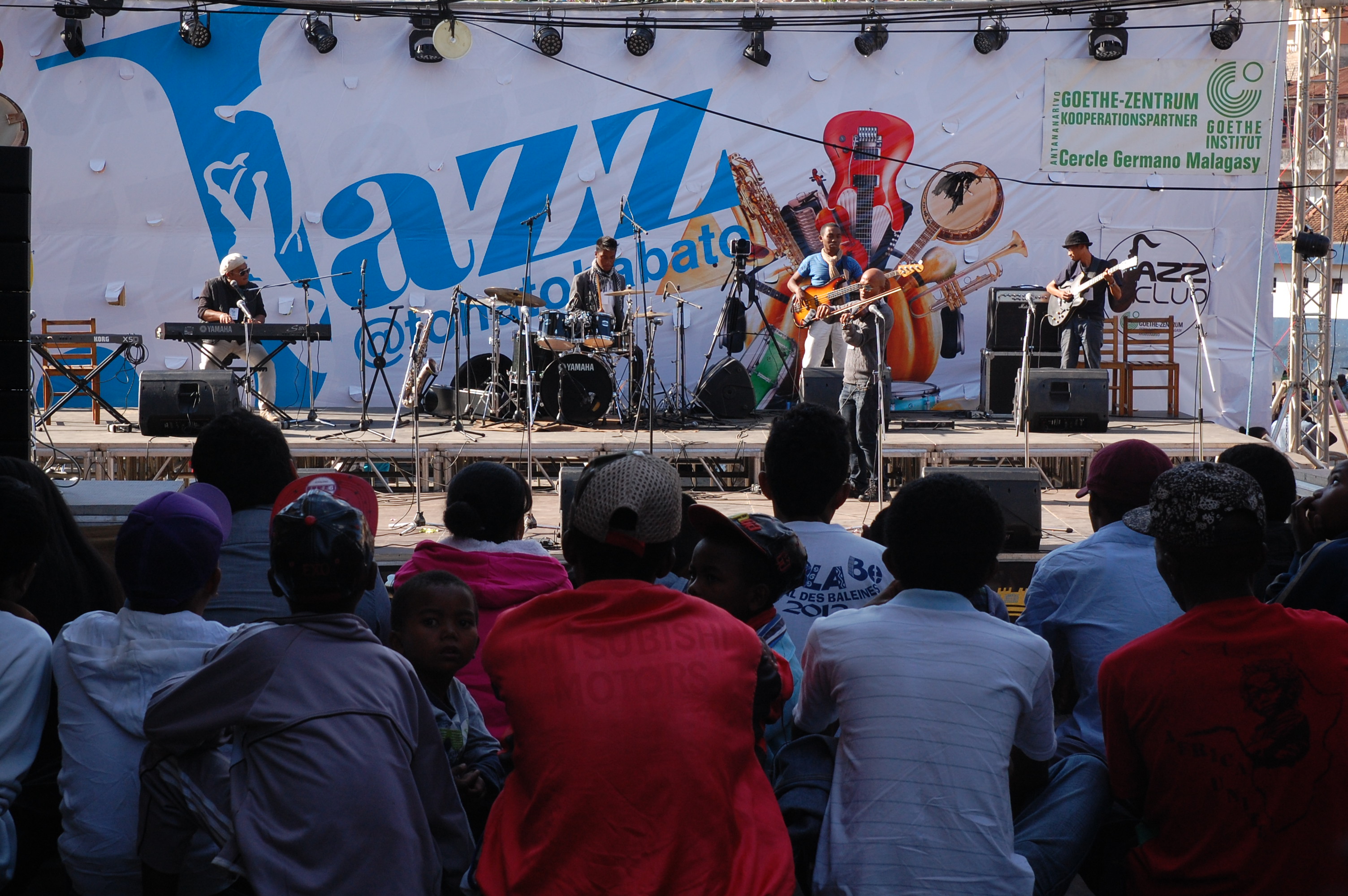 Culture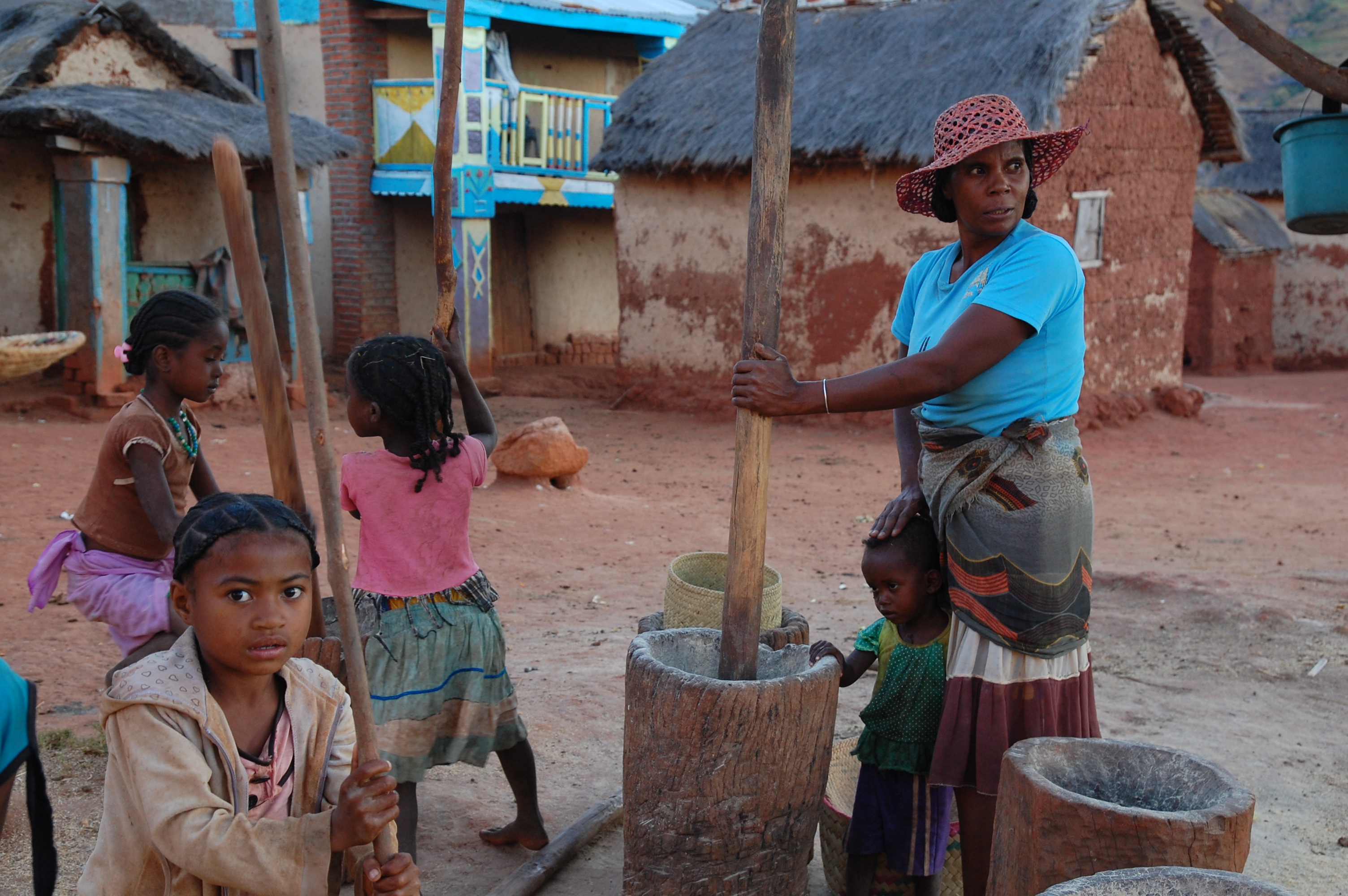 The Malagasy are polite, hospitable and guest-friendly. Whenever they give something to the other person, they bend down a little, use the right hand to give, and the left hand touches the right elbow underneath. All family events are celebrated with music and dancing and feasting.
There are a lot of beliefs or superstitions that are called Fady. In some places, such as in the Andringitra National Park, it is believed that pork brings bad fortune. My guide narrated one instance. On one of his trekking expeditions, one of his assistants, unknowingly brought pork into the park. Apparently the weather suddenly turned stormy, and the locals were convinced that someone brought pork into the park. There was one other lake I visited, and there too, pork is believed to bring bad luck.
And the thing that impressed me most about the Malagasy is their hospitality. One morning I was exploring villages on a hill, and I heard music coming from a distance. With the help of basic Malagasy phrases I learnt from the receptionist of the hotel, I was able to find my way to the house from where the music originated. No common language, but they invited me in, showed me around, the cooking, the dancing, the music, and served me a meal. And when I left, the head of the family asked one of his boys to accompany me to my destination 🙂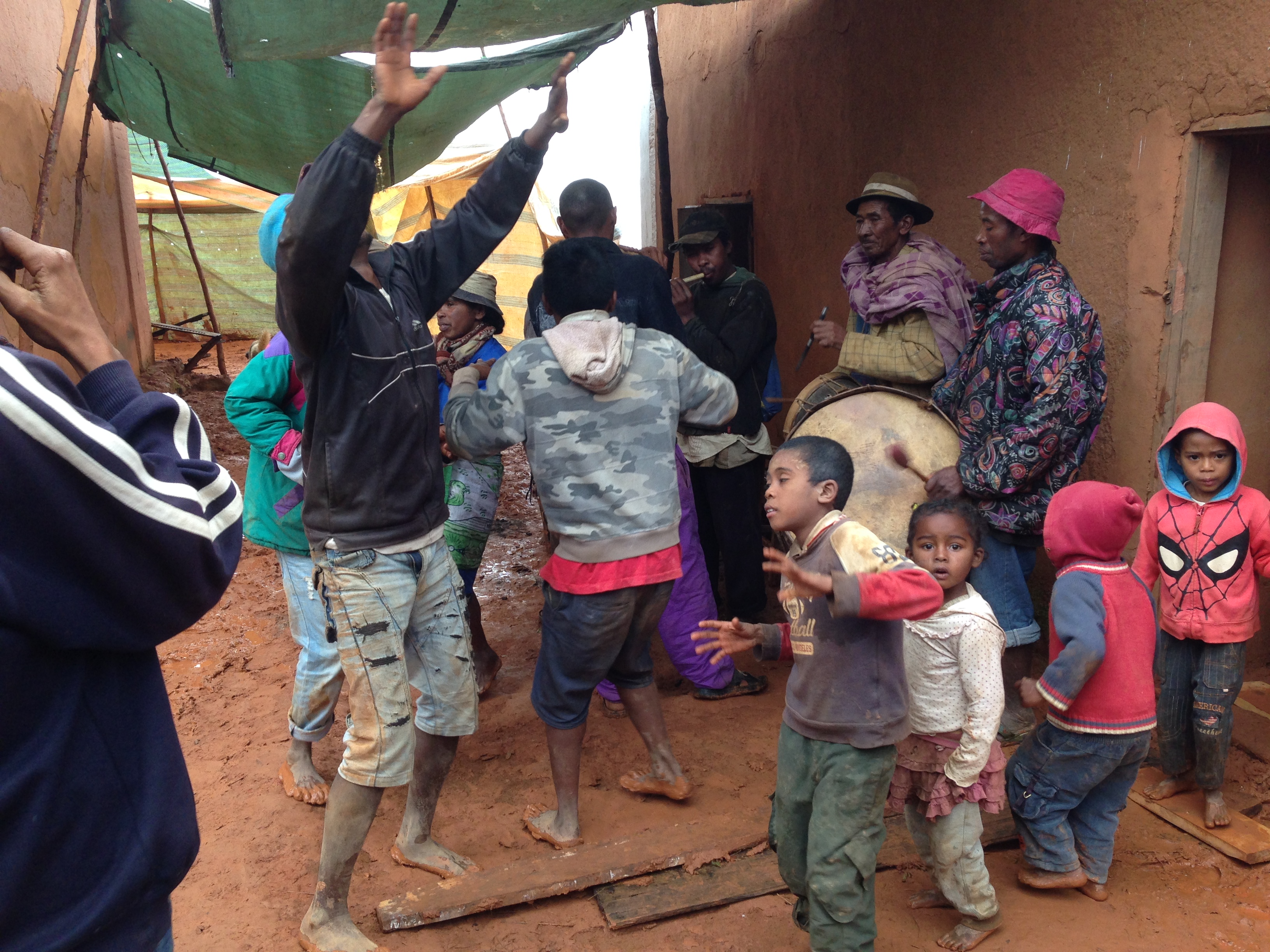 On another occasion, I ended up at my guide's place for a night's sleep. His wife prepared and served me egg-noodle soup with bread, which I had absolutely not expected, because I had already told my guide that I had food with me.
People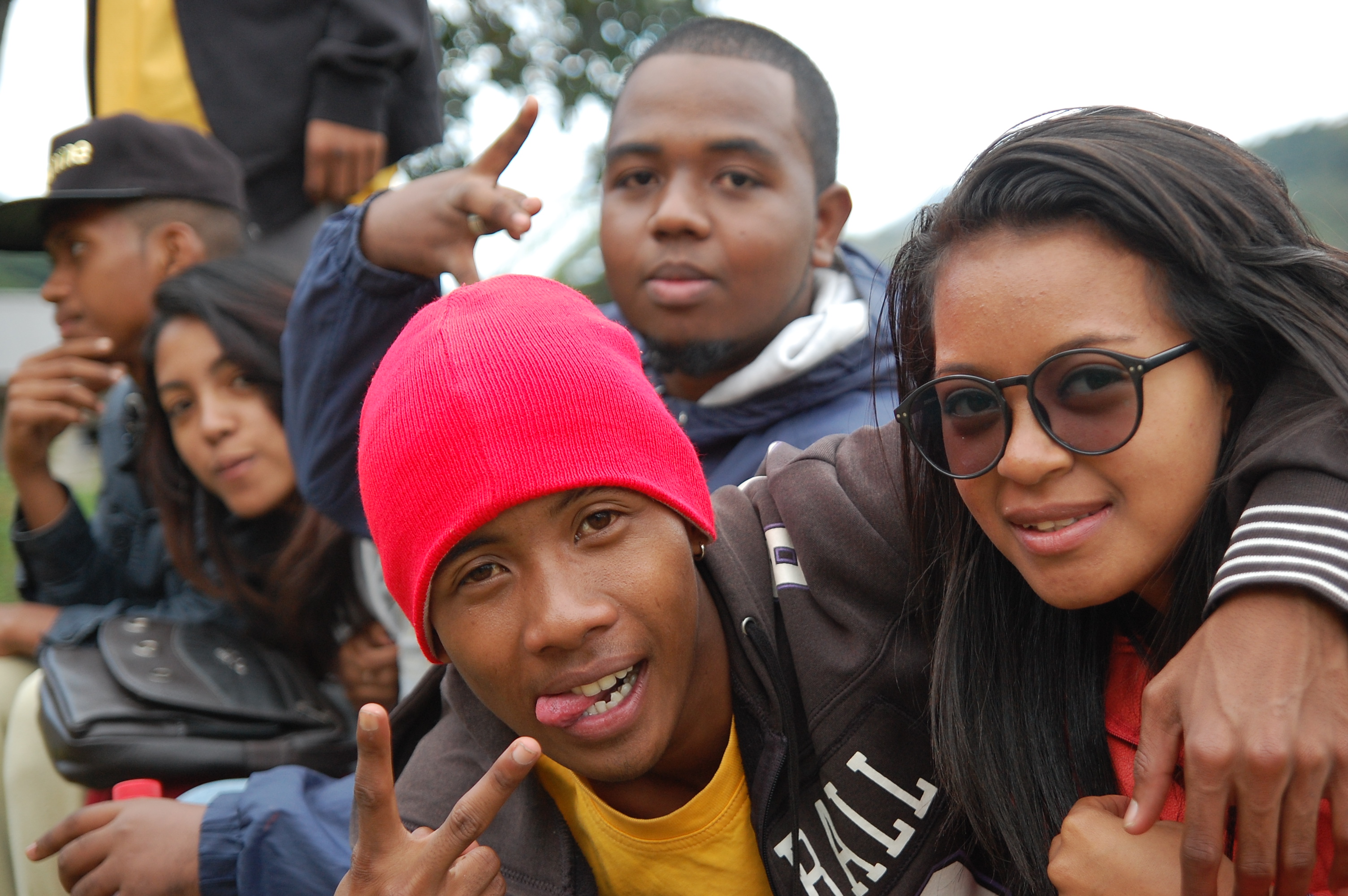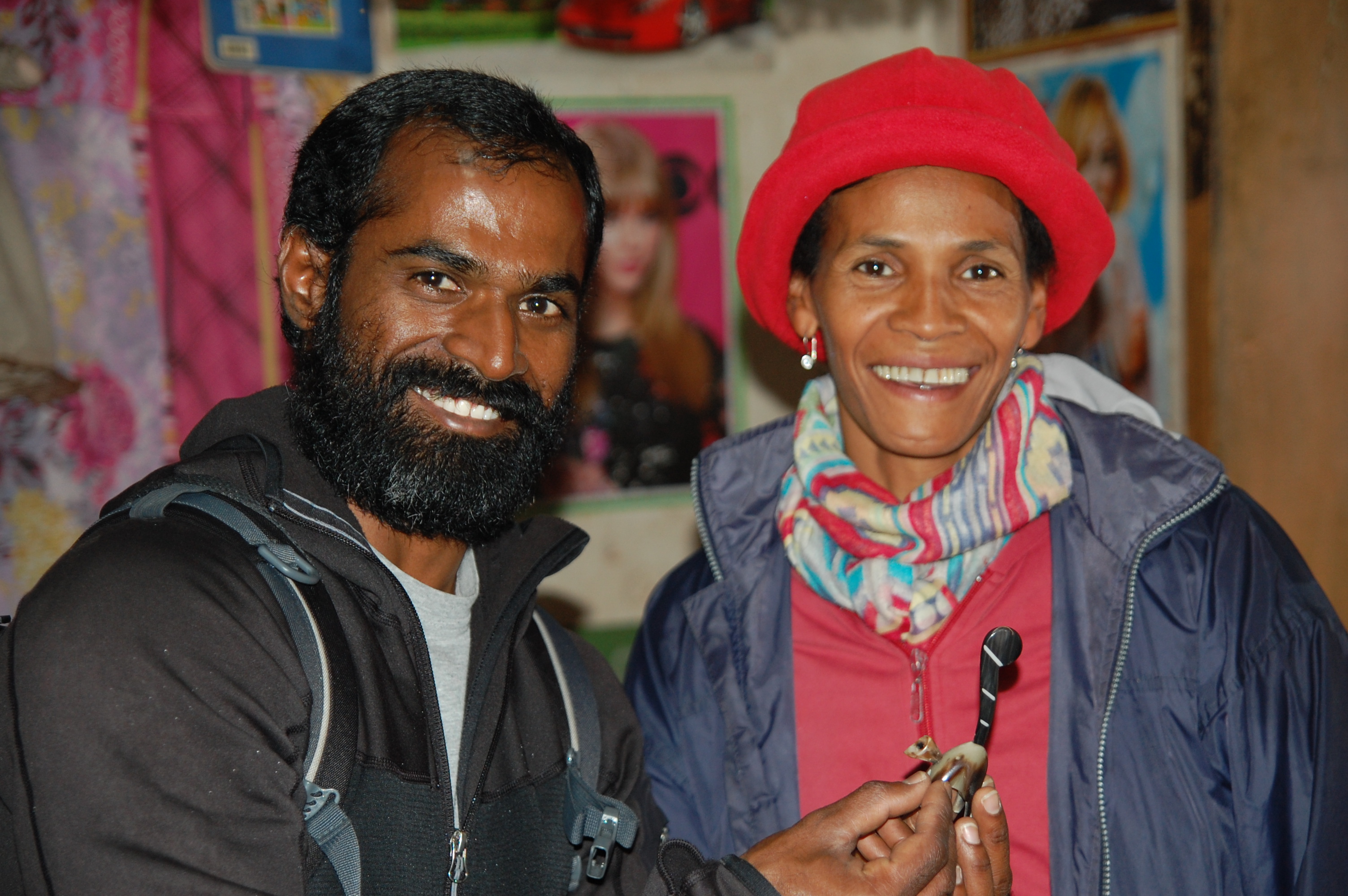 While nature is the biggest draw of Madagascar, people made the biggest and strongest impression on me.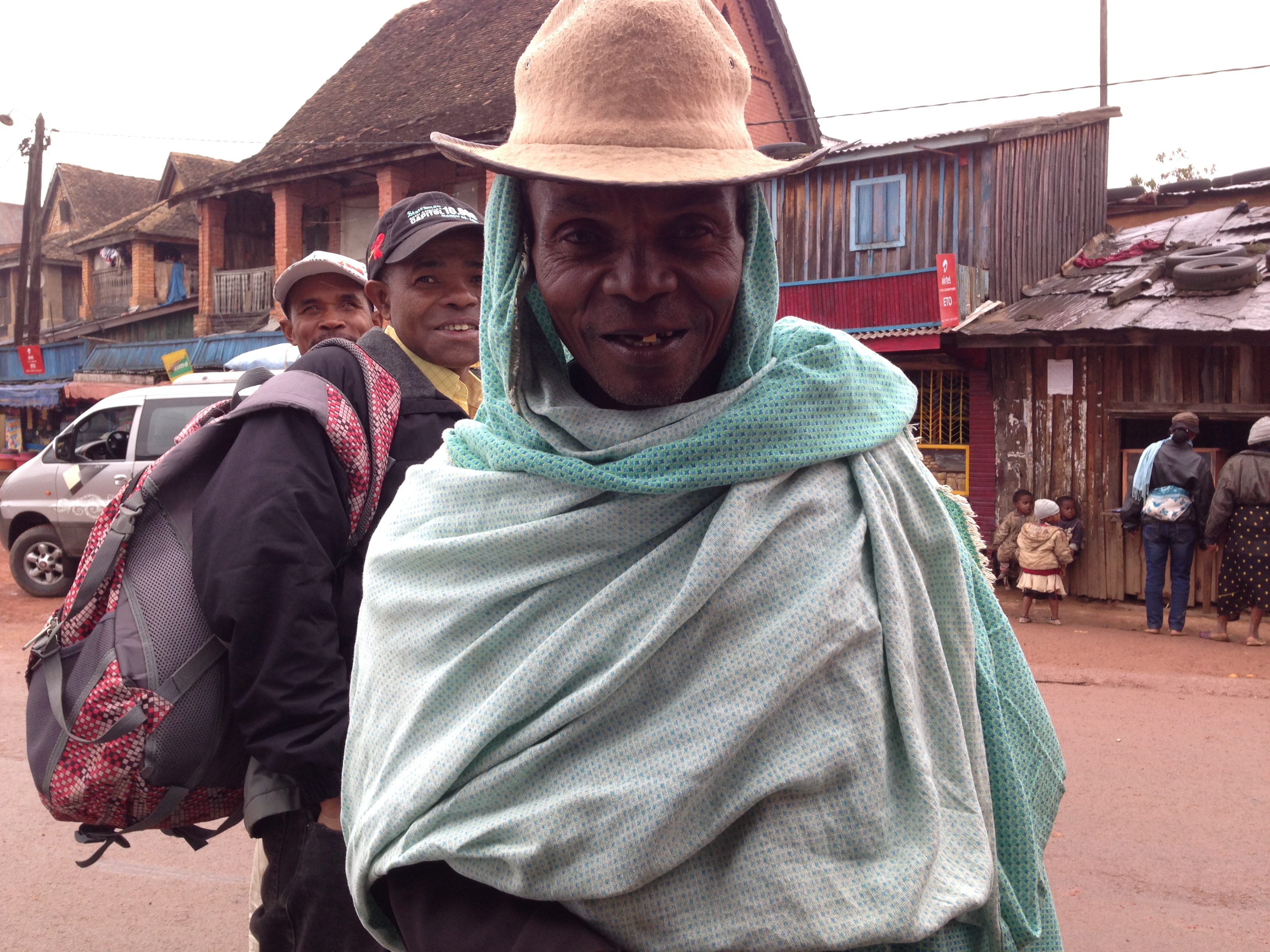 Jean On a taxi ride to Ambositra I befriended Jean, who spoke very little English. When I got down, he started walking with me. Initially I thought, his destination was in the same direction. After a while I asked him if that was so, and he said his place was in the opposite direction. When I asked him why then he was walking with me, he told me just to make sure I don't get lost as this was my first time in Madagascar and I didn't speak French or Malagasy. I was in smiles, and showed him my iPhone to reassure him that I can find my way using the GPS. He smiled, shook hands and left.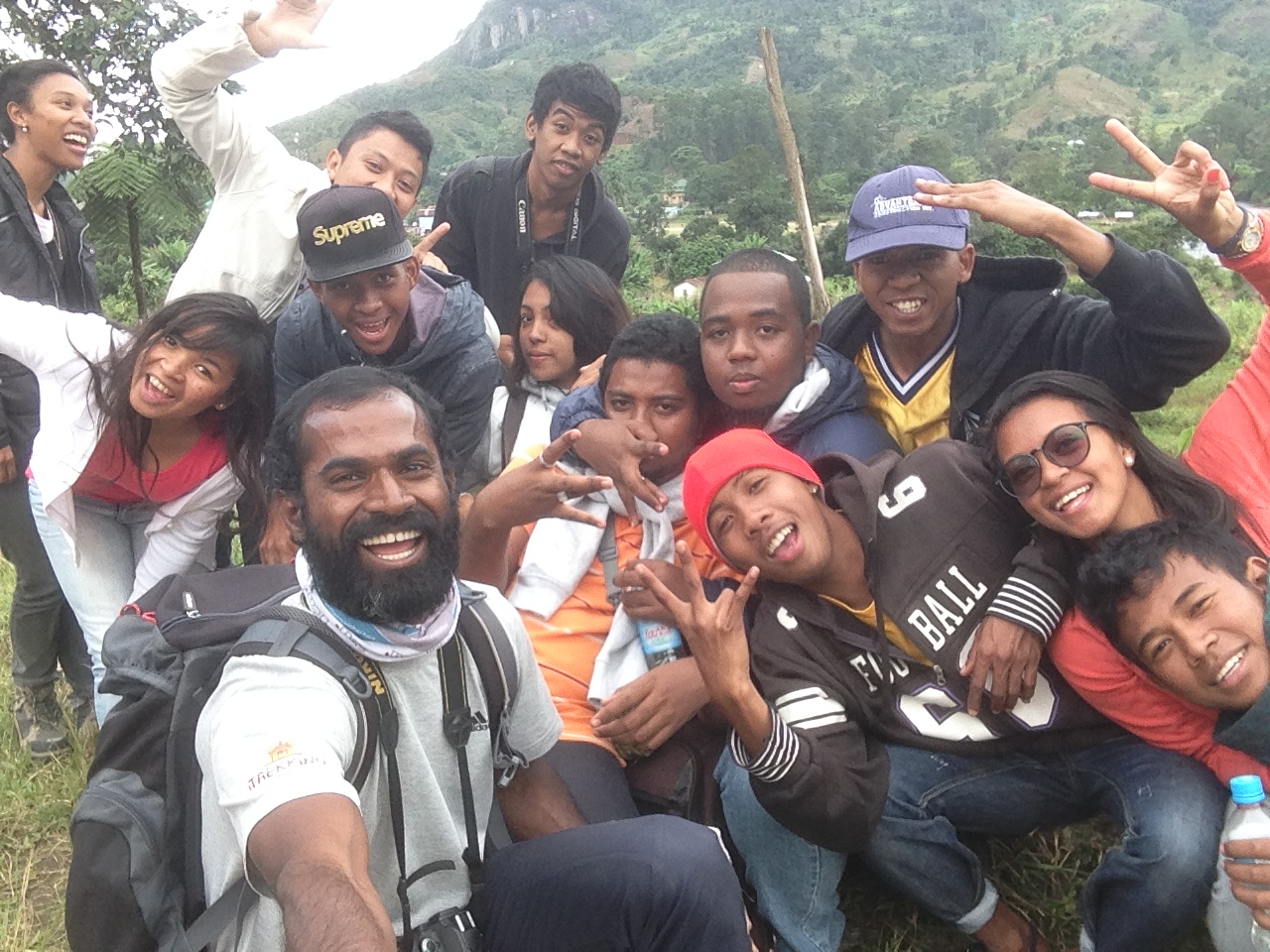 Onja After receiving the Malagasy hospitality at the village family celebration, when I left, Onja accompanied me. He spoke no English and I spoke no French or Malagasy barring 4-5 basic phrases. It was raining, and the path was steep and totally slippery. He told me caution at every step, taught me how to say many things in Malagasy and asked me how they are called in Indian language. Path, Slippery, Ox, Food, House, Marriage, Wife, School, Cigarette, Cycle, Clothes, Water, Rain, Fields. It felt strange but amusing to have that conversation. We spoke no common language, but kept talking all along the 4 km walk.
Zu He was the English-speaking guide for my Andringitra trip. Almost fluent with English, I found him to be a very friendly, solution-oriented and jovial person. He picked me up from the taxi station in Fianarantsoa, had his student drive me to the hotel, and when the hotel said they don't allow camping when rooms are free, offered me his courtyard to camp, but when we reached his place, he offered me his bed to sleep for the night 🙂 When I told him I can't afford his tour package, he worked with me to adapt it to suit my needs and had his student drive us to the park to bring the costs down.
Alexander My local guide on the Andringitra trip, a soft-spoken, unassuming, caring person. He learnt a little bit of English for his profession, but is very poor and lives in the village. We trekked 15 kms on day 1, and 22 kms on day 2. He was on flip-flops, but no complaints. At the base camp, I was eating plain rice since the side dish was beef. He noticed it and without me asking for it, he asked and brought vegetables from the other group of hikers for me. He moved me so much that before parting I gave him some money, my trousers and t-shirts. It meant I had to spend the next 8 days of my trip with one pair of trousers and 3 t-shirts but I was convinced that those clothes were more valuable to him than to me.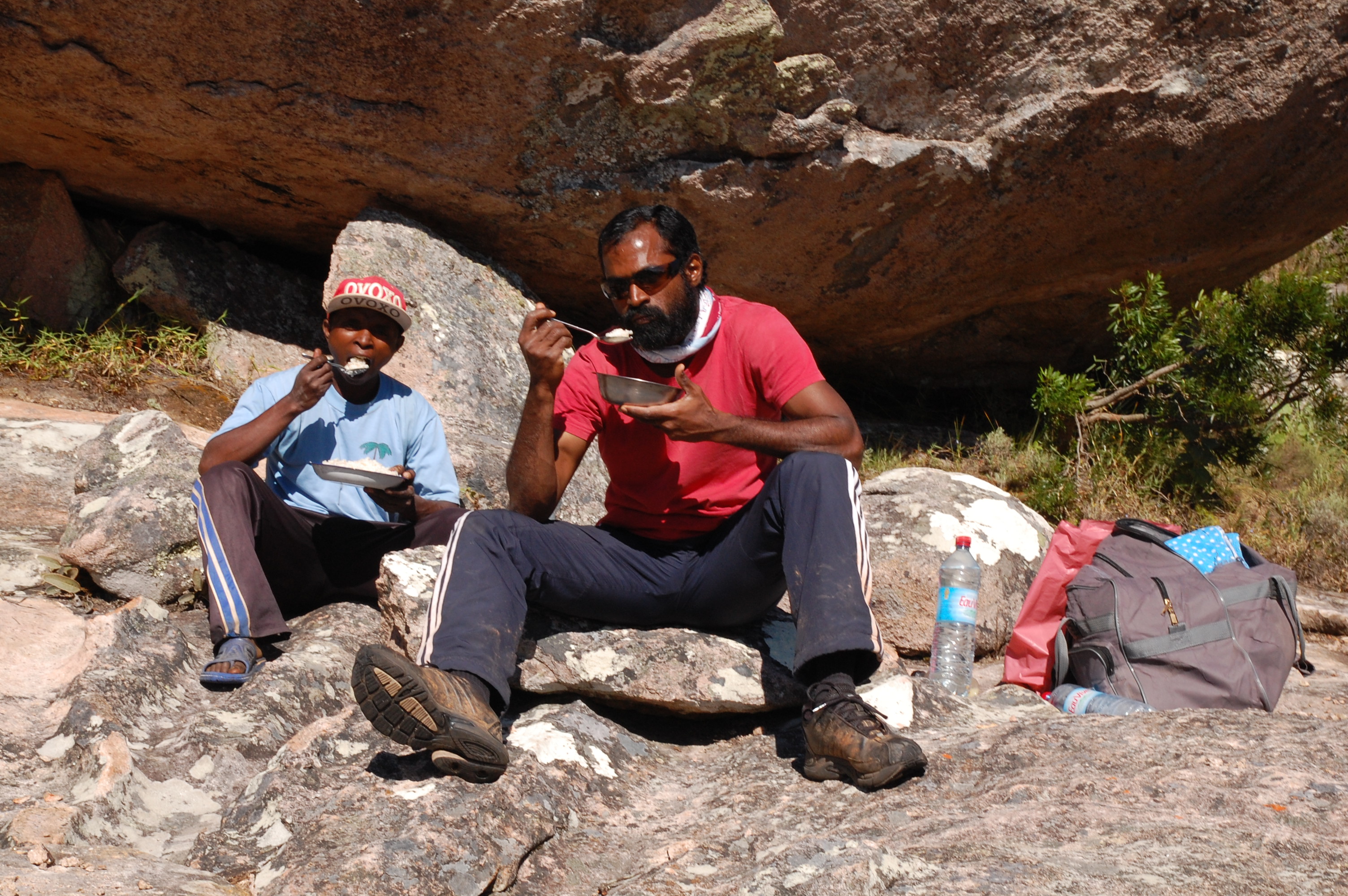 Nantenaina (Naina) was the receptionist at the Ranomafana Park Office and Roland her husband. When I arrived in Ranomafana, after talking to Naina about the fee details, I wanted to pay for the campsite and that's when I realized my jacket was not with me. My wallet, with my credit and debit cards, and all my cash, was in the jacket. I had taken it off during the lunch break and forgot to take it when I alighted the taxi. I was in total shock, it was already about 15 mins since the taxi left and there were not many villages ahead for the taxi to stop. I asked Naina if there is someone who can help me chase the taxi on a motorbike. She understood and asked Roland to drive me. Roland spoke no English, but once we were on the road he said, "Don't panic." We chased the taxi through the winding roads and hairpin bends of the forest. He showed presence of mind to fill up the tank and to carry an extra bottle of fuel, just in case. After about 25 kms we found the taxi. It had stopped in a village for some check on the tyres. I found my jacket. I stayed in the forest for 2.5 days, and during that time Naina helped me with information about many things and translation when required.
Receptionist and Night Watchman at the campsite in Antsirabe
No showers for campers, but the receptionist told me she can give me hot water in a bucket, and that I can use a small bathroom used by the workers on-site to take a bath. It was three days since I last had a shower, so I said I'll take it. The next morning when I asked for hot water, the receptionist showed me to one of the vacant rooms and let me use the shower there 🙂
It got very cold during the nights. I managed one night in the tent somehow, but on the second night it got colder, and so I asked the night watchman if I could bring my sleeping bag and sleep by the couch in the reception area. He spoke no English, so all communication was in signs. He took out a thick rug from the cupboard, gave it to me and made signs which I interpreted as "Use this to sleep in the tent, and bring it back tomorrow morning." I gladly accepted the offer. The rug was so warm, I had a sound sleep in my tent 🙂
Worth one more visit
On a stretch of about 500 kms, all my time was spent in the central highlands, at least 200 kms from the beach in any direction. This part of Madagascar is charming, beautiful and interesting, and with the diversity of people and places I experienced, I am convinced that traveling to other parts of the country would be a different experience and worth another visit.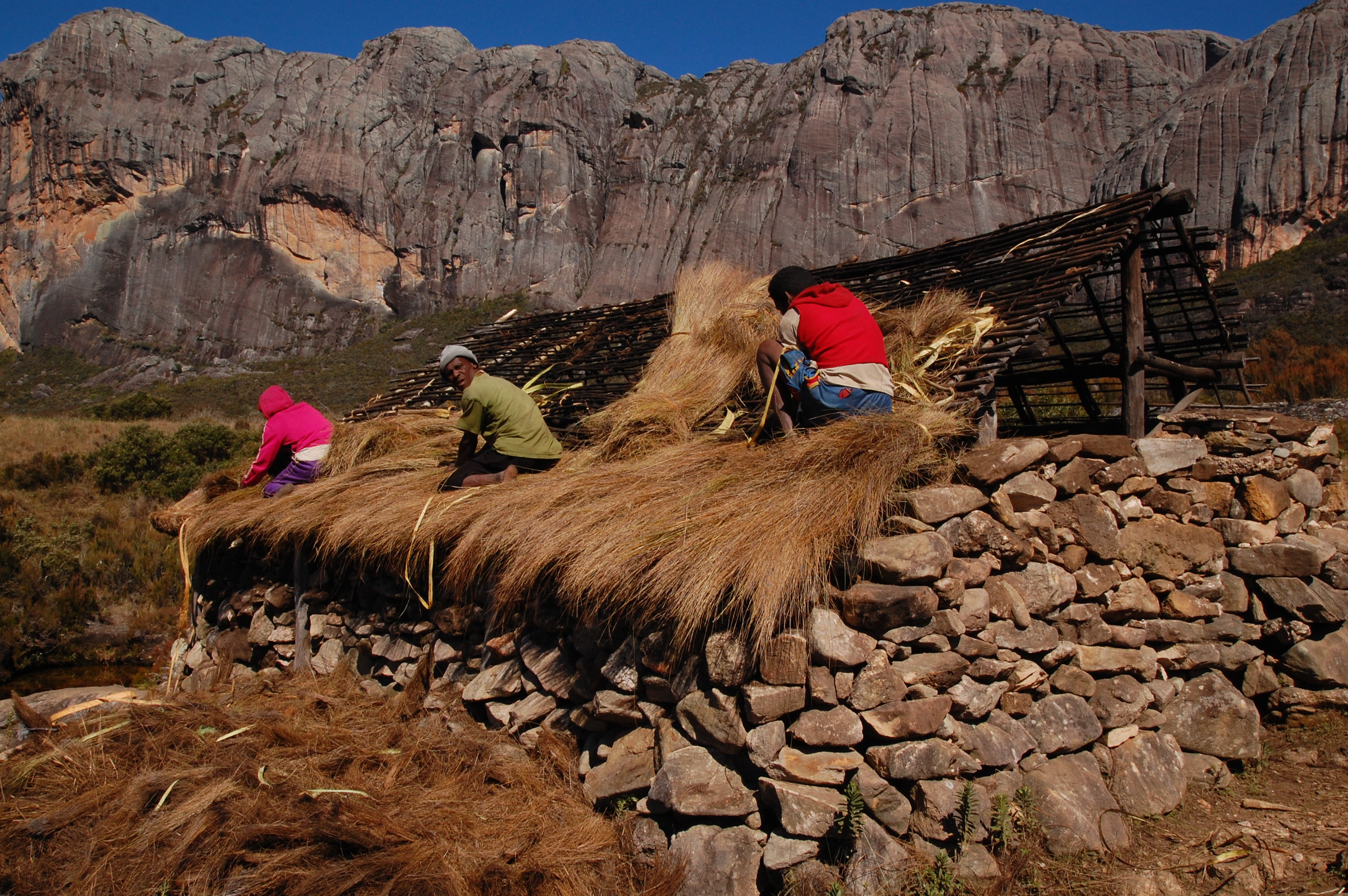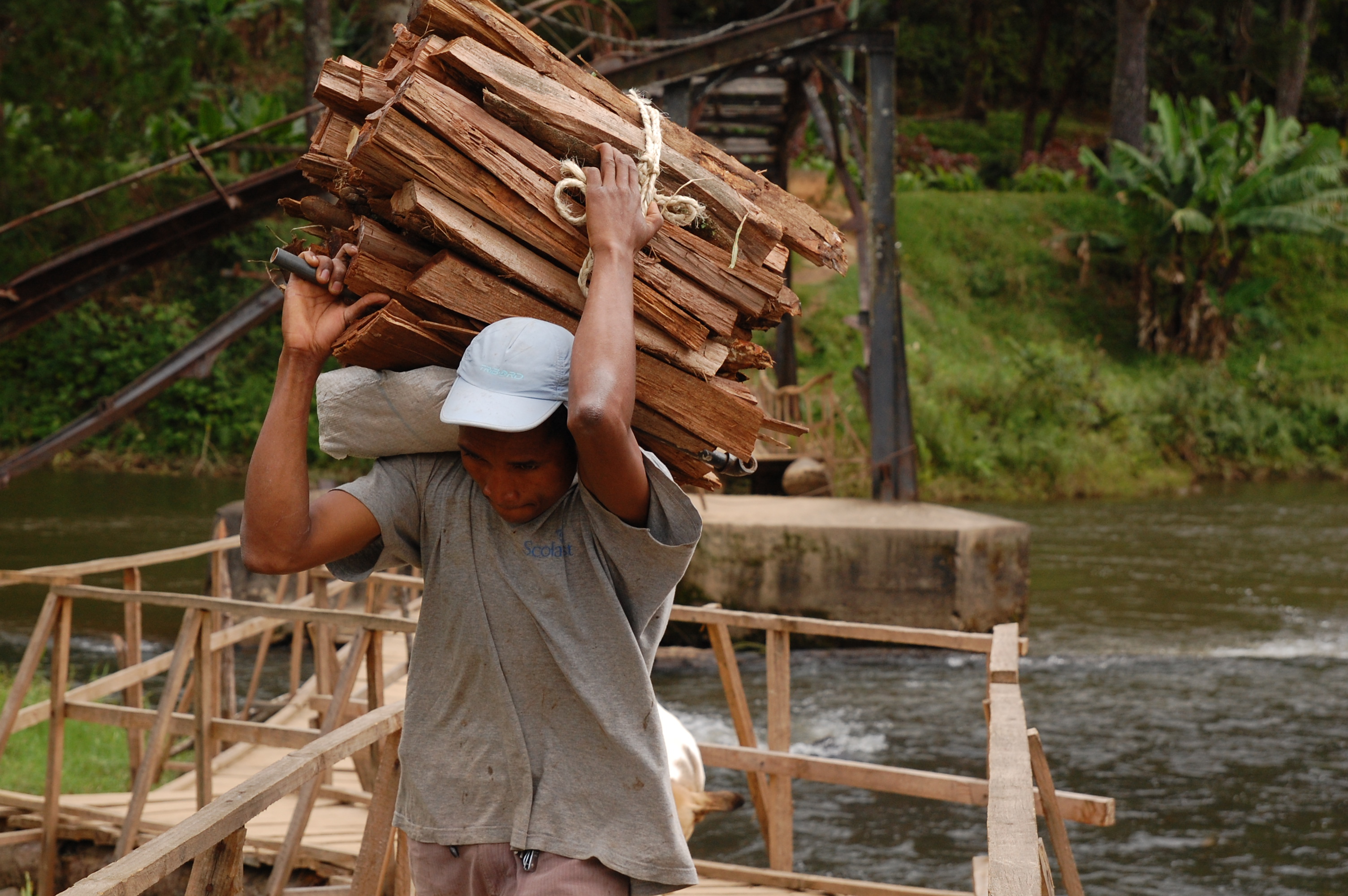 Backpacking without plan, worth it!
My decision to have no plan and to be not connected helped me gain some invaluable experience in dealing with uncertainty. Enquiry at the check-in counter in Johannesburg airport revealed that ZAR is not accepted in Madagascar, not even at the airport foreign exchange offices. This meant I had to carry EURO/USD in order to change in Madagascar. The first thing that hit me on this trip was some financial regulation in South Africa due to which I, as a volunteer holding an Indian passport, was restricted from changing money at any bank. So, my only option was an expensive one and that limited the ZAR I could change to EURO. I could only get 295€. And in Madagascar ATMs did not accept Maestro cards. So I could not draw any cash. This put me in a position like no other time in my life. I was all by myself in the country, spoke no French and no Malagasy, knew no one in the country, had no internet, and had 295€ to experience Madagascar in 13 days. A moment of reflection, and I knew this was going to be a once-in-a-life-time experience. I smiled!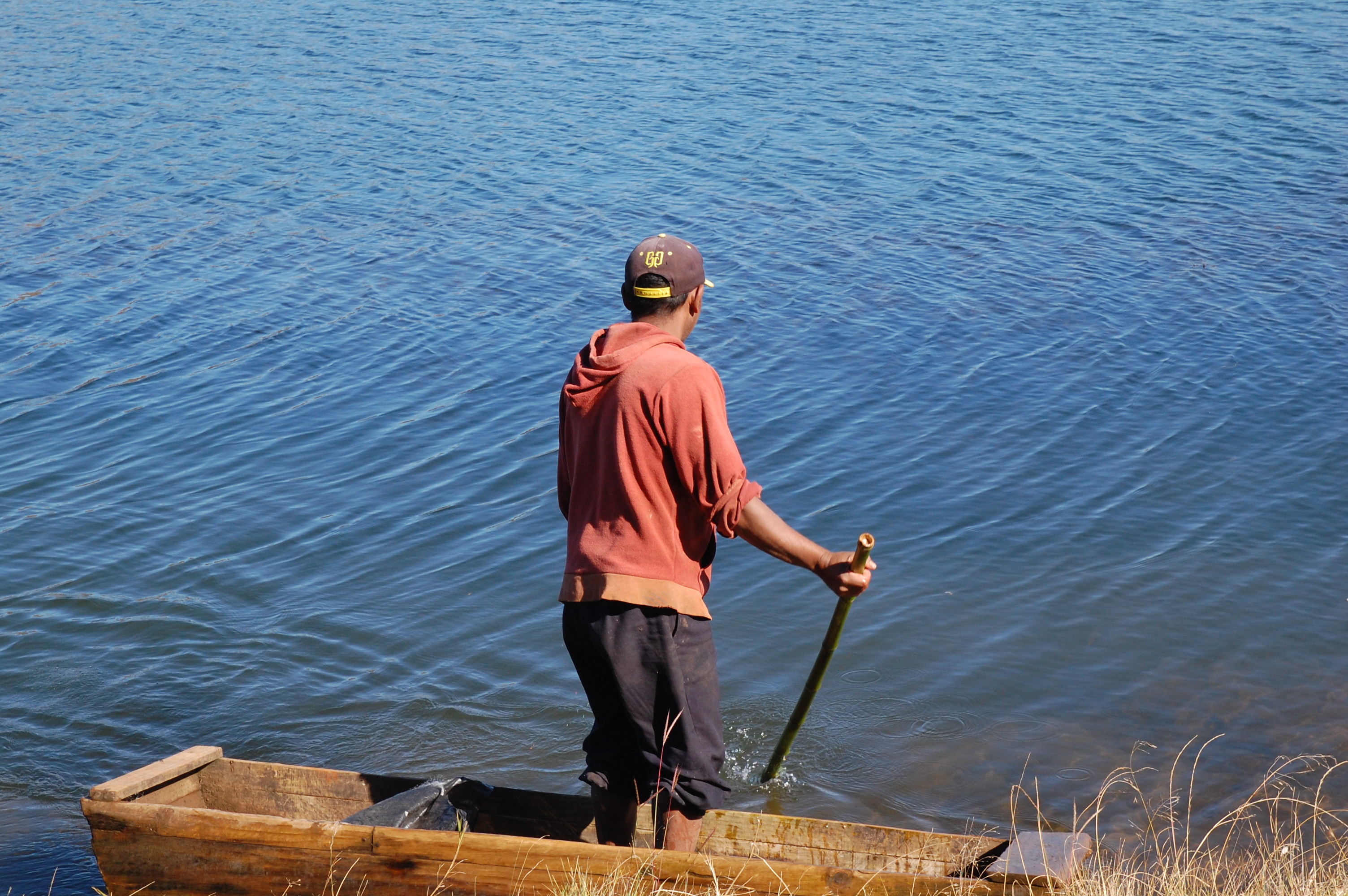 Over the next 13 days I explored options that I otherwise would not have, made decisions knowing that I had absolutely no other way to get additional money, bargained using signs and calculator on iPhone, rationed my supplies prudently and stringently, ate very limited food when traveling and resting, purchased only the absolute essentials, took chances and waited at the park office to find tourists who could share guide fee, and despite the limited resources I could donate money and clothes, and buy food for poor people and small children. This experience taught me something about myself, that I can empathize with others' difficulties even when I am constrained by resources, that I can trust strangers, that I can persist under unfamiliar circumstances, and most importantly that I can explore options to handle uncertainty.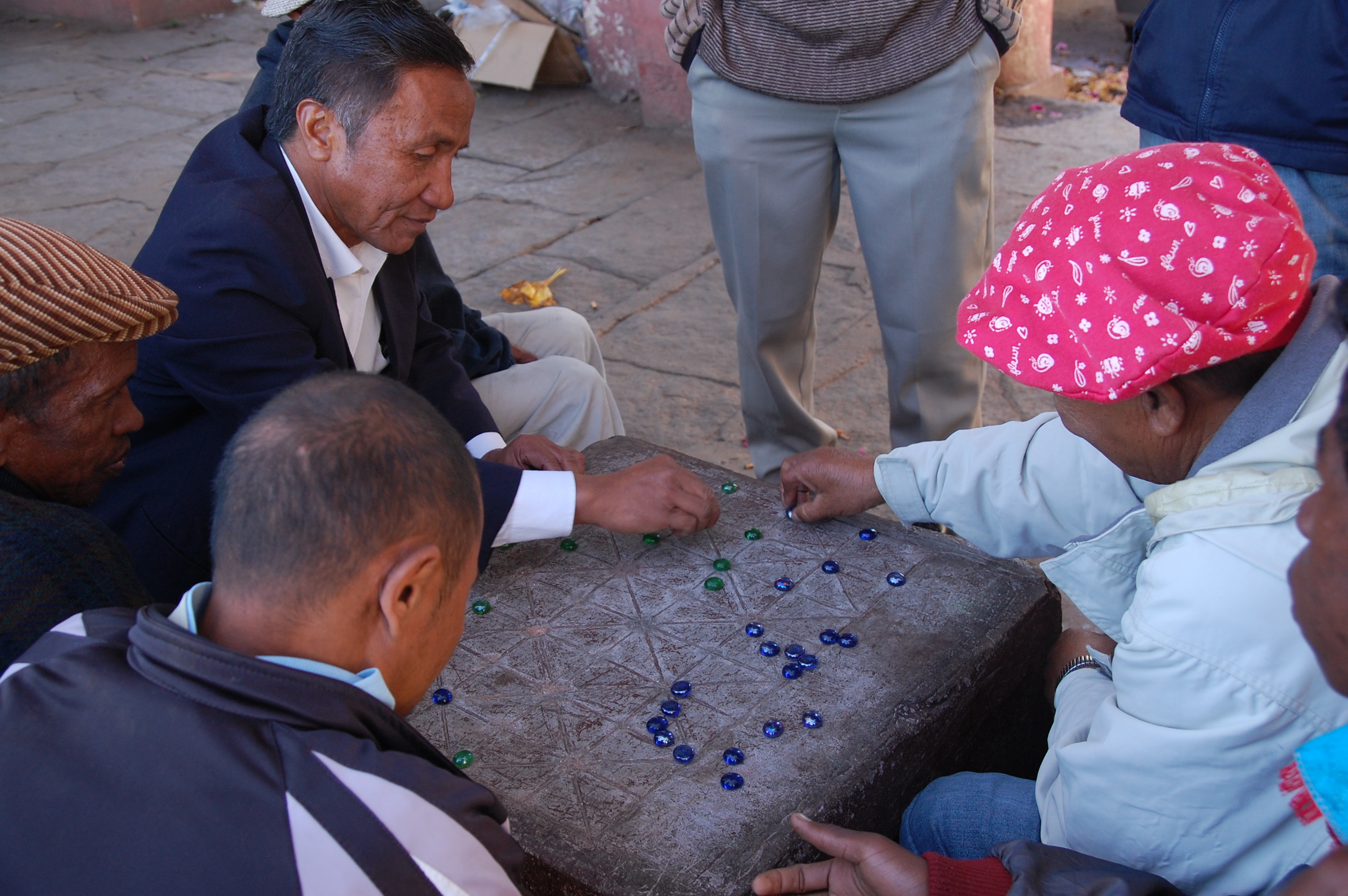 Thank you Madagascar!
santom