Hunger. A primal need. To me it's a special idea that brings forth vivid images from my childhood, some of my strongest memories. Growing up in poverty, starving was one of the constants in my life for more than two decades. The physiological and psychological feelings that empty stomach causes are so indelibly etched into my psyche that they have influenced an essential part of my conscious and reflex behaviors. When I see food getting wasted a part of my stomach aches and I feel the burning of an empty stomach. Perhaps this is why, almost unknowingly, I don't waste food. Seldom, but if I waste food, I get livid on myself. My friends and family tell me that I never criticise the taste of food, and that I don't waste food. I didn't notice these about my eating behavior, until many people gave me this feedback. On my 25th birthday, my best friend inspired me to think about the hungry and the homeless people and feed at least one hungry person before I celebrate. I started doing that, and soon it became a regular activity and not associated with any occasion.
According to the Maslow's Hierarchy of Needs we human beings are driven to satisfy our higher needs of social bonding and self-actualization only after we satisfy our basic level needs. That leads to an interesting observation, that our ability to realize our potential, as an individual, as well as as part of a collective unit, is contingent on how well we are able to meet our basic needs. Hunger being one such basic need implies that malnourishment is an impediment to our individual and collective progress.
Consider these facts*
In 2015, close to 800 million people suffered from chronic malnourishment worldwide. This is more than three times the total number of people affected by HIV, malaria and tuberculosis combined (about 37 million people are living with HIV/AIDS, approximately 214 million malaria cases reported, and close to 10 million people fell ill with tuberculosis).*
More people worldwide die of hunger than of AIDS, Malaria and Tuberculosis combined.
Every night, one in every nine people, sleeps with an empty stomach.
About 45% of deaths in children under five – 3.1. million each year – are attributed to poor nutrition.
*Source: Food and Agriculture Organization of the United Nations, World Health Organization.
These numbers reveal a grim reality of the state of malnourishment globally. It is sad that the problem of malnourishment does not merit the same level of concern in a majority of us as much as the idea of AIDS or Malaria or any other disease does. But there are a few individuals and organizations that are contributing their mite to fight hunger. During my fellowship here in Cape Town I got an opportunity to add value to one such organization, Food For Life Cape Town.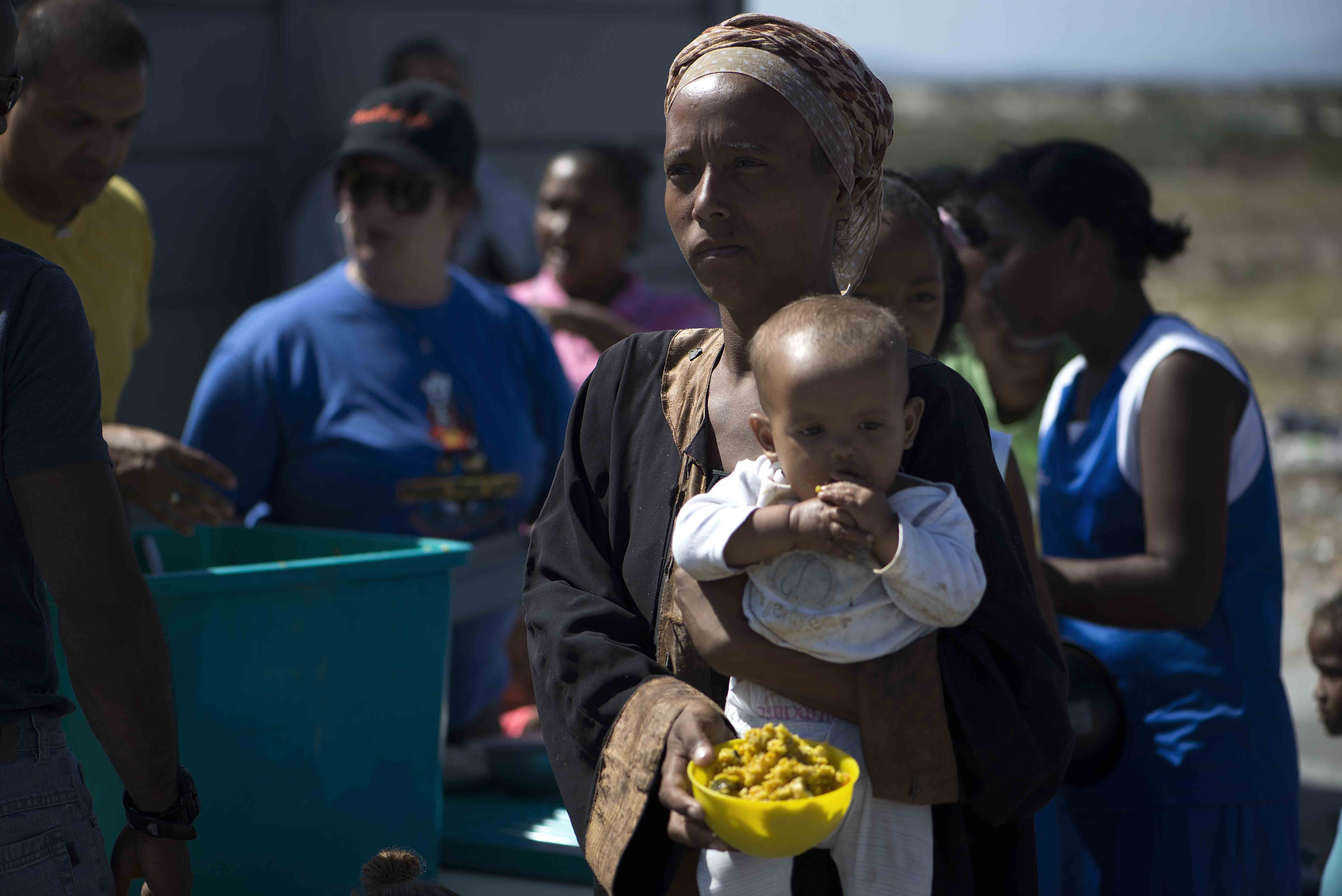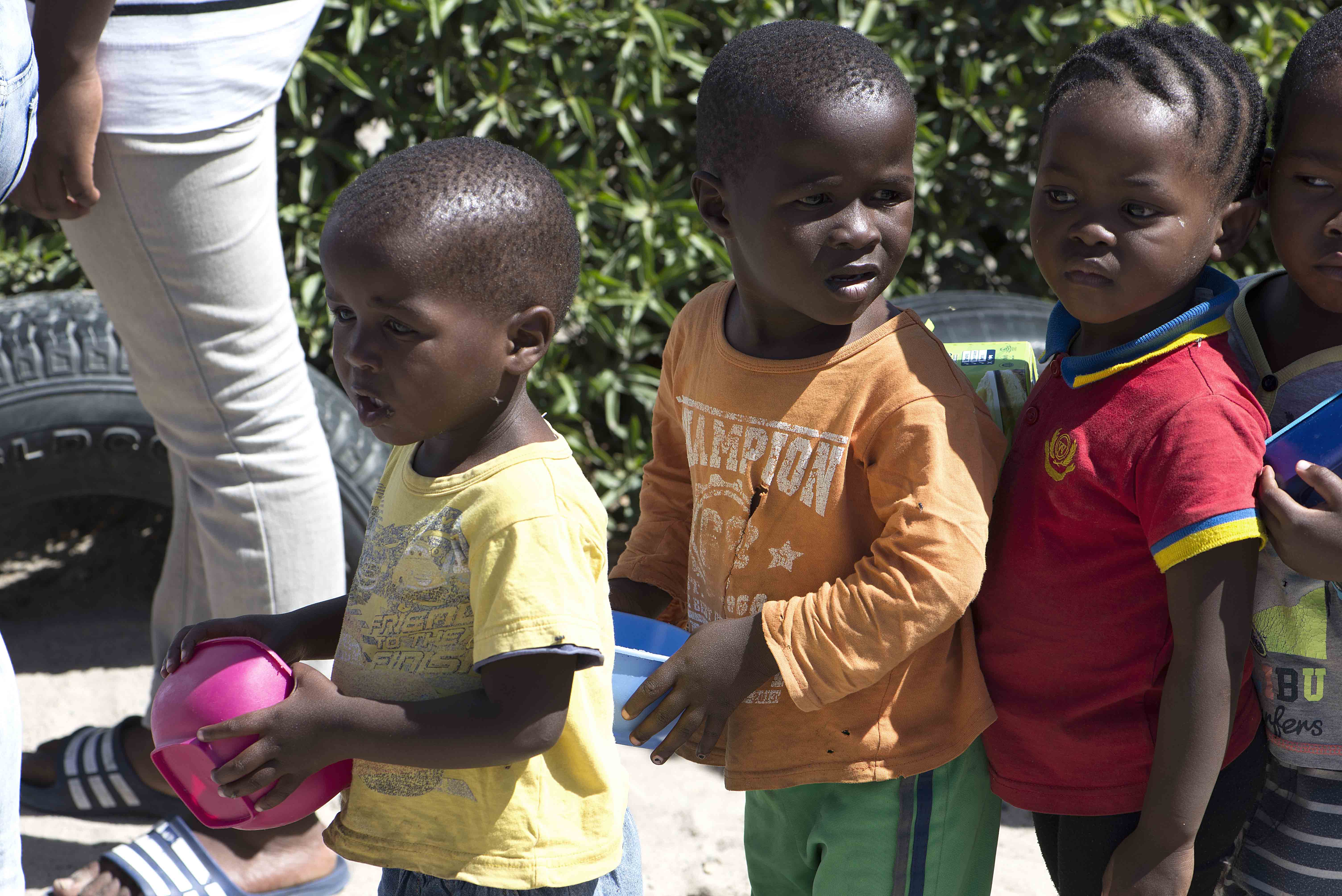 Food For Life Cape Town (FFL CT)
A colleague at TSiBA introduced me to FFL CT. It's a non-profit volunteer organization that distributes freshly cooked vegetarian food in townships in Cape Town on Saturdays, and is affiliated to Food For Life South Africa (FFL SA), which is affiliated to Food For Life Global (FFL G).
How FFL came into being, is an inspiring story. It happened in 1974 in India. Srila Prabhupada, a well-respected wise man and founder of ISKCON, once saw a few hungry children fighting with street dogs to scavenge food. This sight shocked and deeply upset him, but more importantly inspired him to his vision that led to FFL, that no one within ten miles of a temple should go hungry. He urged his yoga students to immediately start serving food to the hungry. This became the seed that slowly and steadily grew into a global humanitarian organization, a worldwide network of kitchens, cafes and services, that feeds the hungry, including daily routines in many cities around the world. Today, FFL feeds more people worldwide than the UN. Amazing!
What we at FFL CT do?
FFL CT uses the kitchen at ISKCON Temple in Rondebosch. There is a lot of emphasis on cleanliness, consciousness and compassion when cooking. Those who cook attend their morning nature routines and shower before entering the kitchen. Once they start cooking they don't go to the restroom. However, if one needs to, then that person should take a head bath before entering the kitchen again.
Every Saturday morning, one or two volunteers cook vegetable biryani (Biryani is an indian rice-based dish). The vegetables for the biryani are prepared on Friday evening. Cooking starts early morning, between 5:30 and 6 am, on Saturday. Alongside biryani, beans are cooked, to be served as a side dish. Once the food is cooked, it is offered to god. After a little while, the offerings are then mixed with the rest of the food. This is believed to sanctify the food, and the food is called Prasadam (sanctified offering). We then transfer the food into plastic containers, garnish them up with mint and coriander, and load them into the mini-truck. While the food gets decanted into the containers, volunteers enjoy the delicious biryani for breakfast.
In addition to the biryani and beans, we also prepare juice and load it up into the truck. The truck and the participating volunteers then leave, usually between 11 am and 12 pm, for the day's destination where distribution takes place.
Currently we cook 1,800 meals and distribute in Grabouw, Mitchell's Plain, Nyanga, Phillipi, Overcome Heights, Stellenbosch, Hanover Park, Kensington and a few shelters. We visit a different township every Saturday, and rotate every two months.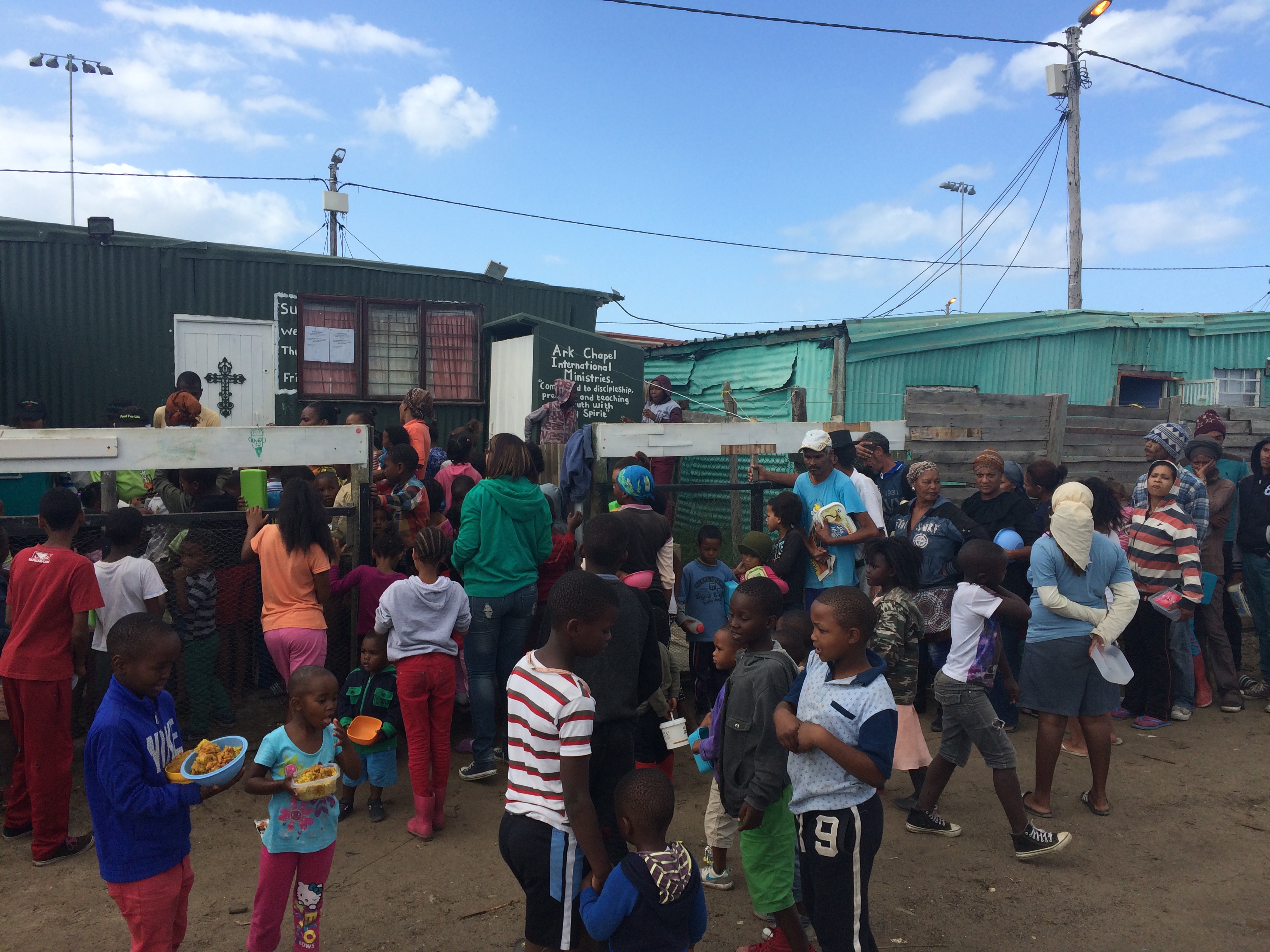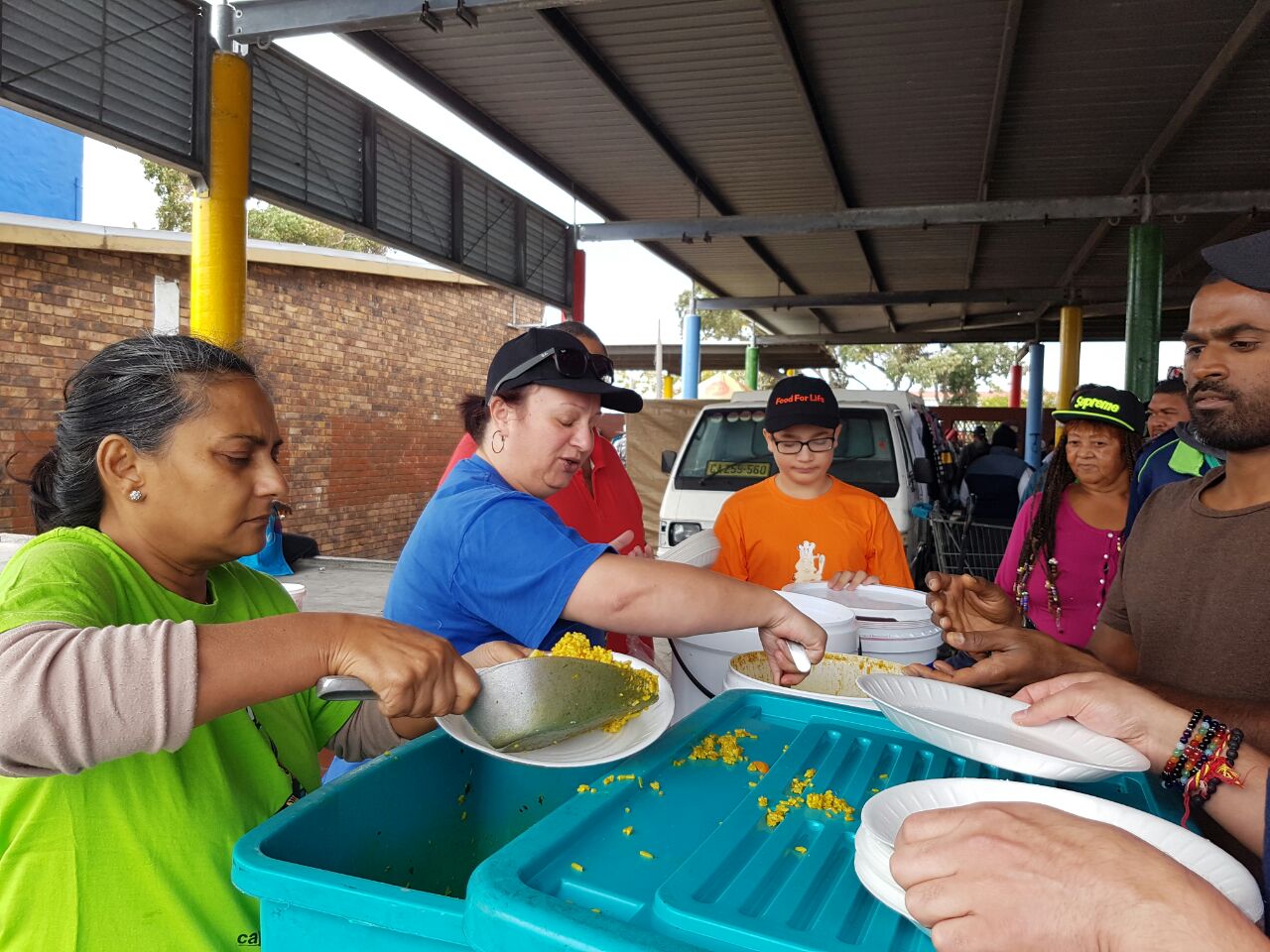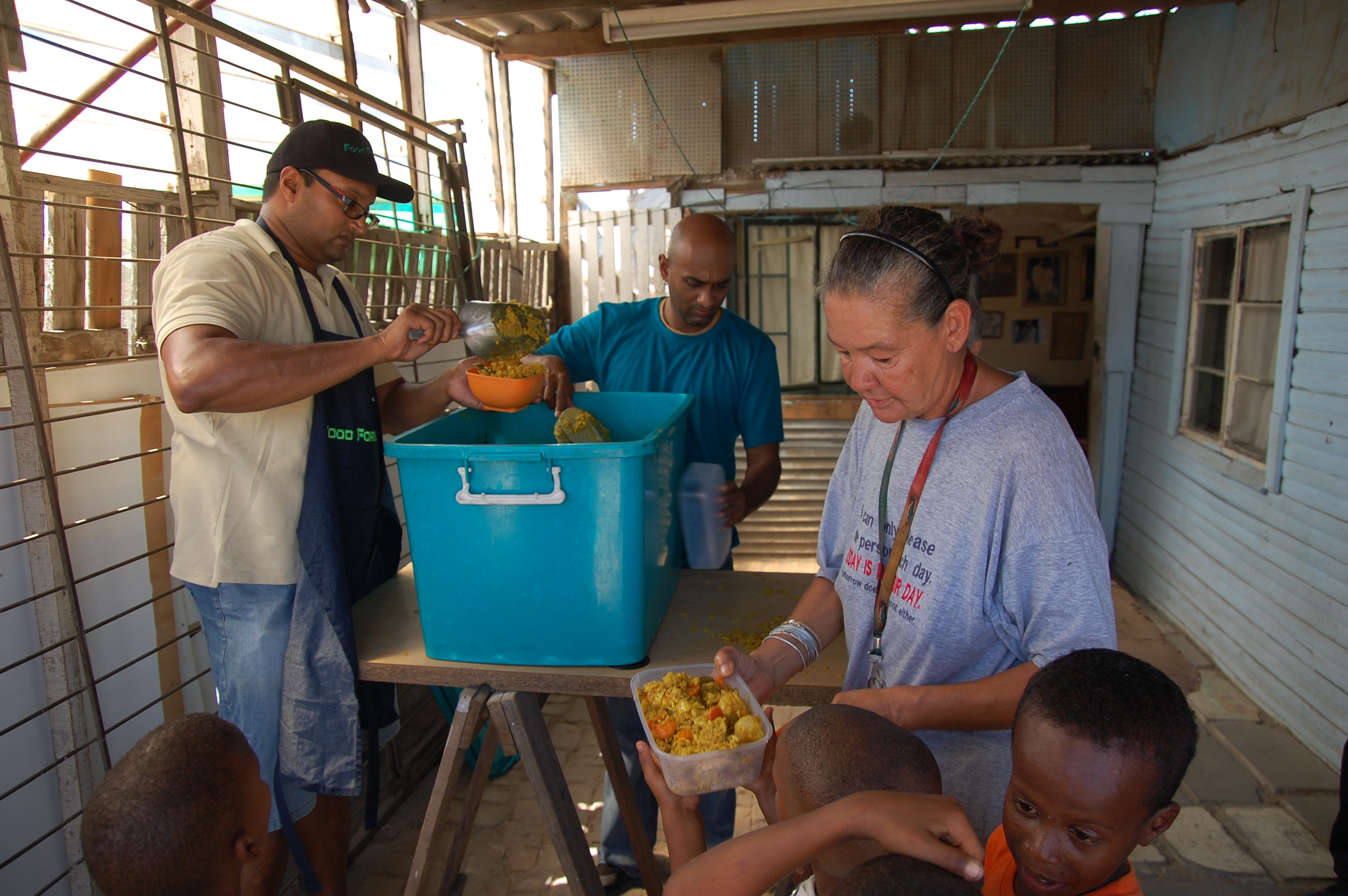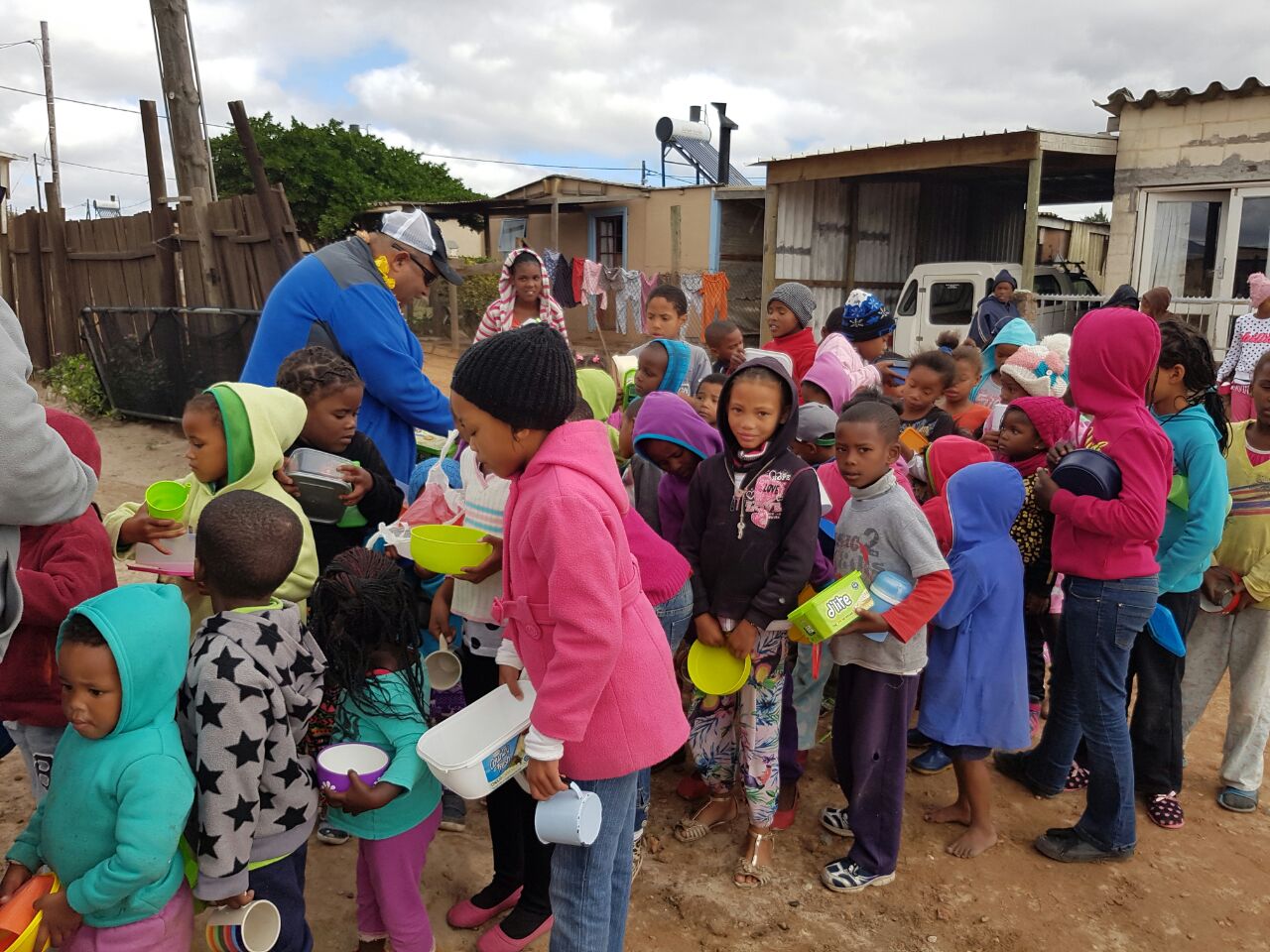 The recipients of our food are predominantly young children, with some elderly and other community members.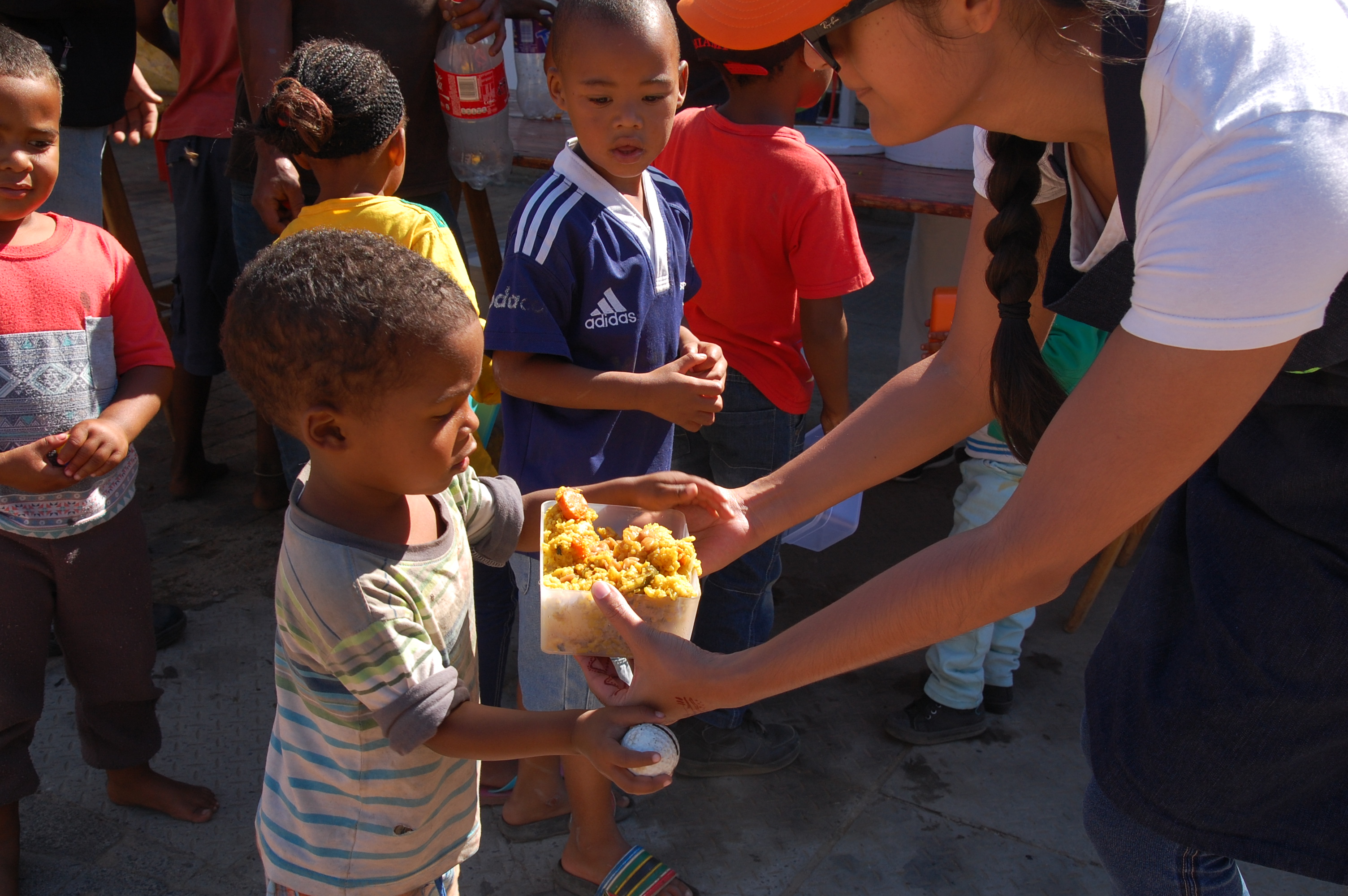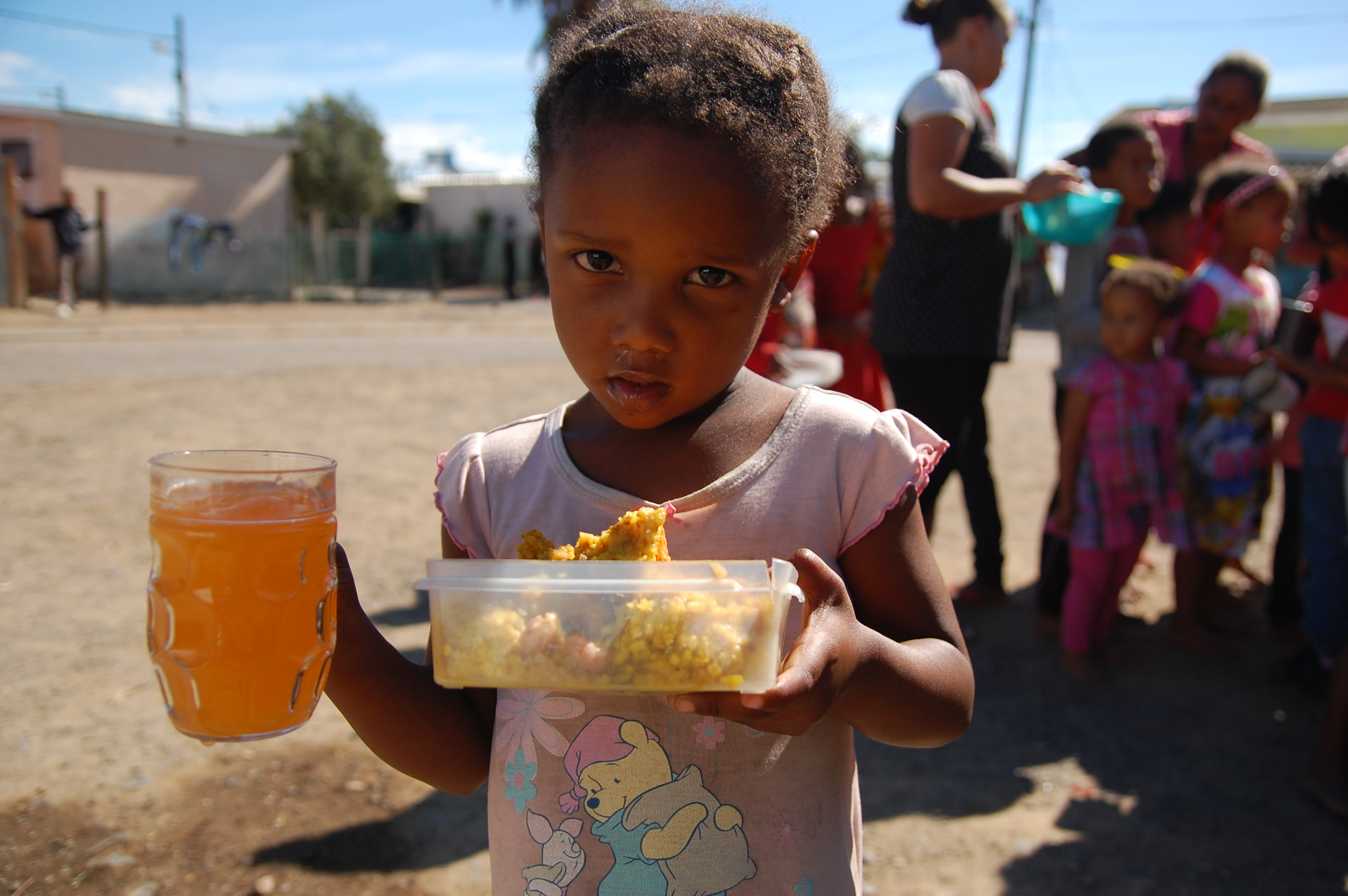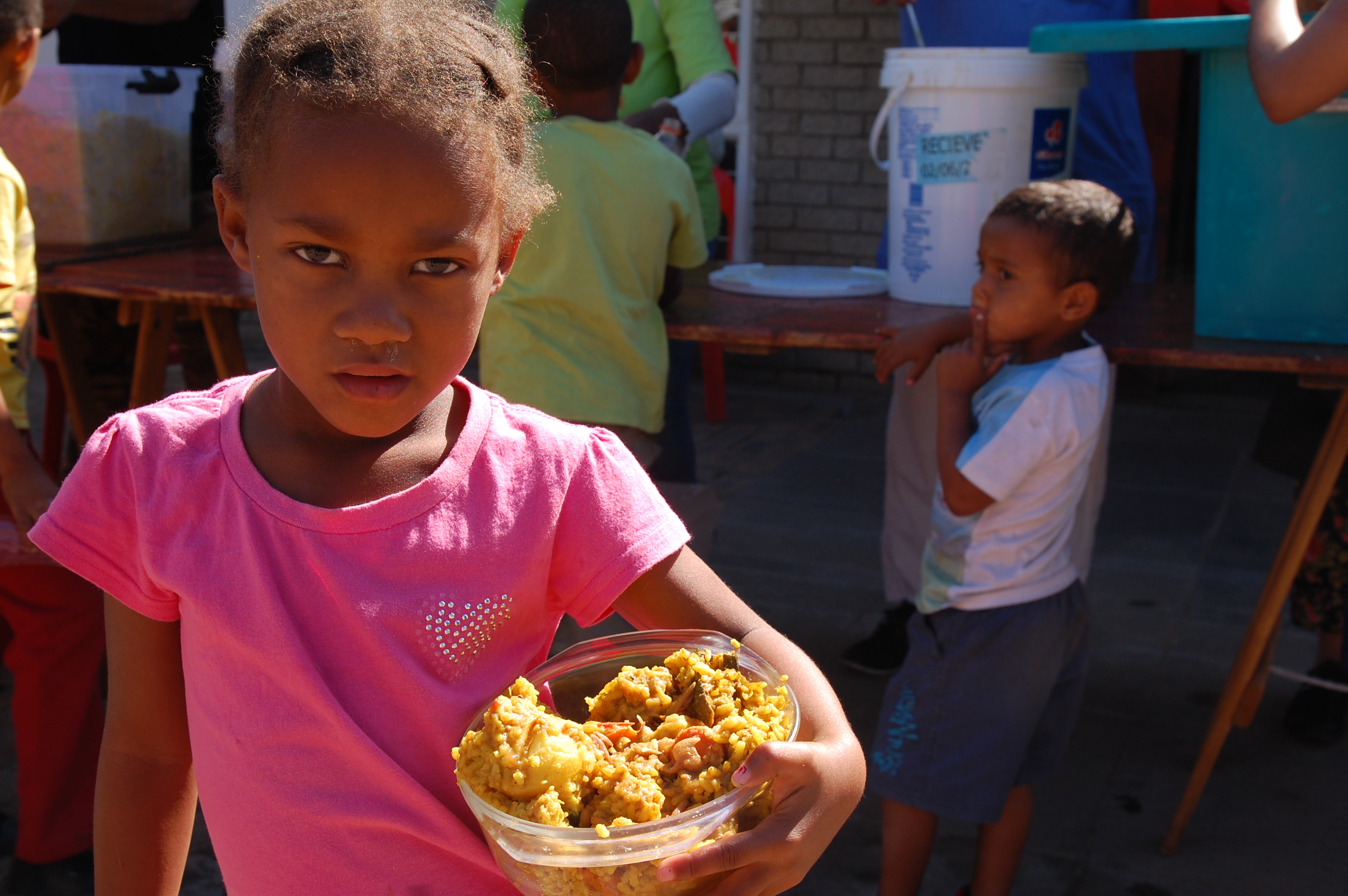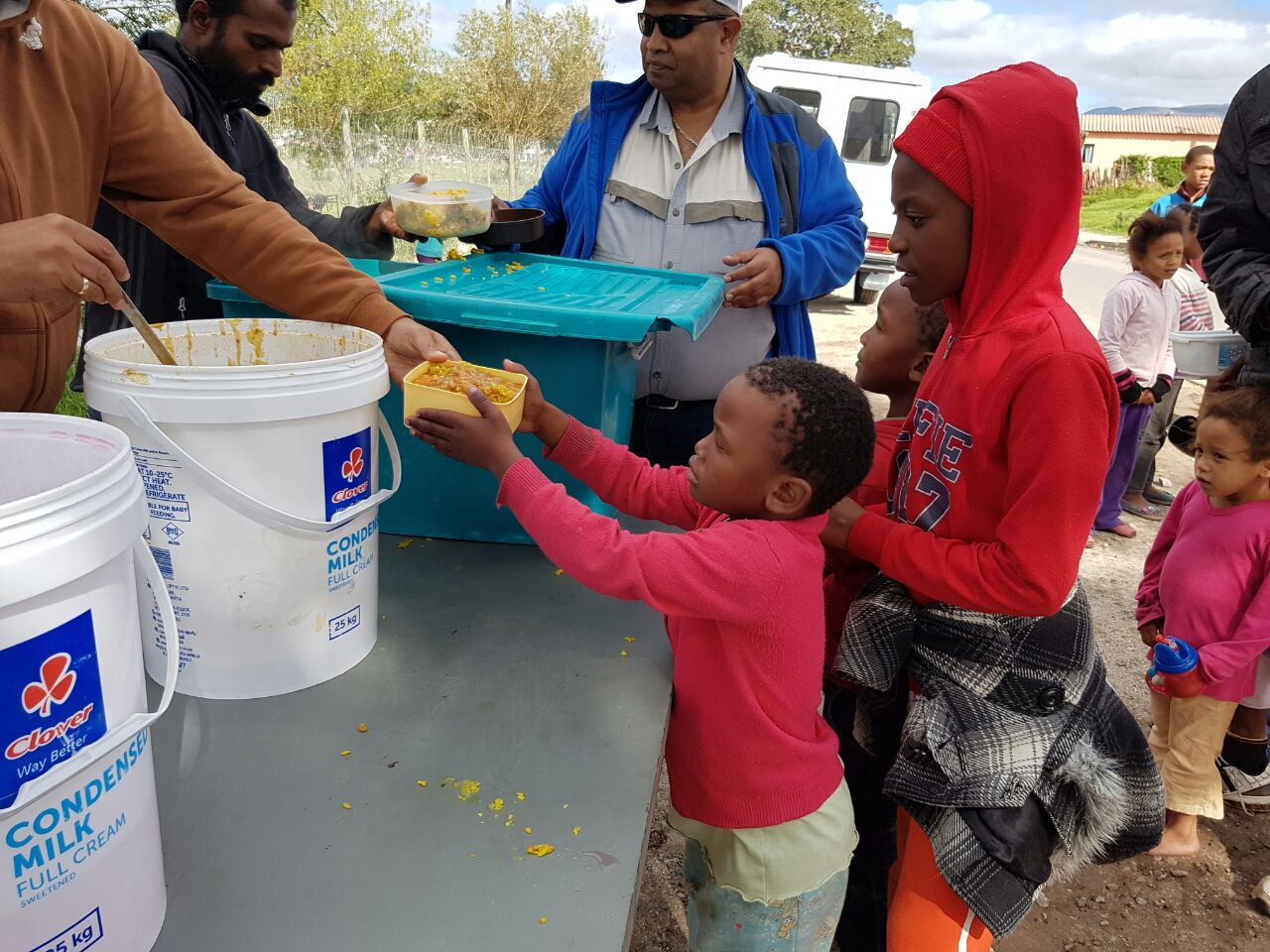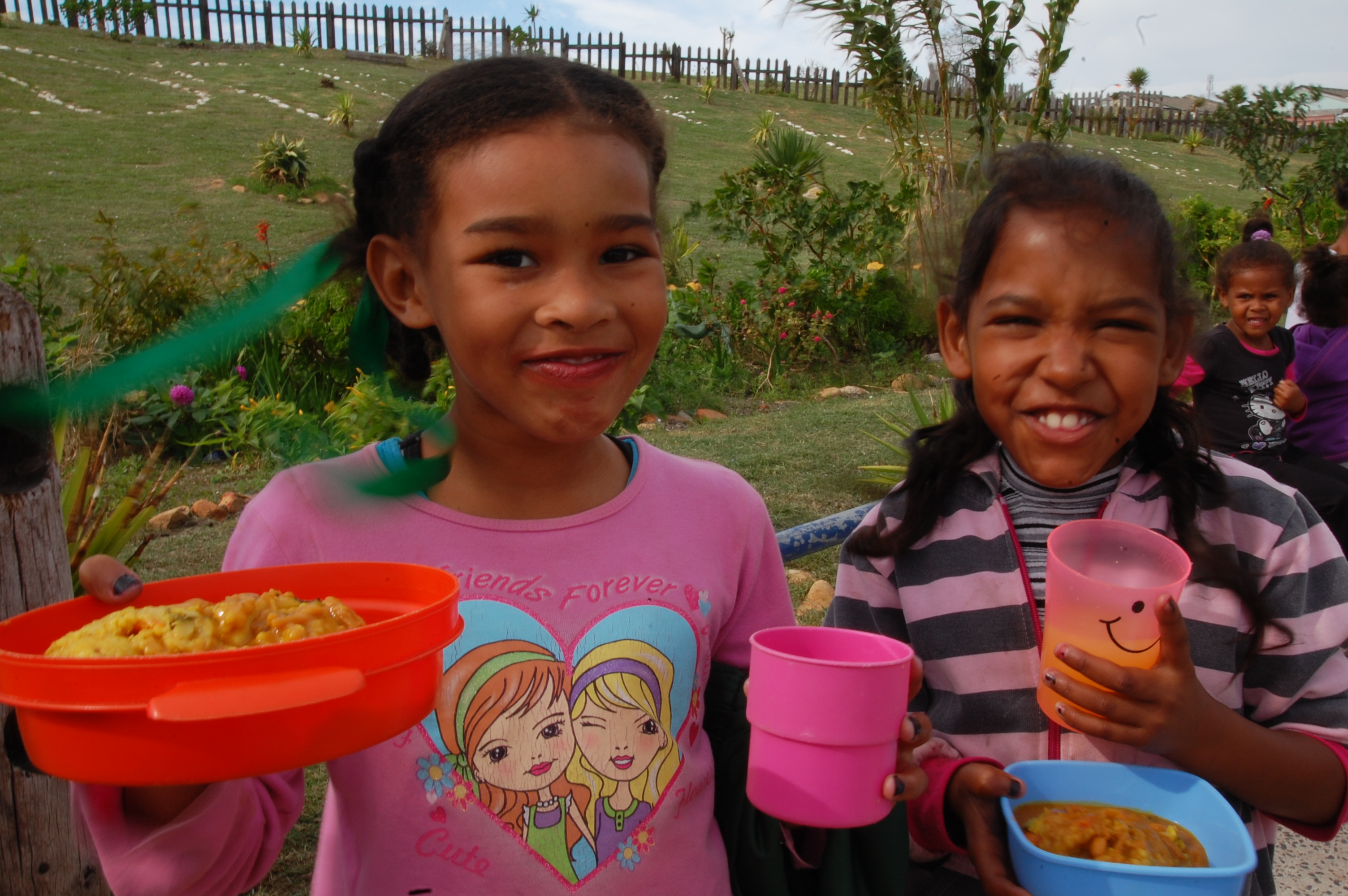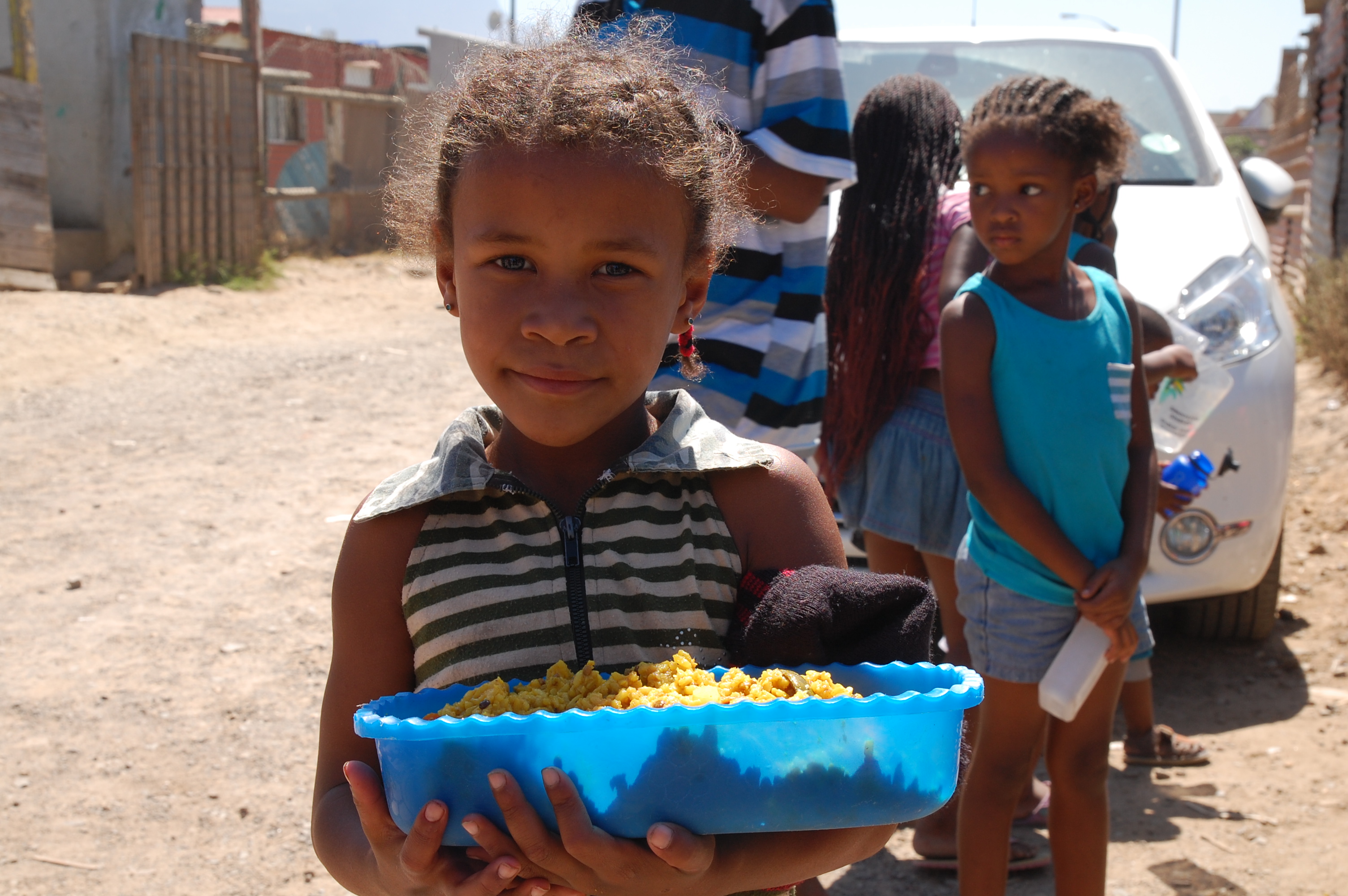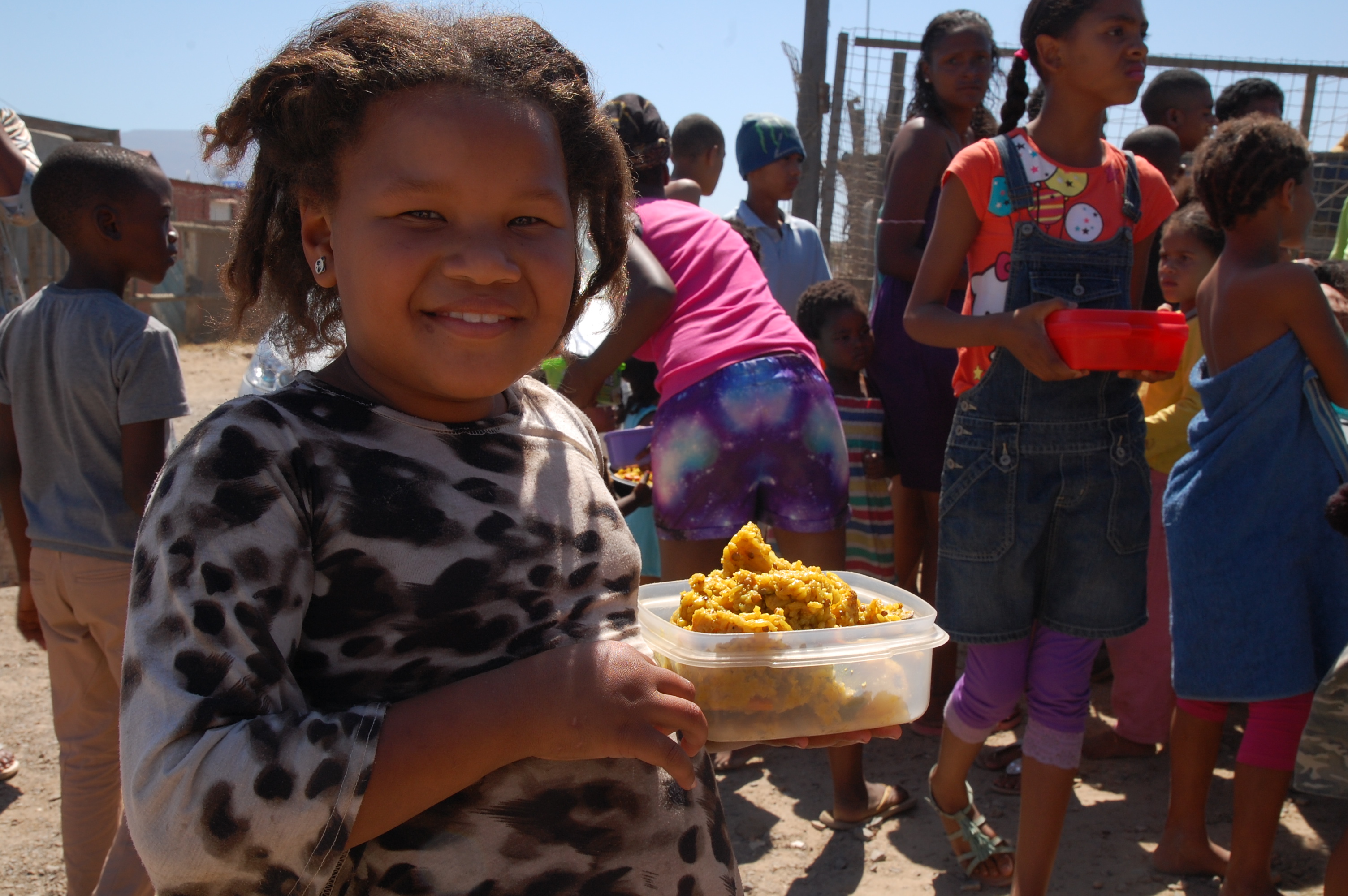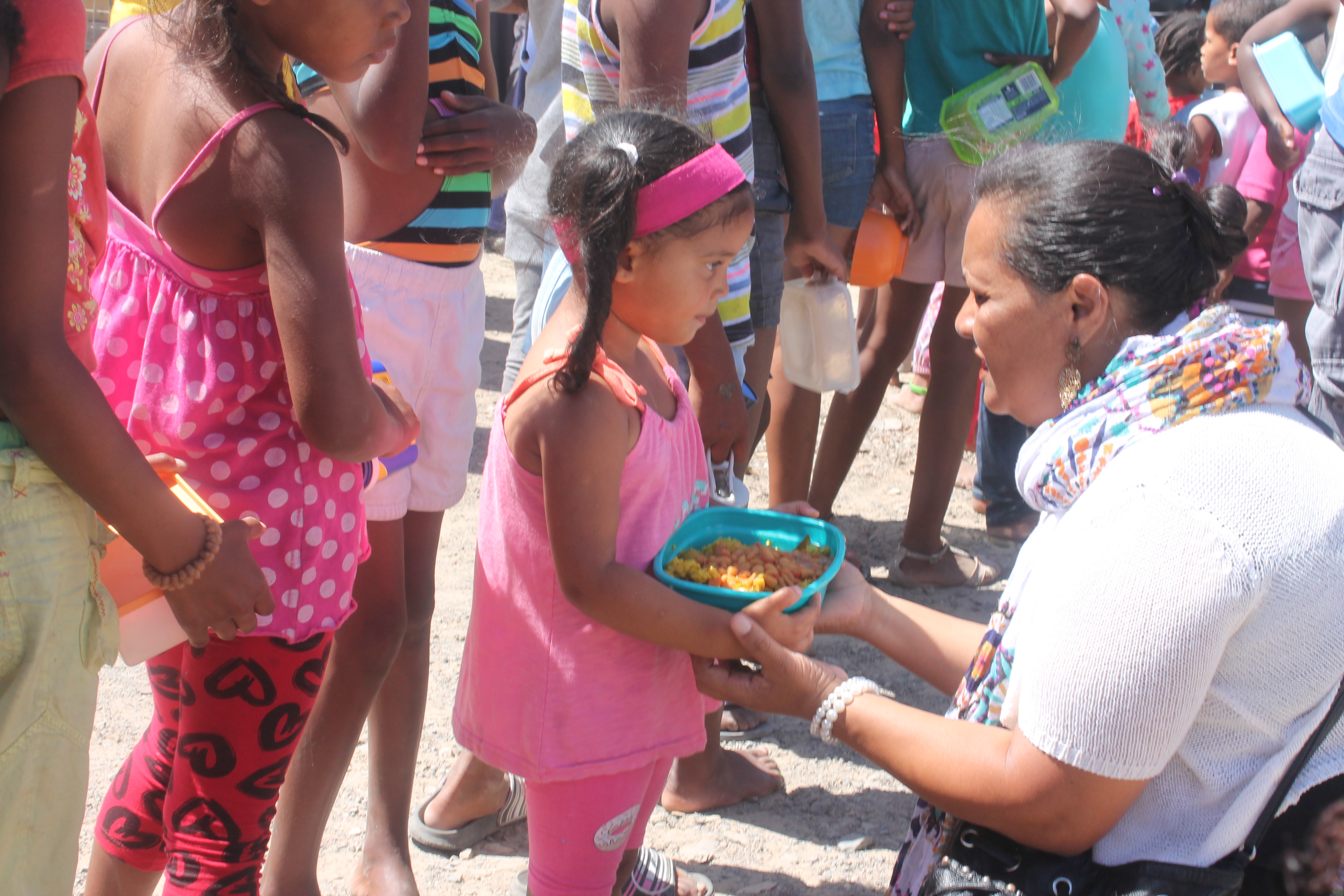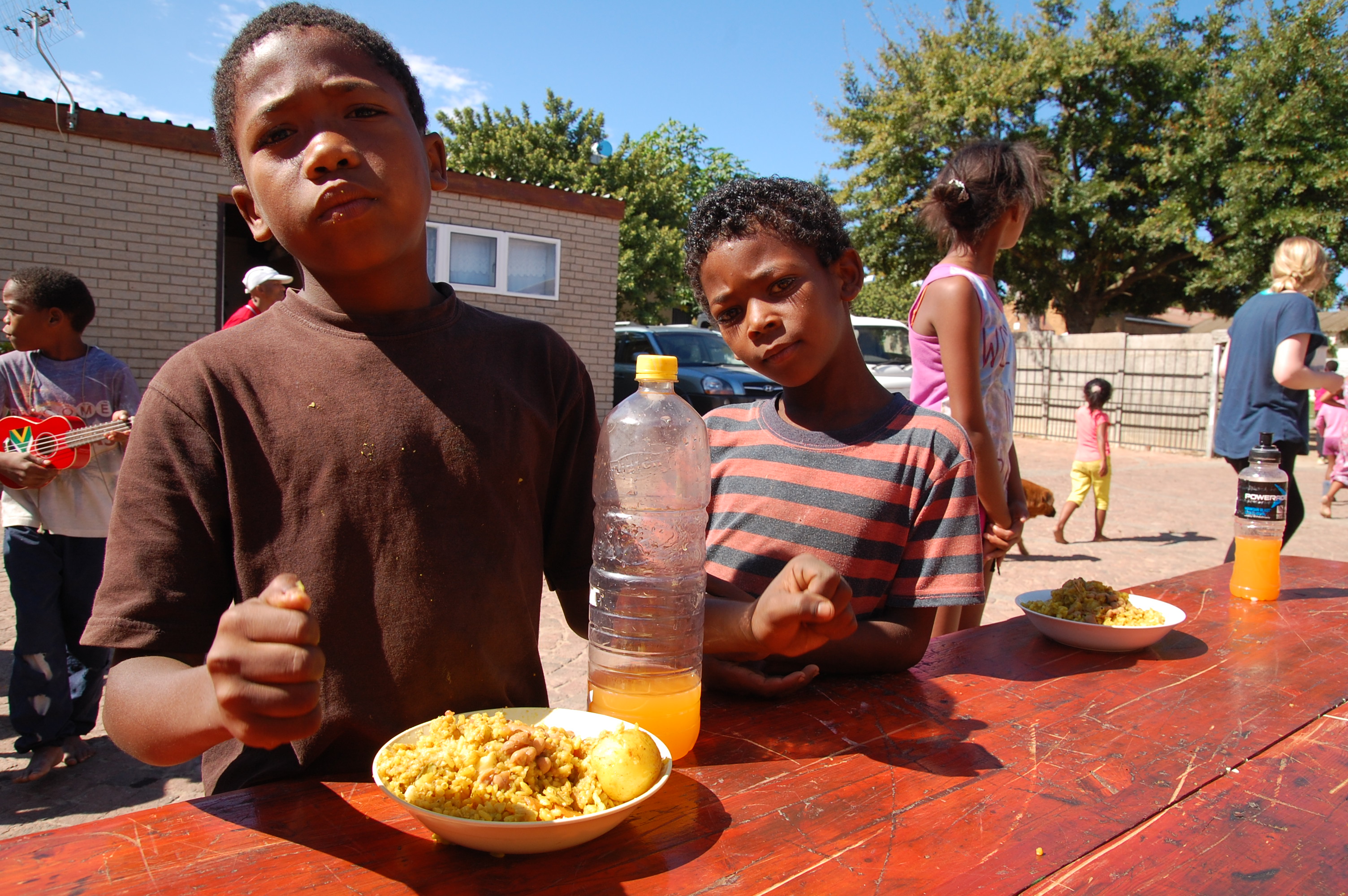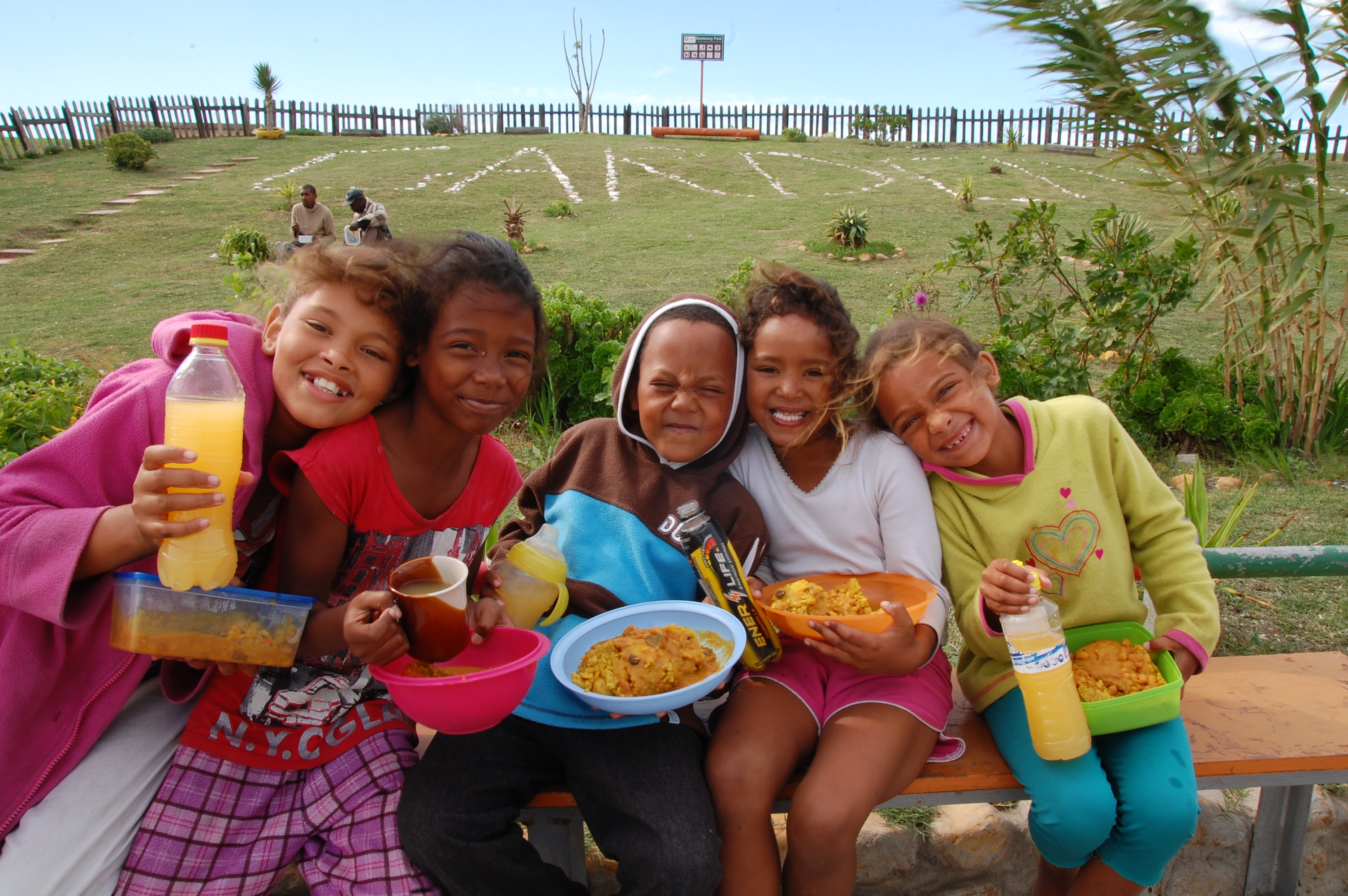 Temple devotees also join us for the food distribution. They bring a lot of joy and celebration to the atmosphere by joyously singing and drumming mantras with the children.
Regardless of the location, children rejoicing and celebrating the music, singing and dancing with our volunteers is an inspiring and a beautiful sight. And this embodies the true spirit of service that we at FFL CT strive for. One of the things that has impressed me about this organization is that none of the people involved, volunteers and management likewise, carry the feeling of charity. No one looks at, and feels, what we do, as an act of charity to underprivileged people. The attitude is one of compassion, and selfless service to fellow human beings. And that sets them apart.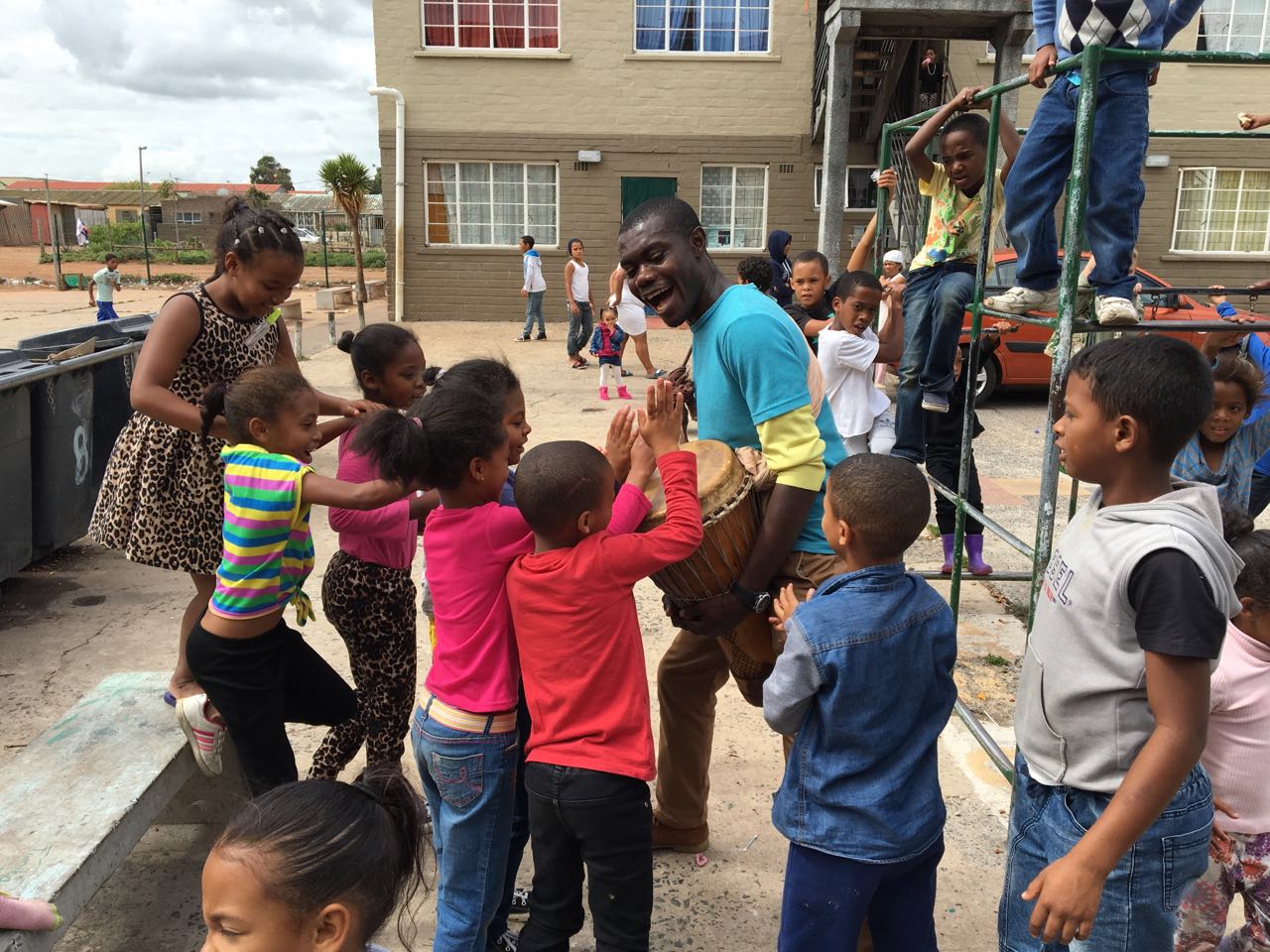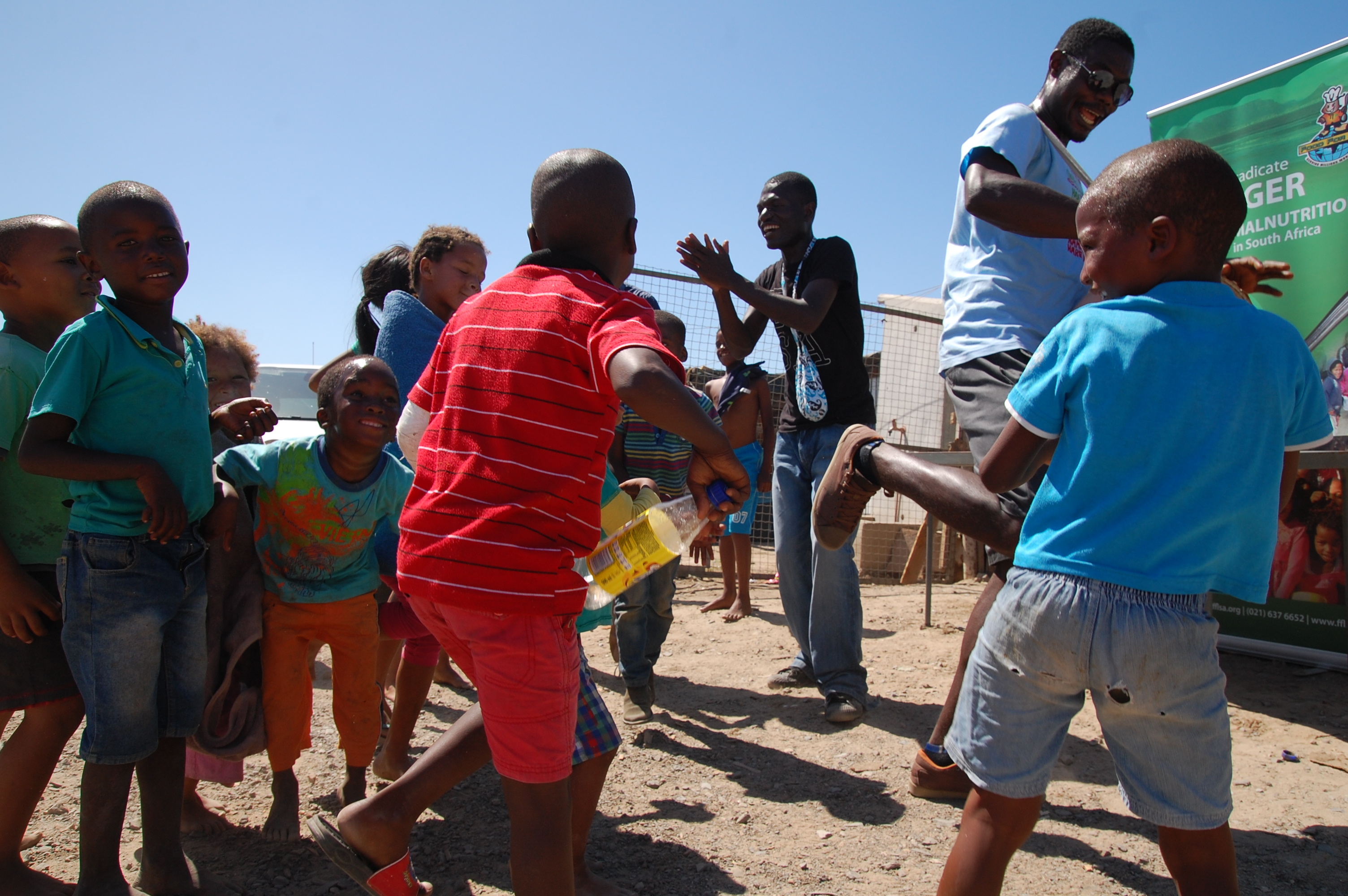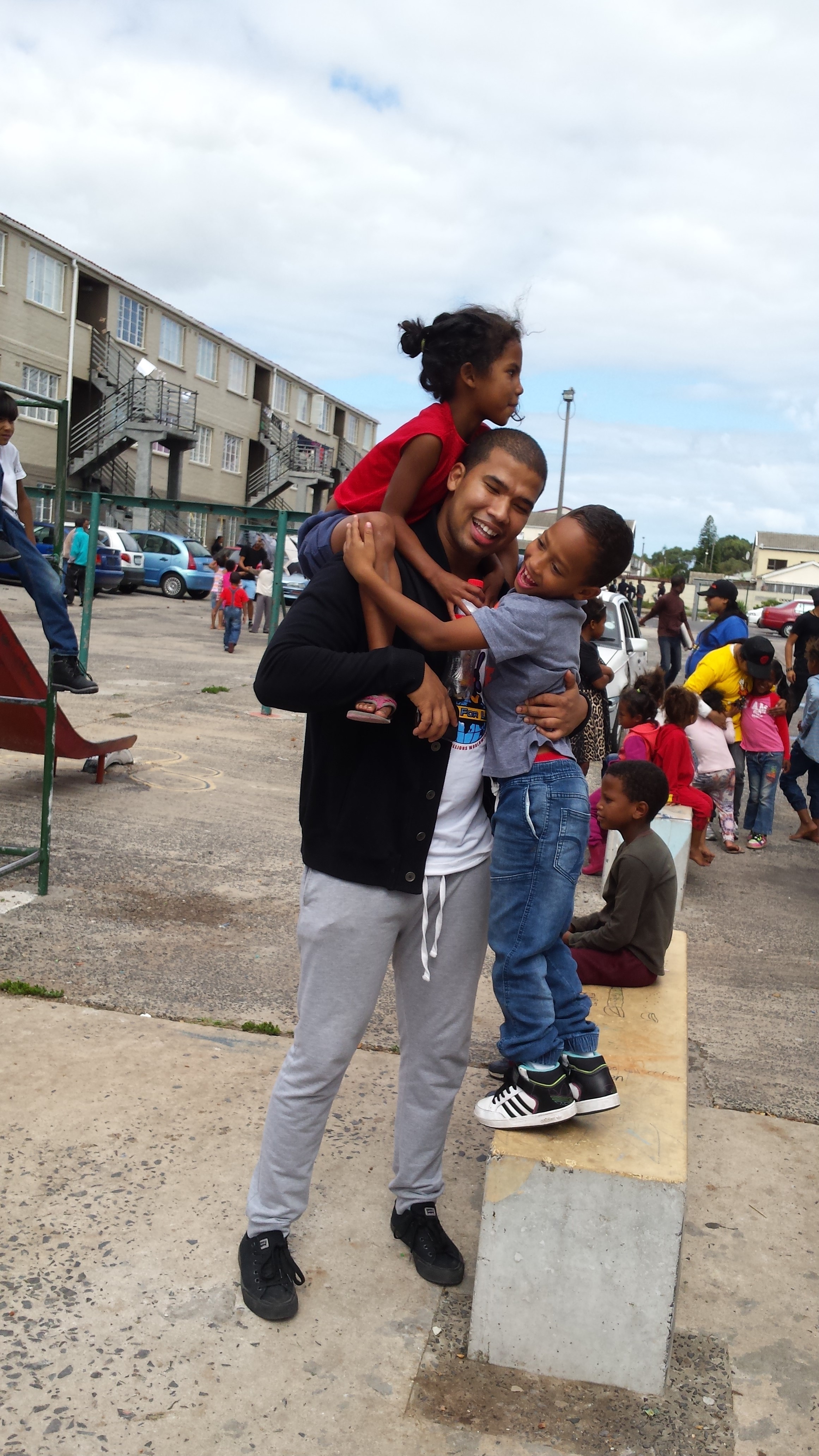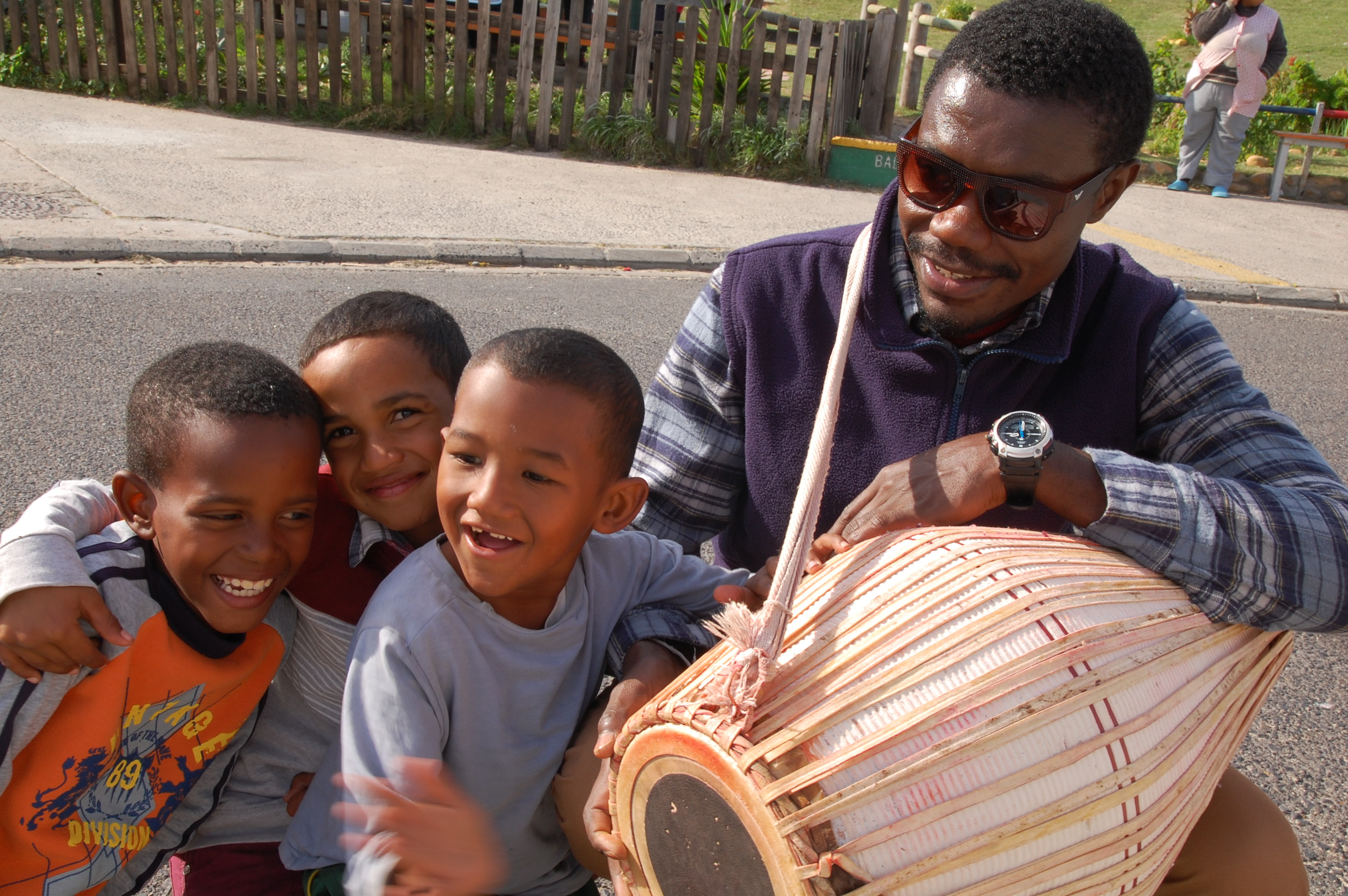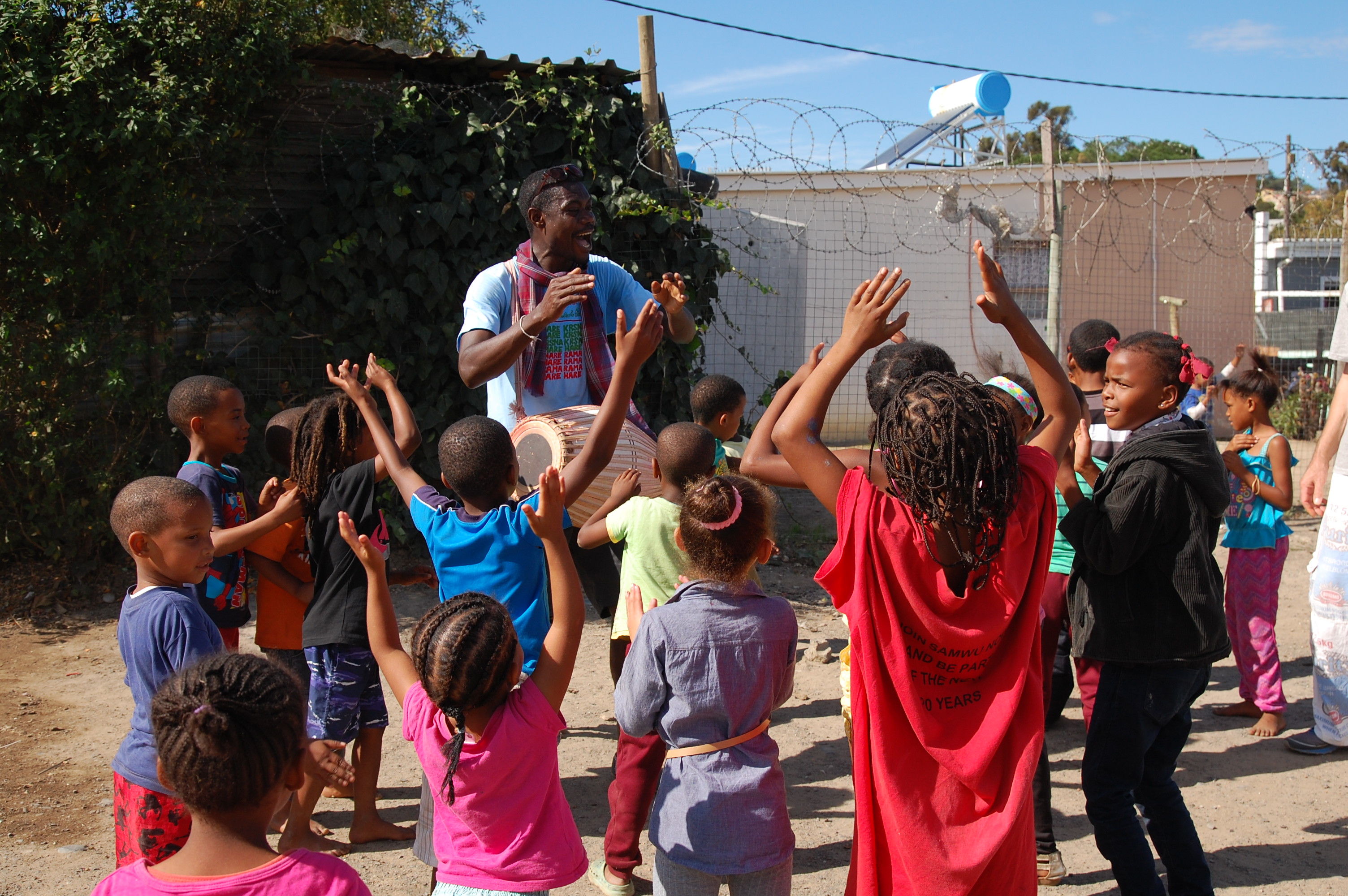 My contribution to FFL CT
I volunteered to help FFL CT by joining them on Saturdays for food distribution. Soon came an opportunity to help the organization with strategy and management. As part of the core management team, I am helping the team with strategy for future. Based on my understanding of the activities involved and the vision for the future, near and long-term, I suggested a simple organizational structure to achieve three-fold impact (1) Make sustainability a key strategic focus for the organization (2) Build and strengthen the brand, and (3) Focus on efficiency for the business-as-usual activities/routines.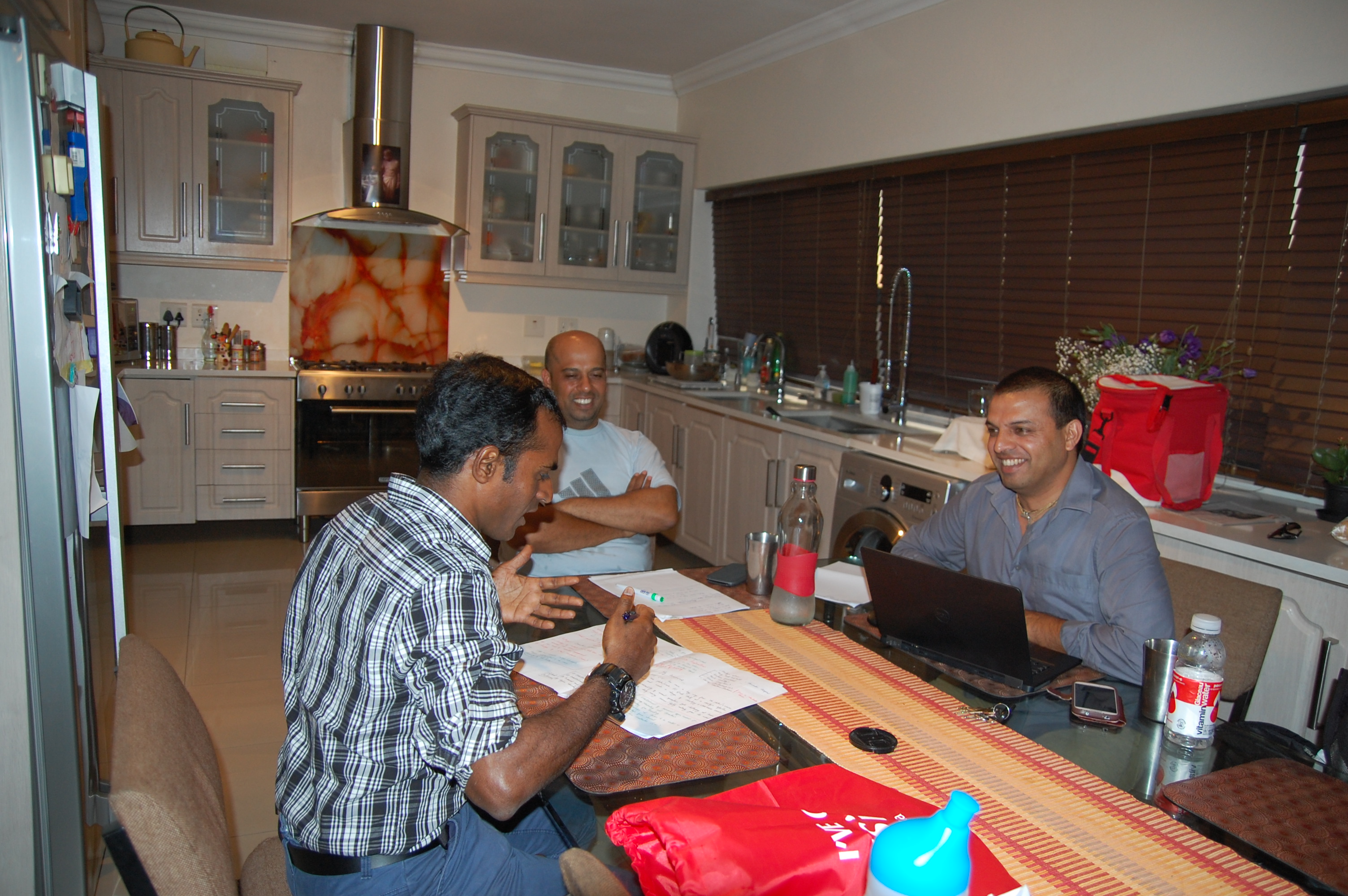 I have been fortunate that around the same time I came onboard, some enthusiastic and energetic folks started volunteering for FFL, and agreed to help us with the execution of above strategy. We formed a task force and we meet once a week to explore, discuss and debate different options to achieve our goals. We've made good progress on branding, and we are heading in the right direction with fund-raising and operational efficiency. We have big plans for the next few months, and are pursuing multiple threads to grow our network of benefactors.
The path forward
Strategically, we are evaluating the option of turning our weekly program into a daily one to create a stronger and longer-lasting impact on the communities we serve. This is a major strategic shift in the way our organization works. I am convinced that the current volunteer-based organizational structure has to give way to a few salaried office-bearers, part or full-time, in order for us to make and sustain this strategic shift. We also want to bring joy and smiles into the lives of more people and set ourselves the target of increasing our weekly capacity to 5,000 meals in the near-term. And we are launching a literacy project for young children in townships.
We are pursuing three major options on our path forward.
Living The Legends: On 23rd of July 2016, FFL CT will celebrate the legacy of two legends, Nelson Mandela and Srila Prabhupada, whose vision led to the efforts of FFL. Living the spirit of service of these two visionaries, 10,000 meals will be cooked and distributed on this day. This will be a flagship event of FFL CT going forward. This year's event will have about 50 students from Northeastern University (NU) joining us. NU students will conduct free vision tests, and has sourced 2,000 eyeglasses from VisionSpring, an India-based NGO, to distribute to the needy for a nominal-to-zero price. Work is underway to raise funds, and to source volunteers for the event.
TSiBA-NU Consulting: We pursued the TSiBA-NU program for Entrepreneur Business Consulting, where business students from these universities will review and consult businesses in Cape Town to address business challenges, and have been shortlisted as one of the finalists on the program. We are excited to be on the program and hope the recommendations from these young business students will give us insights into how we can create more and sustainable sources of revenue and how we can take the brand closer to the young.
Read For Life: We are embarking on a literacy project that will be rolled out as a pilot in one township to begin with, and gradually developed into a working model that can be scaled for a wider roll out across townships, with minimum to no changes. I am anchoring this project for FFL CT and I am very excited about the execution of the pilot. The project has already generated keen interest in some of the people, and we look forward to the pilot roll out. More on this project soon.
How you can help
Every Saturday after our food drive in townships, I return home feeling glad that my efforts brought joy to people who are not as fortunate as I am. If you've read my previous blogs, you know that I grew up in a slum, and I had faced hardships caused by poverty. I can empathise with the people I see on Saturdays, who are living in abject poverty. Seeing the circumstances they are living in, is a humbling experience for me. And I think everyone of us can do something to make the situation better, directly or indirectly.
The best thing we can do is to not waste food. I urge you to sensitize yourself to food wastage, and make an earnest and consistent effort to not waste food. There are millions who are struggling to find food, and your efforts will make sure the situation doesn't get any worse.
By supporting FFL CT you can make a difference in the lives of potentially many people. The biggest challenge facing us in pursuing the above mentioned goals is the inadequacy of resources, both financial and human. We are looking for people with the right vision and experience in fund raising, marketing and operations to come onboard and help us. We are also looking for generous donations, especially from overseas, to support our weekly operations. Given the fluctuations in Rand, any funding received from overseas would be a great help. You can also help us by volunteering for cooking and distribution on Saturdays.
If you are in Cape Town, join us on a Saturday to experience what we do, and how we do. Find out more on our website http://www.fflsa.org/branches/cape-town/, Facebook page (Food For Life Cape Town) and Instagram (FoodForLifeCapeTown) about FFL CT's efforts to bring joy and smiles to different communities.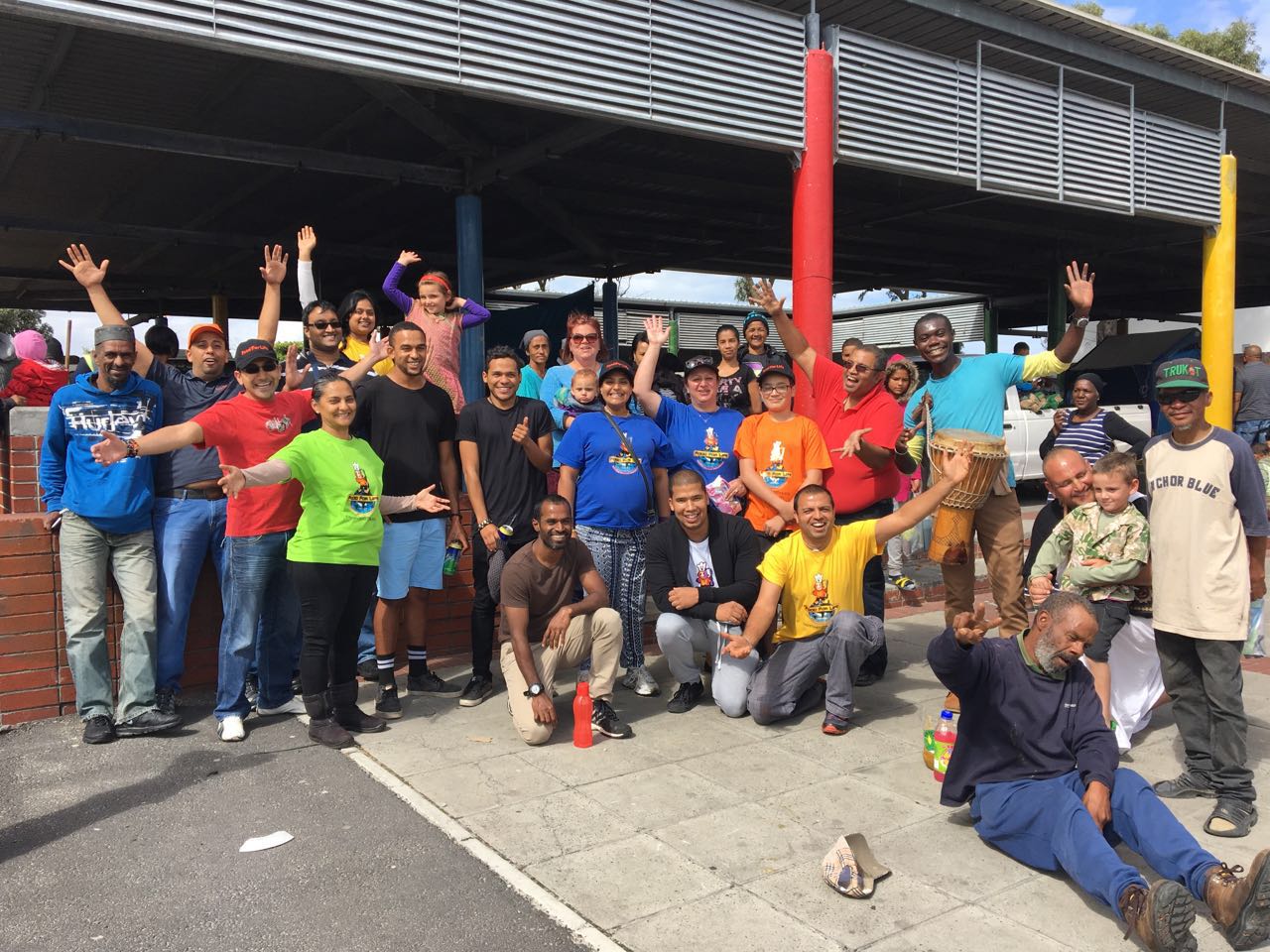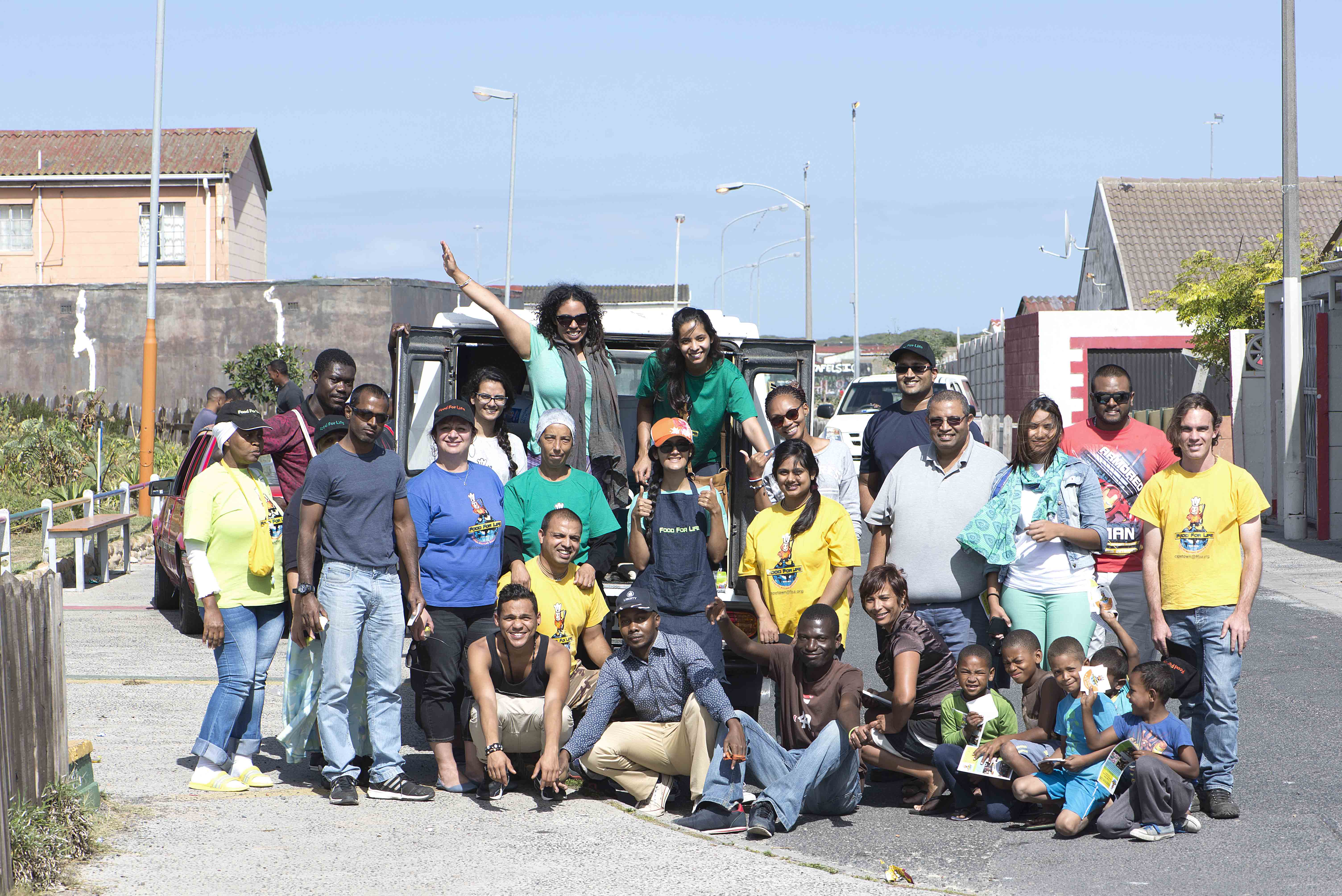 Till next time,
santom!